Cops intensify crackdown on drunken motorists
By Blessings Mashaya
Police have intensified their crackdown on drunken driving as part of the force's bid to rid the country's roads of errant drivers, a Cabinet minister has said.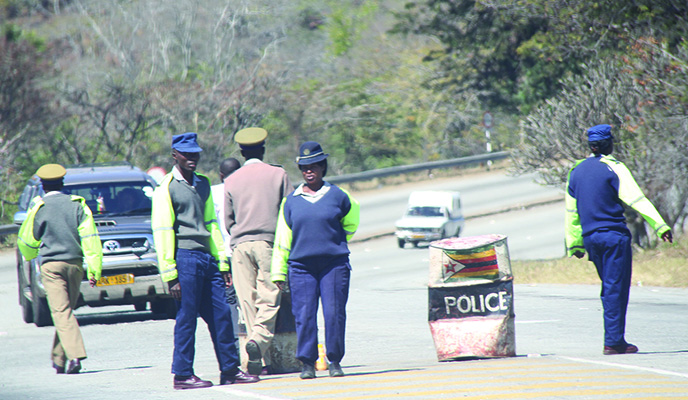 Addressing journalists during his first visit to police headquarters, Home Affairs minister Cain Mathema yesterday said the force needs more equipment such as breathalysers to deal with drunken drivers.
"It is my fervent hope and conviction that we all need to work towards a shift in attitude by all motorists and road users in order to safeguard lives on the roads.
"In equal measure the Zimbabwe Republic Police needs to be equipped with the right attitudes, skills and tools of trade such as breathalyser machines, speed traps, cameras for effective traffic enforcement."
The newly-appointed Home Affairs minister added that he had been apprised on the on-going operation which is aimed at weeding out unregistered vehicles — some of which have been involved in road traffic accidents, robberies and various crimes — from the country's roads.
"I have since directed the police to intensify deployment of police officers to conduct awareness campaigns and enforce the law in order to restore sanity on the roads. I urge fellow Zimbabweans to be responsible citizens and contribute towards the maintenance of law and order in our country."
Traffic police roadblocks returned last week following the launch of a crackdown targeting unlicensed drivers and unregistered vehicles.
Police disappeared from the roads after last year's November military takeover which saw the resignation of former president Robert Mugabe.
The absence of the police on the roads resulted in serious traffic jams in cities as errant motorists took advantage of the situation to violate traffic rules.
Mathema said the police must maintain sanity, particularly in the capital, Harare.
"During my deliberations with the police command, we also discussed traffic management issues.
"This area ladies and gentlemen is of national concern.
"As you may all be aware some central business districts, particularly Harare Central, have been characterised by chaotic traffic scenes where motorists wantonly violate traffic rules and regulations.
"Lives have been lost while some individuals have been maimed or injured on our roads."
He also said the government must do more to address the challenges faced by the police to effectively do their duties.
"While the Zimbabwe Republic Police has made strides; a lot still needs to be done. Contemporary policing requires advancement in technology. In some technologically advanced countries, the police are able to monitor the flow of traffic and criminal activities from a central point.
"Crime is mutating so is the demand for police service; our police is no doubt failing to cope with the rapid advancement of technology which is aiding criminal sophistication."
The development comes as President Emmerson Mnangagwa's administration has set out to provide efficient government services — in line with its "open for business" mantra — and by adopting policies that can help eliminate corruption while aiding economic growth in the country.
While warning police officers against corruption, Mathema added that the force was facing accommodation challenges.
"I also witnessed first-hand some of the challenges impeding effective service delivery. For example, office and residential accommodation is posing a significant challenge with many police officers having to rent private accommodation, some of which compromises the integrity of the police and government in general.
"It is quite evident that infrastructure needs to be in pace with staffing growth to ensure that our police officers are accommodated in modern buildings both at work and home.
"Lack of vehicles as well as fuel and lubricants is negatively impacting on the mobility and operations of the Zimbabwe Republic Police.
"The Commissioner-General of Police (Godwin Matanga) informed me that it used to take a long period of time to process firearm certificates. With the advent of new technology this has been significantly reduced." DailyNews