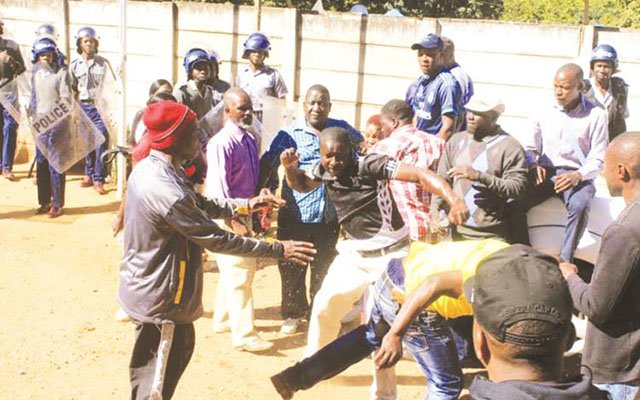 According to ZPP, of the country's 10 provinces, Harare had the highest number of violations at 54 in August alone.
"There were threats of using the biometric voter registration to sniff out the dissenting, the intricate system of Dande Mutande (spider web), the distribution of food and agricultural inputs which forced people to make their choices with their tummies against humanitarian standards culminating in suspect assisted voting, and the 'paddocking' of villagers to vote in a certain way with the assistance of traditional leaders and other ruling party functionaries," notes the report.
ZPP notes that although some reports were made to the police, most citizens resorted to silence for their safety; erasing the painted picture that the July elections were free and fair.
"While the 2018 elections could have many boxes ticked as compared to past polls, they still faced numerous challenges that made them short of being free and fair," said ZPP.
The Zimbabwe National Army (ZNA) and the ruling Zanu PF party were noted as perpetrators of human violations.
"Zanu PF and members of the ZNA labelled as 'rogue' by the ZNA itself were responsible for perpetrating most of the violations. A high number of violations were also reported in Manicaland and Mashonaland East and West. Masvingo had a low number of violations as was Matabeleland region as well as the Midlands," reads the report.
ZPP alleges that opposition party supporters, mainly in the high density areas, reported attacks by members of the Defence Forces especially in bars and night spots.
The report indicates that the period was also characterised by displacements.
"The ZNA has denied that they had deployed officers in high density areas but rather labelling the perpetrators 'rogue' elements. The period was also characterised by displacements in both urban and rural areas as political persecution targeting opposition supporters triggered their fleeing their homes," said ZPP.
It said there were traces of scuffles as well in the MDC Alliance where those who were suspected of de-campaigning Nelson Chamisa were targeted.
The report notes that the State reacted disproportionately to the August 1 protests in Harare, in the process killing innocent citizens, including the disabled.
"Soldiers were deployed and fired live ammunition at protestors and some citizens who had nothing to do with the protest but rather were going about their own activities such as vending.
"One of the people who remained with a bullet lodged in his shoulder is a deaf and dumb 34-year-old man," reads the report.
ZPP commended the establishment of a Commission of Inquiry into the post-election violence, but called on government to take note of the growing number of people with disabilities in the central business districts.
"We recommend sensitisation of security forces to be mindful of the presence of persons with disabilities on the streets when implementing their crowd control measures," noted ZPP. Daily News.