By Mugove Tafirenyika
Zanu PF has decided to keep Speaker of the National Assembly Jacob Mudenda in his position following a politburo resolution at the party's headquarters yesterday, the Daily News can reveal.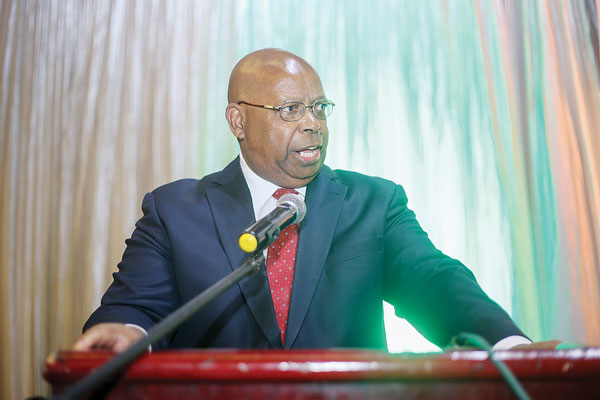 Speculation had been rife that Mudenda could face a challenge for the job to preside over the ninth Parliament from former Finance minister Patrick Chinamasa who was left out of President Emmerson Mnangagwa's recently-appointed Cabinet.
While Zanu PF spokesperson Simon Khaya Moyo emerged from the meeting to announce that the politburo had deployed several party bigwigs to work for the party on a full time basis, sources who attended the meeting told the Daily News that apart from Mudenda, his former deputy Mabel Chinomona was also elevated to become Senate President.
Pressed by journalists to say if the politburo had deliberated on the matter, Khaya Moyo said he was not at liberty to make an announcement preferring to wait for today's elections.
"I am not going to talk about those issues today. In any case the elections will be held tomorrow (today) but obviously the party will provide the presiding officers because we are in the majority," Khaya Moyo said.
But an insider who spoke on condition of anonymity said "the politburo has settled for Mudenda who will be deputised by Tsitsi Gezi".
"In the Senate, Chinomona will be president and Mike Nyambuya will deputise her, so that is how we are going to be voting should there be a challenge," the source said.
While Chinomona, Gezi and Nyambuya could have come out as surprise inclusions, Mudenda, who did not contest the July 30 elections, was always seen as a better candidate to continue as head of the legislative arm of government.
A Zanu PF central committee member said Mudenda did not participate in either the party's primary election or the general elections because his post had been assured.
Speaking to the Daily News prior to yesterday's indaba, outgoing Zanu PF chief whip Lovemore Matuke appeared to confirm Mudenda's continued rein at Parliament.
"If I was the one responsible for coming up with the party position I would whip people to vote for Mudenda because his track record is very clear, what he is capable of doing is not in any doubt and that makes his chances very high," Matuke said.
"When it comes to those things, democracy is guided so we are going to caucus before Parliament opens tomorrow because it is not like we are going to go in when the Speaker is elected next week and make our individual decisions. We are going to whip members to take a certain position that will have been adopted by the party and we will all follow that," he added.
Mudenda's chances have been helped by reports suggesting that the Nelson Chamisa-led MDC Alliance will also back Mudenda's candidature if his name is thrown into the ring.
While MDC spokesperson Tabitha Khumalo told the Daily News that her party was still to come up with names for the two positions there are also others who feel there is no wisdom in fielding a candidate when Zanu PF commands an overwhelming two thirds majority.
"The national standing committee is meeting today (yesterday) in the evening to deliberate on the issue of elections for the parliamentary presiding officers. We have not yet taken a position on whether we will field a candidate or not," Khumalo said.
But sources close to the goings on in the party say Chamisa, who lost his presidential bid to Mnangagwa in the July 30 harmonised elections is more comfortable with Mudenda as the head of the Legislature having enjoyed a good working relationship with him when he was still MP for Kuwadzana in the eighth Parliament.
"Given that we do not have the numbers to mount a challenge for the position, we have to back Mudenda who has proved that he can be a balanced leader in the august House. We have not met as a party over it but I can tell you there is general agreement that Mudenda is not a bad idea," a party national executive member said on condition of anonymity.
Owing to its majority in both houses, Zanu PF is expected to provide presiding officers for the election of both the National Assembly Speaker and Senate President.
Both the MDC Alliance and Zanu PF held separate caucus meetings yesterday to deliberate on the voting process ahead of the elections.
The election of Parliament's presiding officers is done in terms of Section 145 (1) of the Constitution which provides that "The first sitting of Parliament after a general election must take place at a time and date determined by the President, but the date must not be later than thirty days after the President-elect assumes office in terms of Section 94".
"Until the election of a President of the Senate or a Speaker, as the case may be, the first meeting of a House of Parliament must be presided over by the Clerk of Parliament." DailyNews