Emotional farewell for Manyenyeni
By Helen Kadirire
In an emotional farewell, outgoing Harare mayor Bernard Manyenyeni said the city needs an executive mayor for real development to take place.
Addressing his last press conference at Town House, Manyenyeni said until there is political will from all involved in local governance issues, things will remain the same.
Manyenyeni, who has been mayor of Harare from 2013, will not be contesting again in the local government elections set for Monday.
"The key ingredients for a successful municipality are: the economy must be functional, the government relationships including legal and political must be sound and correct, the focus of the elected team must drive progress, the performance of the management team must deliver results.
"All these, however, did not live up to the test and that summed up my term," he told the valedictory pressa.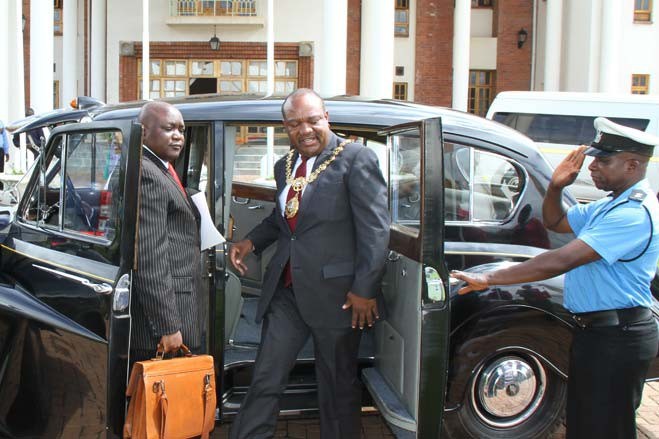 "Until the realities of the key ingredients are assessed, no clear evaluation can be talked about. Your city needs a performing city to deliver.
"It needs an enabling government that ensures council autonomy. The city needs focused elected leaders to perform.
"I repeat my call from 2015 that at least one third of the elected leaders must present sound credentials to lead this institution.
"Having an executive mayor is resolving half of the city's problems," he said.
Manyenyeni said employment costs have been council's biggest hurdle.
He said since 2013 when government approved hefty salaries, council has been collecting rates solely for paying municipal employees.
"The cost of employment is very high; we are talking of between $115 and $120 million lost to over payments in the last five years.
"I would be irresponsible not to highlight this matter," Manyenyeni said.
The outgoing mayor, who has been suspended twice for reneging on a ministerial directive not to retire former town clerk Tendai Mahachi, said he does not regret being the city's mayor.
He said in his afterlife, has various other projects that his Movement for Democratic Change has offered him in his district.
"However I have 30 years' experience in the business sector and I am confident that I am still employable and will not have difficulties," he said. Daily News