Infighting between Mnangagwa and Chiwenga factions frustrating eager investors
By MacDonald Dzirutwe and Joe Brock | Reuters |
A European investor's phone rings in a Harare restaurant and it's good news: an $80 million construction deal has been agreed with the Zimbabwean government. All that's needed now is a central bank guarantee letter. It never arrives.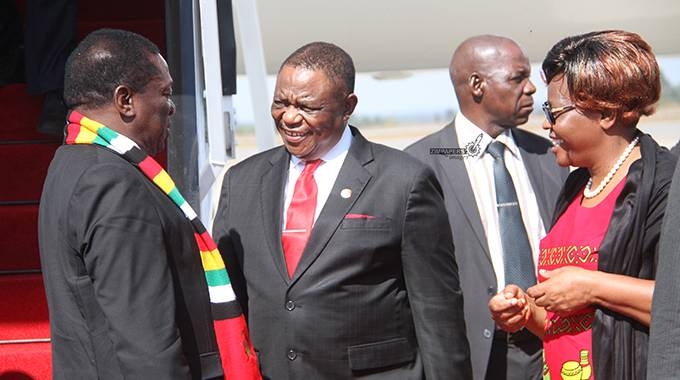 President Emmerson Mnangagwa, who took power when Robert Mugabe was removed in a de facto coup last November, has been trying to woo investors ahead of an election on July 30, a contest in which he is the narrow favourite.
Mnangagwa, a 75-year-old former ally of Mugabe, says he has already secured $15 billion of foreign investment, icuding from foreign multinationals, although these are mostly non-binding commitments, according to analysts from local financial advisory firms who reviewed the agreements.
In May, General Electric said it would look at healthcare, power and transport in Zimbabwe, while Coca Cola said it planned to make the country an export hub for juice and other products, and a source of raw materials.
Most big companies however are waiting until after the election to make their move although already the atmosphere has changed since the fall of Mugabe, whose nearly four decades in power brought a promising economy to its knees.
Harare taxi drivers say they are hearing more foreign languages in their cabs, businessmen gather around laptops at restaurants, and the often sleepy international airport is buzzing with newcomers.
But, so far, most are leaving frustrated and empty-handed.
"It's like the Wild West," the European businessman said, paying his bill in crisp U.S. dollars to the delight of a waiter more used to the dreaded quasi-currency 'bond notes' introduced in November 2016.
After three days rushing between government ministries to get the deal done, the signed contract in his briefcase is useless since it lacks a guarantee from the central bank that he can access the dollars he needs to import equipment.
"Right, I better go deliver the bad news," he said, rising to catch a taxi to the airport.
Reuters spoke to more than 20 investors, ranging from multinationals to entrepreneurs, who are interested in entering Zimbabwe for the first time or in expanding their businesses there since Mnangagwa was sworn in.
All expressed optimism about new opportunities in sectors from mining to telecoms, and financial services to construction, after a decade when China was the only big outside investor.
TURN THE NEEDLE
"When these political changes happened, immediately there was positiveness returning to the economy," said Adriaan de Lange, managing director at Omnia, a chemicals firm operating in Zimbabwe.
"The potential exists for Zimbabwe to really turn the needle."
But investors also raised concerns about the election and infighting over facilitating investment between factions linked to Mnangagwa and Vice President Constantino Chiwenga, the army general who led the coup against Mugabe.
The biggest obstacle is the chronic cash shortages that prevent businesses from importing the goods they need or repatriating the profits they hope to make, while portfolio investors can't get their money out of the stock market.
After raging hyperinflation, Zimbabwe abandoned its own currency in 2009 in favour of the U.S. dollar, but a widening trade deficit and lack of foreign investment have led to currency shortages.
For ordinary Zimbabweans this means winter nights sleeping outside banks in the hope of withdrawing the few dollars that are left, sometimes $20 in coins, often nothing.
The crunch wasn't solved by the introduction of the "bond notes" which officially trade at parity with the U.S. dollar but have already depreciated to 1.60 to the dollar.
Banking sources say the central bank has a backlog of $600 million in unpaid imports but less than $200 million cash, and the situation is getting worse.
The reserve bank declined to comment for this story.
CASH CRISIS
Hundreds of firms are waiting for the central bank to release their money, banking sources said.
London-listed Fastjet, the low-cost Africa airline backed by easyJet's Stelios Haji-Ioannou, said it may go bust if it doesn't recoup some of the $7 million it is owed by the Zimbabwean central bank.
"It's all at risk because of cashflow," Chief Commercial Officer Sylvain Bosc told Reuters.
"The demand is there, the opportunities are there. We actually want to expand in Zimbabwe."
Mnangagwa's team acknowledges the challenges.
"For 37 years we have been living under one man. It doesn't change just like that but we are getting there," said presidential advisor Chris Mutsvangwa.
"For investors it is a question of risk and reward."
The only way to convince foreign lenders and investors to provide the funds needed to end the currency crisis is if a financing programme can be agreed with the International Monetary Fund, and that will come with painful terms.
A source at the IMF said in order to get funding Zimbabwe will need to overhaul its public sector, including a crackdown on rampant corruption and mass layoffs, which has led to demonstrations in the past.
A deal to compensate white farmers who were evicted from their land also needs to be reached, the IMF source said.
If the ruling ZANU-PF wins the election, Mnangagwa has said he will strike a deal with the IMF and introduce a new Zimbabwean currency within 3-5 years.
But the leader known as "The Crocodile" hasn't shown any signs of prudence yet, handing civil servants a 17.5 percent pay rise in May and passing a 2018 budget with a bigger deficit.
UNCERTAIN ELECTION
Even before the IMF will engage in talks, it will want to see a free and fair election. The opposition protested this week, saying the electoral process was being rigged, with ballot papers being printed without their participation.
Mnangagwa is slightly ahead in opinion polls, which are unreliable, but his challenger, Nelson Chamisa, 40, is gathering momentum and the vote may provide no clear winner, meaning a messy coalition may have to be formed.
Even if Mnangagwa wins, he does not have a firm grip on ZANU-PF, with his powerful deputy Chiwenga intent on imposing his authority after taking a massive risk in leading the coup to oust Mugabe, political and diplomatic sources say.
Middlemen from both camps want to be the gateway for investment and are obstructing deals that don't pass through their offices, making it difficult for businesses to know who they should work with, several investors said.
A party divided with the military on one side and Mnangagwa on the other is not a conducive environment for investment.
"Everyone wants a slice of the pie," said the owner of an energy firm who has a deal in limbo due to a dispute between factions aligned to Mnangagwa and Chiwenga.
"They must be careful. The experience 'small boys' like me are having sets the tone for how 'big boys' view the risks."
Mnangagwa and Chiwenga did not respond to requests for comment.
Whoever wins the election won't have long to take the difficult decisions needed to get Zimbabwe's economy back on track before the public optimism built on the back of Mugabe's removal disappears.
"Do you think this is what I want to do with my life?" said black market currency trader Charity Kambarami, waving a wad of bond notes in the air.
"I would also love to go to work and get paid at the end of the month but there are no jobs. The politicians have promised a lot. We have suffered enough."