By Helen Kadirire.
HARARE – A health time bomb is ticking in Harare and Chitungwiza as sewage streams continue to flow through most suburbs despite efforts by both councils to fix sewer lines.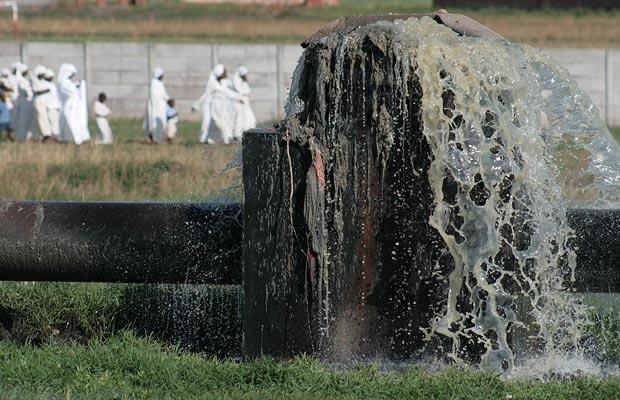 A survey by the Daily News on Sunday showed that most burst sewers were in high density suburbs.
Some residents and their associations felt shortchanged by the councils adding that they are now actually used to living with flowing sewage.
Emily Chiutsi from Zengeza 4 said apart from sewage flowing in people's yards and on the streets, they had no regular supply of water in Chitungwiza.
She said residents had to grapple with erratic water supplies which made flushing in the toilet a challenge, hence compromising hygienic standards.
"We see sewage flowing every day and have now become accustomed to it.
"But our children are most at risk. They play in those dirty streams and come back home where there is no water which leaves them open to dangers of ingesting
contaminated food," Chiutsi said.
Chitungwiza and Manyame Residents Association (Camera)director Marvellous Kumalo said the sewer reticulation system in Chitungwiza was now too old and can no longer sustain the population resulting in persistent sewer bursts aggravated by recurrent water shortages.
He added that the sewer reticulation needs to be revamped and be in tandem with the current population growth.
The Camera director said they always engage the council on this issue especially considering previous cholera and recent typhoid outbreaks.
"The people are forced to resort to unhygienic methods of sewer disposal such as the bucket system or in some areas the use of septic tanks on residential stands as small as 300 square metres or less. This continues to expose residents to water borne diseases among other related illnesses."
"The long awaited Muda Dam project is also a priority so as to alleviate the water shortages in the town. Areas not linked to the sewer system need to be connected as a matter of urgency so as to suit the set urban standards," he said.
Residents in some of Harare's suburbs said even if they report the sewage bursts to HCC the response is very slow or non-existent.
"In Dzivaresekwa the case of burst sewage is now a common feature. It has become a part of us just like the absence of water is in Mabvuku.
"What is most disturbing is… children playing close to the water coupled with uncollected refuse. It is no wonder we have typhoid and cholera incidents in Harare," Omega Ziko said.
She added the sewage streams can go for days without being cleared as council employees can either come to observe the bursts and go away or not respond to the reports at all.
In other suburbs like Budiriro, bursts, according to the residents, occur when there is water supply from council.
They claim that whenever their taps have water, a sewer pipe releases pressure and out flows the liquid human excreta.
"Sometimes we can go for weeks without water and as soon as it comes and people start flushing their home toilets, the following morning residents have to put stepping stones to cross these sewer streams.
"It's really funny how these things work, but we have observed it for quite some time now," Wiseman Kambuto said.
Combined Harare Residents Association (Chra) said some of the burst sewers can go for three weeks unattended to yet they will have been reported.
Chra claims that when the reports are made at the council district offices, residents are told that the bursts cannot be attended to because there is no transport.
"Actions by council officials come at a time when the local authority has commissioned 25 NP 200 half-tonne trucks.
In 2009 – 2010 Sinyoro Street and Tatenda Place in Dzivaresekwa were the epicentre of waterborne disease outbreaks which claimed lives due to unhygienic sanitary conditions caused by perennial sewage bursts," Chra said.
Last year, acting health services director Clement Duri admitted that disease outbreaks would continue to occur in Harare unless drivers such as burst sewers were addressed.
According to the city's overall performance review, HCC is discharging 60 megalitres (Ml) of sewer into the water daily.
As such council was now working on reducing the effluent it discharges to 50 Ml per day through repairs and maintenance of sewer pipe sections.Daily News.