Makoni Central MP and Finance Minister, Patrick Chinamasa says he is proud of the ceremonies conducted to commission skip bins in Rusape on Sunday.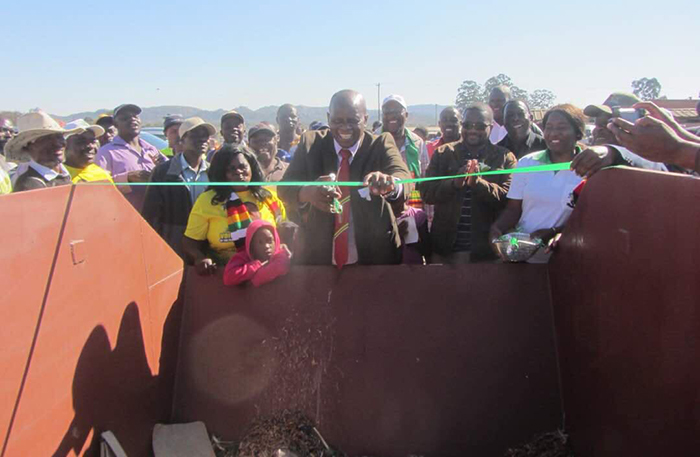 Three skip bins were commissioned in Rusape –two of them at the main bus terminus and the other one at Evergreen market –as part of an environmental promotion of proper disposal of litter.
The main part of Chinamasa's programme in Rusape was the commissioning of the multipurpose sports facility in Vengere.
Chinamasa said he will not lose sleep over social media jokes and criticism as the people who matter are actually happy with what transpired on Sunday.
And he actually believes that the social media campaigns, including the "Chinamasa Challenge" are helping his cause as he wants Rusape and the rest of his constituency to maintain cleanliness at all times.
While his political rivals argued that he did the bin ceremonies in his capacity as a cabinet minister, Chinamasa said he officiated as an MP who is also seeking another term on July 30.
The member of Parliament and Minister of Finance and Economic Planning said he did not go there as a minister but an outgoing MP, who is seeking reelection.
"I am not ashamed of being part of making Rusape, which falls under my Makoni Central Constituency clean.
"I am actually very proud of what we are doing to make our town clean. I am the MP for the constituency so I should be there to address local issues and making Rusape clean is one of the issues.
"Social media is actually highlighting our strides towards cleanliness. It (social media) is highlighting an important thing which should be emulated by other towns," Minister Chinamasa said.
He said council had put bins in the constituency to benefit everyone.
"Vendors where throwing rubbish next to where they conduct business from. It is a clear health hazard so those bins are important.
"I urged council to introduce those big bins at sources where rubbish was coming from and we are proud as a constituency that we have achieved that."
Chinamasa said on the day he had also commissioned Vengere multi-purpose sports court which offers basketball, handball, volleyball, netball and softball facilities.
"On that particular day I had even commissioned a five in one court for sporting activities in the constituency.
"I officiated at about five events that days for the good of our constituency where I have to be hands on as their representative in parliament," he said. H Metro