In any other setting, the story of Hilda and Zackaria would be a love story to be told over and over again.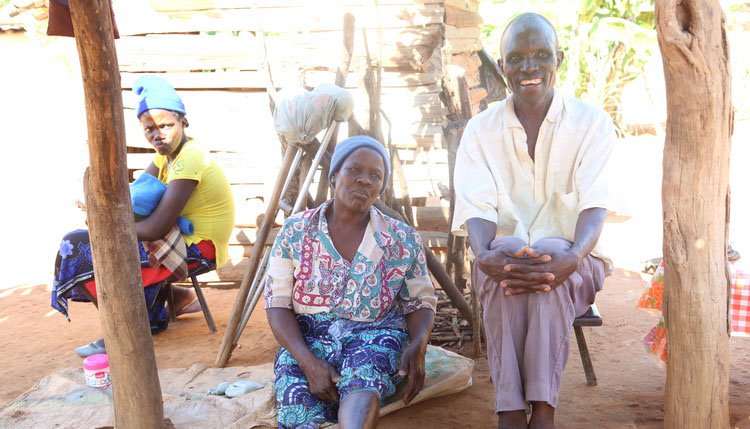 It could also make a script for an enduring love film, along the same lines as Titanic or a romantic war drama like Pearl Harbour. Only that this is Zimbabwe, we seem not to romanticise tragedy.
Though the couple's love story begins sometime in 1976, when they customarily married, or even before, if you consider the period of courtship, it was to take a turn they never imagined one horrible October 1979 morning.
"It was a Wednesday, October 17, 1979," she recently recalled. Given the way her life was altered that Wednesday morning, she says she will never forget the day, time and settings.
"My husband had gone to work, he used to work at Jersey Tea Estate and we had a small field where we would plough to supplement our feed."
As per norm, she got into the field, ready to prepare for the coming of the rain season. And within minutes, her life changed. She stepped on a landmine.
"I remember very well, I just sat down, no pain, no feeling. But I could see that my leg had been blown off. And I did not see where it landed, and never have I seen the rest of it since."
Somehow, she managed to draw the breath in her and yell to her fellow farmers who were nearby. Incidentally they had not heard the sound of the landmine blowing her leg away.
Within minutes she was ferried to the medical facility at Jersey, which immediately said that they had no capacity to handle her, and transferred her to Chipinge Hospital, where she was to spend the next two months recuperating.
For a marriage only three years old, the blowing away of Hilda's leg could have been a hard test, a reason for a bubbly Zackaria aged 31 years then to walk away and look for new love on a fresh pair of legs.
But not with Zackaria: "If there was a time when my wife needed any support, that was it. In Shona, they have a saying which encourages us not to look down on the disabled. You can only do so when you are dead, six feet under, when you cannot be disabled anymore."
Three years after losing her leg, that is in 1982, and six years after their marriage, the couple received their first-born child. They went on to have six more!
"I said to myself only God will separate us, not such handicaps. We have had our fair share of challenges, as would any other couple, but her missing the other leg has not been any challenge to us."
In fact, the missing leg has helped strengthen their love, with husband doing most of the household chores that, traditionally, would be reserved for his wife. He used to fetch water from the river, fetch firewood for cooking, whilst the wife would cook, wash dishes and sweep the yard.
"Disability does not mean inability, I am a living example of that. I can do some of the household chores, like using mortar and pestle, hoe the field or sweep the yard. And I could do even more if only I could obtain an artificial leg."
At 59 years old today, Mbuya Gorimbo, as Hilda is known in her neighbourhood, has not lost hope on getting the artificial limb.
In March, she travelled to Harare at the launch of the Zimbabwe National Mine Action Strategic Plan (2018-2025), an initiative which seeks to rid the country of landmines planted by the Ian Smith-Rhodesian regime during the liberation war in the 1970s. "I met with Vice President Constantino Chiwenga and I told him of the challenges that I have had since 1979, especially not having been able to afford to buy an artificial leg. I would really appreciate it if that dream is realised, that I should be able to walk without these crutches," she said.
Over and above the promise of an artificial leg, Mbuya Gorimbo says she was promised a job for one of her sons, so that her burden on the family can be lightened.
"The Vice President also promised to help one of my sons to get a job. That way, maybe my plight will be a lot easier to handle." She said over the past four decades, she had been to Chipinge several times, hoping to get assistance from the Department of Social Welfare.
"The trips have been fruitless. And recently we were asked to go to Chirinda Hospital (Mt Selinda) for measurements and l am just hoping that this time they will come true to their promises."
Whilst Zackaria is waiting on the promises that have been thrown in the way of his wife, it is love life as usual.
"My chores are less these days, thanks to the daughter-in-law who is now staying with us. But where I can I do help."
Now retired from the tea estate, the Gorimbos now survive on their small plot which they got through the land reform programme.
"If it was possible, they should be allocated another plot, closer to the highway, so that it is easy for her to commute to and from Chipinge.
"As it is, she has to walk about three kilometres to the road, to catch transport that takes her either to Chipinge or Mt Selinda," chipped in Beton Edward Sigauke, the matriarch father, who was visiting. The Sunday Mail