Rwanda's president Paul Kagame has denied ever meeting with Zimbabwe's opposition leader Nelson Chamisa after he (Chamisa) suggested during a rally to have "helped the Rwandese leader turn his country around" following the gruesome genocide in 1994.
According to reports, Chamisa told his supporters in Beitbridge over the weekend that he had helped the Rwandese leader turn his country around during his time as Zimbabwe's minister of information and communication technology (ICT) between 2009- 2013.
"Look what my brother Paul Kagame is doing for his country. I helped him on his ICT policy, on how to turn around the country when we met in Geneva, Switzerland and he was happy with my presentation. He asked and enquired about me from former president Robert Mugabe and he told him that I belonged to his party Zanu-PF, but I told him there and there that I belong to MDC party led by the late Morgan Tsvangirai. So Kagame is doing a wonderful job for his country because he is planning from a local level, and because of that, Rwanda has never been the same, it has changed completely," Chamisa was quoted as saying.
But, in a tweet, Kagame denied knowing the charismatic opposition leader.
The east African leader said: "1st my name is Kagame not kagama 2- I don't know this man & no discussion ever happened with him anywhere …3rd Rw's ICT policy, projects & progrm started before mdc formation and politics! I wish the people of Zim. well!"
In what appeared to be damage control, a picture of the two shaking hands has since emerged on social media – as Chamisa was being called out for lying.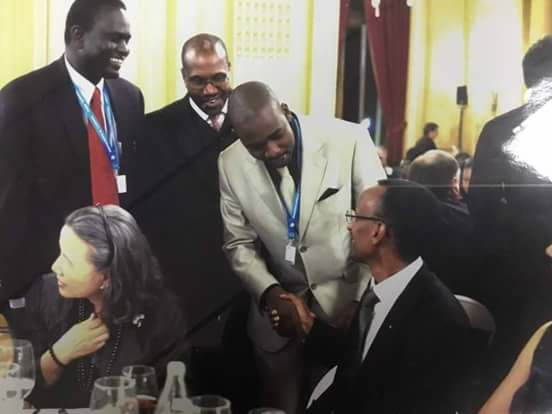 Chamisa has since also took to social media to remind the Rwandese leader that they had met a few years back after Kagame had asked for a presentation document that the MDC-T leader had made.
The ruling Zanu-PF has also taken a swipe at him claiming his insistence of meeting Kagame was an embarrassment.
According to the state-owned Herald newspaper, it was not the first time that the young politician was caught lying.
The report said that Chamisa had previously lied about being promised $15bn of aid by the United States government should he become victorious in the coming elections.
Zimbabwe is expected to go to the polls on July 30 after President Emmerson Mnangagwa made the announcement on Wednesday.
Mnangagwa maintained on Monday that he was committed to "free and fair elections". News24.com