By Fungi Kwaramba
Masvingo Provincial Affairs minister Josiah Hungwe and deputy Finance minister Terrence Mukupe have been roundly condemned for their controversial statements which are out of step with what President Emmerson Mnangagwa believes in.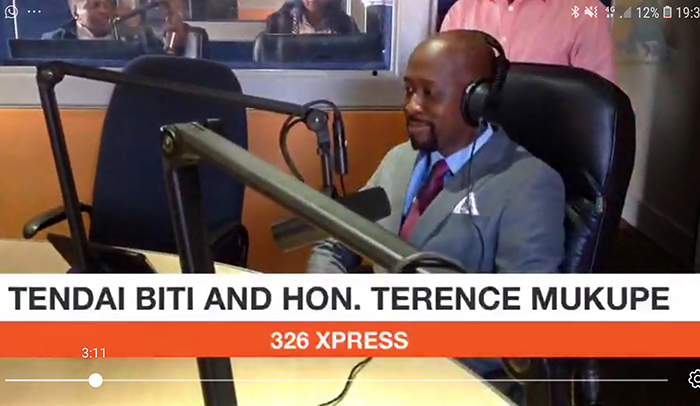 Mnangagwa, who took over the reins from ousted Zanu PF leader, Robert Mugabe, has pledged to hold free and fair elections and to accept the outcome of the plebiscite, whichever way the pendulum swings.
But as the world begins to warm up to his promises, which are a marked departure from his predecessor's undemocratic rule, his officials are singing out of tune, thus poking holes into Mnangagwa's undertakings.
On Tuesday, Mukupe declared that the military will not allow MDC Alliance leader, Nelson Chamisa, to rule if he wins this year's election.
The rookie junior minister was immediately censured by government, which said his utterances were not reflective of the position of the ruling Zanu PF, government or the military.
On Wednesday, Hungwe, reminded his audience in Chiredzi that if Mnangagwa could shoot his way into power in November last year, then there was nothing to stop him from doing the same to keep office.
Yesterday, the 27-member European Union (EU) which has been playing a wait-and-see game towards Zimbabwe's commitment to holding free and fair elections, expressed its disgust over Mukupe and Hungwe's remarks.
"If real news, hopefully unauthorised and definitely unlawful, reckless, improper, uncalled for and thus totally condemnable," said EU ambassador to Zimbabwe, Phillipe Van Damme, while writing on micro-blogging platform, twitter.
Lawyer and human rights defender Doug Coltart observed on his twitter page that Mnangagwa, for all his peace sermons, might have a devious card under his sleeve.
"Yesterday it was deputy minister of Finance Terrence Mukupe, today it's minister of State for Masvingo Josiah Hungwe. These are senior figures within Zanu PF.
Government will protest they were unauthorised but these utterances are not coming from nowhere," said Coltart.
Academic and researcher, Pedzisai Ruhanya, said Mukupe and Hungwe were just exposing Zanu PF for what it is.
"Mukupe represents what this regime really and practically is, that is why he remains deputy minister. Forget about the pretence and public relations gimmicks. He is playing his assigned role while others mislead behind closed doors, under the cover of darkness and beyond media scrutiny are all Mukupes! It's called division of labour in authoritarian regimes. The problem is not Mukupe; its institutional, systematic, structural and the appointing authority ED. That is why Zimbabwe requires a governance overhaul not just removal of old Bob," said Ruhanya.
Academic and researcher MacDonald Lewanika, in an opinion piece, captured how the army has been part of Zanu PF's campaigning team, tracing the roots to the 1980s when — under the instruction of Mugabe — an estimated 20 000 people were killed during the Gukurahundi atrocities by a North Korea-trained crack army unit.
According to Lewanika, the appointment of a retired army general Engelbert Rugeje to lead the ruling party's commissariat department shows that the old has refused to die and there was an underhand ploy to use the army in the forthcoming polls to be held before August 22.
"Rugeje's entry signalled a shift towards the entrenchment of militarism in Zanu PF, and a return of attention to the Zanu PF faithful rather than reaching out to external and hitherto adversarial publics. Zanu PF's capacity to foster fundamental political change was dealt a heavy blow when Rugeje was given province over the party's political engine room and election strategy for 2018. This was the telltale sign that Zanu PF was returning to factory settings, focused on the capture and retention of power rather than transformation of the architecture of governance and people's lives," said Lewanika.
"The international community has demonstrated a tremendous amount of goodwill towards Mnangagwa. This can be a basis for promoting and supporting real political change, but goodwill alone is not sufficient to turn the Mnangagwa regime — whose members provided aid to Mugabe's dictatorship and took power through a coup — into overnight democrats. There must also be pressure applied through a clear political incentive structure that is built on performance-based trade-offs for political and economic reforms, both on paper and in practice," said Lewanika.
In the recently held Zanu PF primary elections most of the retuning officers were soldiers and in a leaked document following the military coup last November, the command element revealed that they had deployed at least 2 000 soldiers who were gathering intelligence on behalf of Zanu PF.
In a statement yesterday, secretary-general of the Zimbabwe Congress of Trade Unions Japhet Moyo — the largest but shrinking workers' representative body — said Mnangagwa, to save face, must fire Mukupe otherwise no one would believe his pledges.
"…Mukupe must be removed from government as he has shown to be unfit for government, reckless, a loose cannon and a danger to Zimbabwe. In his latest gaffe, deputy minister Mukupe treasonously claims that the army would not allow the country to be ruled by opposition leader Nelson Chamisa even if he wins the forthcoming elections.
"Although the government and ruling party Zanu PF tried to do damage control by distancing themselves from Mukupe's utterances, we believe this is not enough. If Mukupe is not fired, we are bound to believe that his sentiments run through the ruling party and their denials are just smokescreens." Daily News