By Mugove Tafirenyika
The death of businessman Kudakwashe Tagwirei's father dealt a major blow on government business this week as virtually all ministers abandoned their workstations to attend his burial — in a development that also paralysed Parliament's business.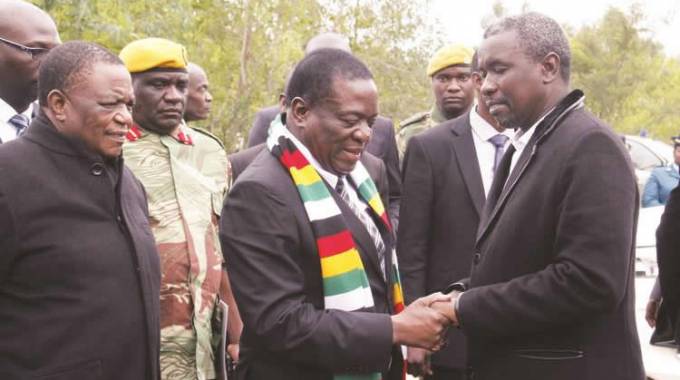 There was a virtual government business shut-down in Parliament on Wednesday as President Emmerson Mnangagwa, his deputy Constantino Chiwenga and all but three of his ministers made a beeline to Shurugwi to attend the burial of Phineas Tagwirei, father to Kudakwashe, an influential businessman who has made millions in the fuel supply and energy industries through his company, Sakunda Holdings.
A reclusive entrepreneur, Tagwirei is credited for mobilising finance for government's Command Agriculture, which the opposition alleges to be an illegal parallel programme of the State, specifically designed to pursue a narrow electoral agenda, specifically securing a Zanu PF victory at the 2018 harmonised elections.
As one of former president Robert Mugabe's deputies before they fell out towards the end of last year, Mnangagwa became the face of Command Agriculture, which also became another source of friction between him and the former despot's wife, Grace, who sensationally claimed to have originated the idea.
Since Mnangagwa's inauguration as the country's president following his military-aided rise in November last year, Tagwirei's influence has grown tremendously, not only in the ruling Zanu PF party but also in government.
Such is Tagwirei's influence in the country's top echelons of power that even Parliament had to suspend its traditional Question and Answer time on Wednesday where ministers respond to impromptu questions from legislators.
Only four ministers, Supa Mandiwanzira (ICT and Cyber Security), Patrick Chinamasa (Finance and Economic Planning), Joram Gumbo (Transport and Infrastructure Development) and Ziyambi Ziyambi (Justice, Legal and Parliamentary Affairs) were available.
Critics of the new administration are, however, alarmed by Tagwirei's growing influence and have warned that the country risked another version of state capture similar to what has become known as the Guptagate scandal in South Africa.
Respected University of Zimbabwe political science lecturer, Eldred Masunungure, told the Daily News that unlike in South Africa where the state capture was at the level of deposed South African president Jacob Zuma who caved to pressure to quit over his ties with the Gupta family, in Zimbabwe both the party and the State risk being captured.
"Mnangagwa's is a case of party, state capture and it is worth investigating the extent to which the Sakunda tentacles have spread both in government and in Zanu PF given the State-party conflation in the country's political economy," Masunugure said.
"The attendance by ministers is also to make sure that they are seen to be following the president lest they will be viewed as disloyal and be dumped when the time to select ministers comes, this being an election year."
The absence of ministers from their work stations comes even after Mnangagwa on his inauguration pledged to effect a radical departure from his predecessor's way of doing things in which Cabinet ministers were also made to abandon duty to attend Grace's rallies as she inexorably climbed the political ladder.
Contacted for comment, Zanu PF secretary for administration Obert Mpofu, referred inquiries to party spokesperson, Simon Khaya Moyo.
Khaya Moyo, who is also the acting government spokesperson, could not give a comprehensive response, saying he was attending a series of meetings.
"Who is saying the party and government is captured? In any case, I am not the government spokesperson so why don't you give him the chance to do his work?" he said.
In the National Assembly on Wednesday, MDC Member of Parliament for Glen Norah, Webster Maondera questioned how important Tagwirei was to the country that the whole government bureaucracy had to attend not even his funeral, but his father's.
"We would want to know who this Sekuru Tagwirei is because it is unprecedented that the whole government can be brought to a standstill because of an individual's death," Maondera fumed in the National Assembly.
"From what we know, Tagwirei is the father of a local business man and we feel that there is no justification that as Parliament we should be affected by that," he added.
This was after National Assembly Speaker Jacob Mudenda had announced that several ministers had sought leave of the House to be absent.
Mudenda was forced to summon the Zanu PF chief whip, Lovemore Matuke, to his seat.
Mudenda then told the House: "I instructed the chief whip to compile the names of those that are not here and have given an apology.
"The insinuation you make that they should not have attended is not proper because some people might have a string of extended family relations but I am, however, not justifying their absence," Mudenda said.
Political analyst Maxwell Saungweme said so powerful was the "lure of money that even Parliament business was set aside at a critical juncture where the country will stage elections in two months because lawmakers and Cabinet ministers had gone to attend a private function".
Constitutional law expert Alex Magaisa said the question that must be asked is who is Kuda Tagwirei?
"Is he the real owner or is he a front for a more powerful cabal?" he asked rhetorically.
"I think a starting point would be to understand who is in charge of the fuel distribution system in Zimbabwe. Here you will also find a cartel that involves international conglomerates like Trafigura whose profiles aren't uncontroversial. To use a famous metaphor, you are looking at a tortoise on a fence post but the real question is who put it there?"
International human rights lawyer and analyst Dewa Mavhinga said for Tagwirei or any other businessperson to support government programmes is not a problem for as long as government authorities are able to retain their independence and to discharge their constitutional duties without undue influence, fear or favour.
"State capture occurs when private individuals are able to use their influence to control and direct government functions and therefore, the question is: Has Kuda Tagwirei used his proximity to government ministers and to the president to unduly influence government business?
"The Zimbabwe government must guard against such close relationships with private individuals because that could lead to corruption as the well-connected use their connection for private and personal gain," he said. Daily News