Mudede challenges application by woman (75) seeking Zim citizenship
By Mashudu Netsianda
The Registrar-General Mr Tobaiwa Mudede has filed a notice of opposition at the High Court challenging an application by a Bulawayo woman born to Zambian parents who is suing him for refusing to grant her Zimbabwean citizenship.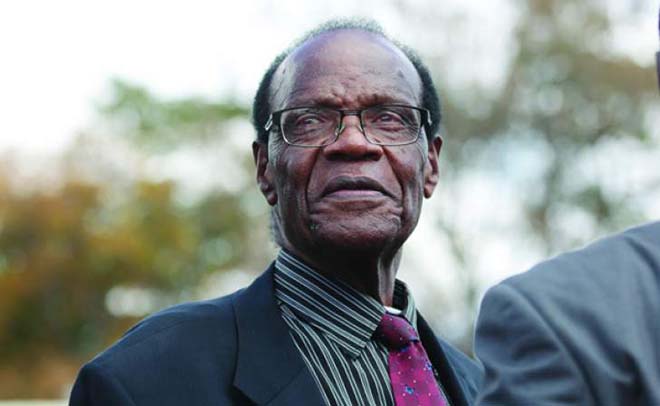 Mrs Ketty Twasa (75), through her lawyers Moyo and Nyoni Legal Practitioners, filed a court application at the Bulawayo High Court seeking an order interdicting Mr Mudede from demanding that she must renounce her dual citizenship as a prerequisite to be issued with a new birth certificate and national identity card which would subsequently allow her to apply for a Zimbabwean passport.
She cited the Minister of Home Affairs and Culture, Dr Obert Mpofu and his Justice, Legal and Parliamentary Affairs counterpart Ziyambi Ziyambi as respondents.
Mrs Twasa, whose maiden surname is Sithole, said she used her husband's surname to obtain her identity document, which classifies her as a foreigner
Mr Mudede through his lawyers Thondhlanga and Associates said Mrs Twasa failed to provide the court with evidence to show that she was born in Zimbabwe.
"Further, to that there is no evidence that the applicant's parents were Zambians. She made allegations with no proof and there is no evidence that the applicant was born Ketty Sithole and later took up her husband's surname since she did not attach a marriage certificate," he said.
Mr Mudede also disputed Mrs Twasa's claim that she was asked to renounce her Zambian citizenship.
"The procedure at my office has always been that an individual approaches us with the relevant documents which are then verified and in this case I did not see the applicant's documents. The applicant must meet certain requirements in order for her to obtain a birth certificate," he said.
The Registrar-General said Mrs Twasa did not satisfy the conditions set in section 43(2) of the Constitution."If the applicant meets the conditions in the Constitution then my office will have no reason to refuse to issue her with any official document," said Mr Mudede.
Section 43 (2) of the Constitution reads: Every person who was born in Zimbabwe before the publication day is a Zimbabwean citizen by birth (a) if one or both of his parents was a citizen of a country which became a member of Sadc established by the treaty signed at Windhoek in the Republic of Namibia on the 17th August 1992; and (b) he or she was ordinarily resident in Zimbabwe on the publication day."
Mrs Twasa wants a declaratur that she is a Zimbabwean citizen by birth. She seeks an order directing Mr Mudede to issue her with a new Zimbabwean birth certificate and identity card that does not depict her as an alien.
"I was born to Zambian parents who are both late. I do not have a birth certificate or any birth record because my parents kept my records and later sent them to Lobengula Primary School where I did my primary education in the 1950s," she said.
Mrs Twasa said she remained in Bulawayo when her parents, who used to reside in Mzilikazi suburb, relocated back to Zambia between 1958 and 1959.
She said she is struggling to obtain a Zimbabwean passport. Mrs Twasa said she is failing to raise $5 000 which is required to renounce her dual citizenship, since she is not employed.
In November last year, Mr Mudede told a Parliamentary Thematic Committee on Peace and Security that people referred to as aliens were not citizens, saying being issued with a birth certificate did not guarantee one citizenship.
During the same month, the Harare High Court judge Justice Nyaradzo Munangati-Manongwa ruled that the Registrar-General's Office should allow aliens to register to vote during the biometric voter registration (BVR) exercise provided they produce their identification documents and proof of residence.
The ruling followed an urgent chamber application by the Zimbabwe Lawyers for Human Rights, which had petitioned the High Court on behalf of a Harare resident, Ms Sarah Kachingwe, alongside the MDC-T and MDC, seeking an order compelling the Zimbabwe Electoral Commission (Zec) to register aliens as prospective voters for the 2018 harmonised elections.  The Chronicle