By Nozwelo Hadebe
A 26 year old Victoria Falls man is lucky to be alive after he jumped into the infested Zambezi River in a suspected suicide attempt while in a drunken stupor. An alert barman took a suicidal dive after Mr Tinashe Ronald Chigiya (26) of House Number 985 Aerodrome and rescued him.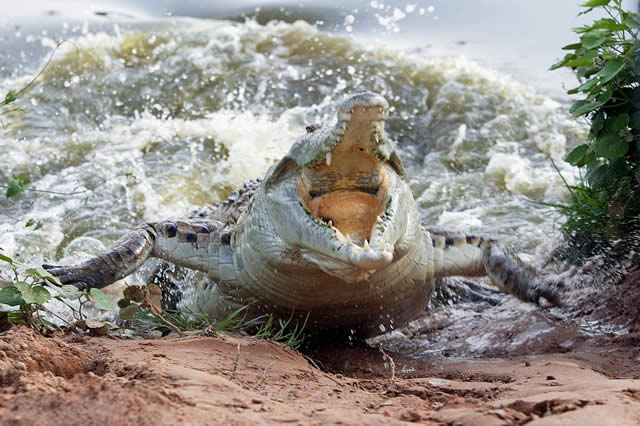 Witnesses said he started hallucinating while claiming that his late brother was calling him into the water on Friday.
Police confirmed the incident which occurred at Zambezi House Restaurant and bar, located on the river bank.
Mr Chigiya was drinking beer with friends when he allegedly suddenly left the bar and headed for the river and jumped into the water.
Witnesses said he told his friend Mr Geneva Museka that he was seeing visions before heading for the river.
"He has Zambezi House barman Mr Themba Satsha to thank or rather blame for foiling the suicide mission, after the brave bartender timeously took a suicidal dive into the water and fished him out," said a witness.Police officer commanding Victoria Falls District Chief Superintendent Jairos Chiwona said Mr Chigiya was rushed to Victoria Falls District Hospital.
He could not give more details.
"I can confirm that we received such a report and investigations are going on," he said.
A police source said Mr Chigiya was attended to and discharged after being stabilised from intoxication.
A source narrated the incident: "Tinashe was drinking beer with friends at Zambezi House when he suddenly jumped into the water at around 1.00AM. An alert barman quickly dived into the water and pulled him out risking his own life in the crocodile and hippo infested river."
Mr Chigiya was lucky not to be charged for attempting to kill himself as it was considered that he acted under the influence of alcohol, said a police source.
When a news crew visited his place of residence in Aerodrome yesterday afternoon, a man came out of the house and introduced himself as Tinashe Ronald Chigiya when the crew knocked at the gate.
After the crew had introduced itself, the man went into the house purporting to be calling somebody to help him narrate the incident and returned about three minutes later, claiming he was not Tinashe.
"I am not Tinashe. I only said I was because I wanted to know why you are here. Tinashe is resting and he says he can't talk to you now," he said before closing the gate.
A fortnight ago, a drunken man lost an arm and sustained multiple fractures after he was attacked by three domesticated crocodiles when he jumped into their pool at a restaurant.
Mr Collin Peter Stewart Miller (21) from Lusaka, Zambia, was airlifted to South Africa following the attack at The Victoria Falls River Brewing Company.  The Chronicle