By Austin Karonga
A solidarity march organised in support of  Zimbabwe senior women's soccer team, the Might Warriors degenerated into chaos when thugs suspected to be sympathetic to Zifa gate-crashed and disrupted the event in support of the national football governing body.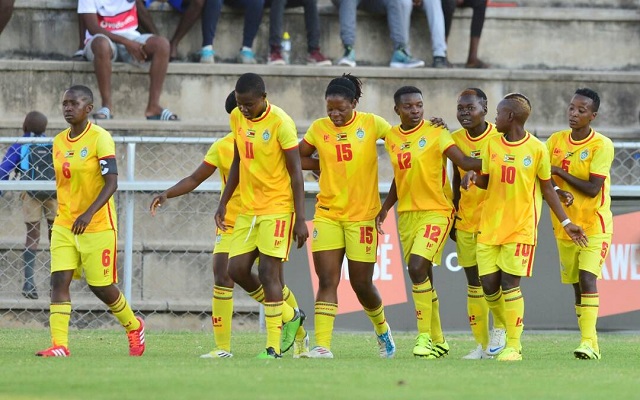 Dubbed: Walk Against Women Abuse in Sport, yesterday's march was organised by Zimbabwe Sports Legends led by former Warriors defender Harlington Shereni.
The walk started in earnest with several soccer legends among them Shereni, Charlie Jones, Stanley Chirambadare, Eric Aisam and Laban Kandi joined by various pressure groups such as Padare/ Enkundleni taking their solidarity to Zifa House.
However, Zifa now operates from the northern suburbs where the national football association is sheltered at Zifa President Philip Chiyangwa's business premises.
All hell broke loose upon arrival at the abandoned Zifa House along Livingstone Avenue where an opposing group hoisted placards praising Chiyangwa while denouncing every dissenting voice.
They cash-strapped national football governing body attracted fierce criticism this week over the way it handled the affairs of the Mighty Warriors who are one step away from qualifying for next year's African Women's Cup of Nations.
Mighty Warriors were given derisory $ 5 allowances.
"We are here mainly because of the treatment our national women football team received and it's not the first time. We just thought that now it's enough because these are people who are currently flying our flag high.
"This is the only football team that is doing better than any other team but at the end of the day they are treated so badly.
"Personally it pains me, it pains the legends so we spoke about it and thought maybe this is a good way of showing that we are not happy and these girls should be given what they deserve," Shereni told the Daily News.
"Women's football is like men's football in the eyes of Fifa so their preparations must be done just the same way we do with men football. We cannot have people thinking the women national team is not important, that is very wrong."
The Mighty Warriors are currently the most successful national football team but their impressive performances have failed to attract the attention of both government and the large section of the corporate world.
Their neglect has raised serious issues about Zifa, government and the corporate world attitude towards women's football in the country.
A week which started in tears, however, ended with good news as rising pay-per-view broadcaster Kwese TV announced a huge deal for the Mighty Warriors.
Meanwhile, in a statement the Sports and Recreation Commission (SRC) said Zifa has promised to settle the Mighty Warriors' allowances.
"The SRC board has noted with concern recent media reports to the effect that the Zimbabwe senior women team players and officials had been ill-treated by being given amounts as low as $5.00 in recognition of their outstanding performances.
"Following these media reports, the SRC board contacted Zifa seeking clarification on this matter..
Zifa advised that the allowances for players and officials which are as agreed in their signed contracts will be deposited in their bank accounts and that players and officials had been advised.
"The SRC board would like to assure the nation that the welfare of the national team players and officials will continue to receive its serious attention and no effort will be spared in exploring ways to improve it," the SRC said in a statement. Daily News