By Tadious Manyepo
As questions continue to be asked on whether amputated CAPS United captain Hardlife Zvirekwi will still be able to play professionally after he recovers, one of the players who found themselves in the same situation like the Warriors full-back in the early 1980s – Todd Gwamure – says it will be difficult though still possible. Zvirekwi's left hand was amputated from the wrist at Parirenyatwa Group of Hospitals on Monday after it was badly injured in a car accident in the early hours of the same day.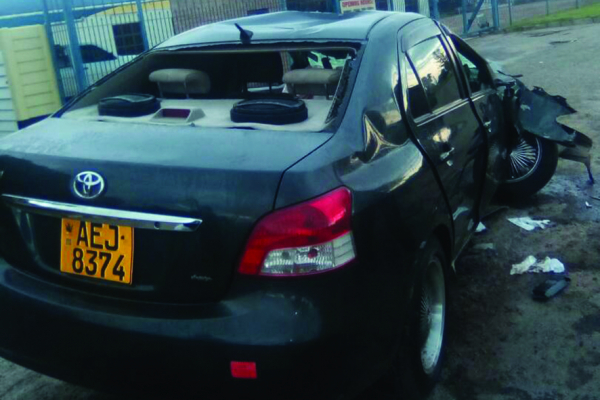 Just like Zvirekwi, Mbare-born Gwamure, who at one stage played alongside local soccer greats in the likes of Stanford "Stix" M'tizwa, Reuben Musambudzi, Raphael "Tsano" Beira, David Mukahanana, Anthony Kambani and goalkeeper Leon "Tingo" Linyama at the then Division One outfit ProNutro, had his right hand amputated after a freak accident at his workplace in 1985.
He recovered after about seven months, but could not play professionally again as he lacked balance, agility and found it difficult to block the ball or make sliding tackles as a defender.
Gwamure, who is brother to the late former Douglas Warriors coach Beaven, said it will be difficult for the 2016 Soccer Star of the Year to find the groove which made him a regular for the senior national soccer team.
"After a freak accident at my workplace way back in 1985, I was hospitalised and subsequently amputated from the wrist of my right hand.
"I was 26-years-old by then and one of the best players at my lower division team and was looking forward to join some of my former teammates like M'tizwa, Mukahanana and Kambani, who were already playing in the top-flight.
"Unfortunately, I met with fate and it was always going to be difficult for me to come back as strongly as I was before the accident.
"After about seven months, I had recovered and had an artificial limb on the hand. I decided to quit the game probably because I had not been fully counselled. I only started to play in the social leagues as I felt I no longer had the requisite balance.
"But I think Zvirekwi can still stage a comeback if he is rehabilitated properly. He is a very good player whom I have always admired despite the fact that I don't support CAPS United. The fact that I was able to play in the social league despite my condition can be testimony that it can be done. I am very sorry to his club, but I will make sure I visit him and try to tell him my story.
"As a defender, playing as an amputee can be difficult since you will have to perform some of your defensive roles aided by hands. You need to block, tackle and screen the ball, all of which need hand action. But with good encouragement and full rehabilitation, I am very positive Zvirekwi will be able to come back," Gwamure said.
With CAPS United having already indicated that they will buy their captain a prosthesis, Zvirekwi will have to make do without the artificial hand as it is not allowed in the field of play (in professional football).
Nicholas Munyonga, one of the leading sports doctors in the country, yesterday said the player will have to decide on his own whether he still wants play or not. He said if Zvirekwi decides to play on, he will have to do it without the prosthesis since it is not allowed on the field of play.
"It's unfortunate the player got injured. He will have to decide on his own whether he wants to continue playing (football) after he fully recovers. If he decides to play, he will have to do it without the prosthesis as it is not allowed," Munyonga said.
In fact, no amputee has of late played in the domestic top-flight, although in the 1950s the country used to have Freddie "Dusty King" Gotora, the legendary one-armed soccer player who made the now-defunct Civil Service FC one of the finest teams in the then Salisbury Soccer League.
But unlike Zvirekwi, Gotora, arguably one of the best dribblers to emerge from this country, was a striker and made minimal contact with defenders.
At 31, Zvirekwi, who is equally at home as a midfielder, would also have to battle with the age issue should his recovery and rehabilitation take longer than expected. But as Gwamure noted, "nothing is impossible'' and Zvirekwi might just bounce back to the game. The Herald