MDC-T Bulawayo violence. . . 12 in court | The Chronicle
By Mashudu Netsianda
Twelve people, including Bulawayo deputy Mayor Gift Banda and another councillor, Mlandu Ncube appeared in court yesterday in connection with the violence that rocked the MDC-T Bulawayo province on Sunday.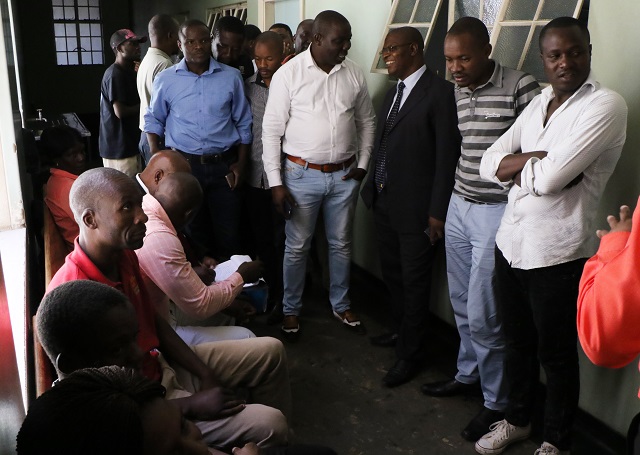 More than 15 people were injured when members of the MDC-T factions fought running battles at the party offices.
The MDC-T has been divided along factional lines, pitting party deputy president Dr Thokozani Khupe and president, Advocate Nelson Chamisa.
Banda (49) of Burnside suburb, Ncube (30), of Northlea Court in the city's Central Business District, Felix Mhaka (39) of Khumalo suburb, Kunashe Muchemwa (36) of Sizinda, Raymond Dudzayi Gombedza (47) of Makokoba, Robson Tera (41) of Entumbane, Donaldson Mabuto (35) of Mpopoma, Michael Mubasa (55) of Sizinda, Madzana Takunda (31) of New Magwegwe, Sibongubuhle Sibanda (42) of Pumula North, Erick Gono (33) of Magwegwe West and Edith Moyo (35) of Old Lobengula, appeared before Bulawayo magistrate Mr Franklin Mkhwananzi facing charges of public violence as defined in section 36(1)(a) of the Criminal Law (Codification and Reform) Act.
They were all remanded out of custody to April 6.
Banda, who is also the MDC-T Bulawayo provincial chairperson, was released on $200 bail while the rest of the accused persons were granted $50 bail each.
As part of the bail conditions, the accused persons were ordered to report once a month at the Bulawayo CID Law and Order Section and not to interfere with State witnesses.
They were also ordered not to engage in any form of political violence pending the finalisation of the matter.
Prosecuting, Mr Jeremiah Mutsindikwa said on March 4 this year, there was a meeting at the MDC-T Bulawayo provincial offices between 2nd and 3rd Avenue along Fort Street.During the course of the meeting, the accused persons, allegedly acting in cahoots, went to the venue of the meeting and tried to force their way into the meeting.
The court heard that they were denied entry by a team which was manning the entrance.
"After they were denied entry, the accused persons started throwing stones at the people who were attending the meeting. They as a result injured some people and damaged windscreens of a Range Rover Discovery, Honda Fit, Toyota Fortuner and a Nissan Xtrail," said Mr Mutsindikwa.
The total value of the damaged property is $5 200. A report was made to the police leading to the arrest of the accused persons.
A team of 12 lawyers led Mr Prince Butshe Dube of Mathonsi Ncube Law Chambers represented the accused persons. The Chronicle