By Jacob Mafume
Auxilia Mnangagwa made headlines infinite running around all referral hospitals in the country soon after the unceremonious inauguration of her husband as President of the Republic.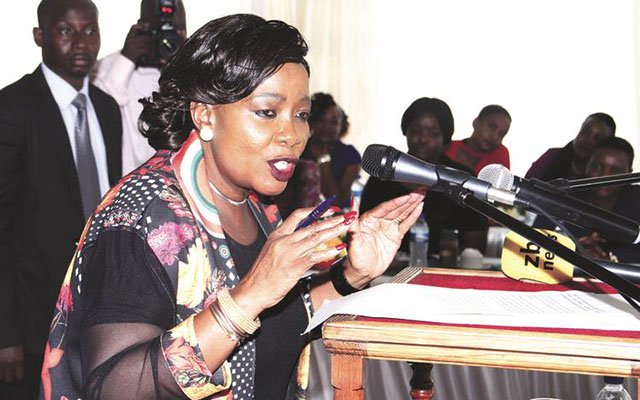 Many thought she was up to something good, the hopes of every patriotic Zimbabwean after years of being subjected to the Zezuru unconquerable hullaballoo by her predecessor.
So what followed was a mantra which has since died down, "Give Him a Chance".
The fading of this statement is a result of a great betrayal, the side-lining of a people's agenda in pursuit of outward looking sound bites.
It is the outward looking obsession that has gotten us where we are today, the failure to put our people at the centre of government programming. It is a clear sign of ill-informed priorities, lack of care and a general lack of a proper plan beyond a slogan.
The slogan "Zimbabwe is open for business", a mantra not accompanied by a proper plan.
Both the slogan by the President and the marathon by the First Lady have been exposed by the issues expressed by the Hospitals Doctors Association of Zimbabwe in their letter to government highlighting a worsening public health situation.
"There has been no notable improvement in the supply of essential drug sand medicines, let alone equipment in our hospitals. Ambulances remain few and un-roadworthy. Patients continue to receive substandard treatment and there is still severe understaffing.
"Patients continue to buy their own drugs, an abuse of the taxpayer's money. Furthermore, patients are dying unnecessarily due to lack of resources. The current situation at hospitals is precarious and is doing more harm than good."
Typical absence of a government, it is the doctors who are concerned about the death of the patients when the government itself is not concerned at all.
Instead the government continues to mistreat the few patriotic practitioners who have remained at the service of the Zimbabwean people against all odds. This is why they are now downing their tools.
"Locums owed to Doctors since October 2017 have not been paid, and doctors depend on these for their livelihood. Also, posts have not been created to absorb all post-internship doctors and incoming junior doctors. We feel that the ministry is not prioritising our people's health, and our efforts to engage them are fruitless."
In the MDC Alliance's alternative national agenda towards a transformative democratic developmental state presented on the 8th of December 2017 by the Chairperson of the Policy Committee, Tendai Biti. We mentioned the need to monetise social service delivery which we felt was being overlooked , now the chickens are coming home to roost.
With a 100 days gone the emperor has been exposed, he has no clothes, it is a hundred days of failure, mediocrity, a damp squib, a new obscenity and an aberration.
One which means our people will die as a result of a soft genocide committed by deliberate neglect of the duty to serve by a selfish elite. It is unacceptable. These people must be punished and replaced by a team with ideas, a team which will put our people first.
Jacob Mafume, PDP Spokesperson, MDC Alliance Information Committee