Bus firm ordered to pay accident victim's wife $60k compensation
By Codelia Mondela
The High Court has ordered a luxury bus company Pathfinder to pay $60 000 compensation to a woman who lost her husband in an accident which occurred along Harare-Bulawayo highway near Shangani in 2013.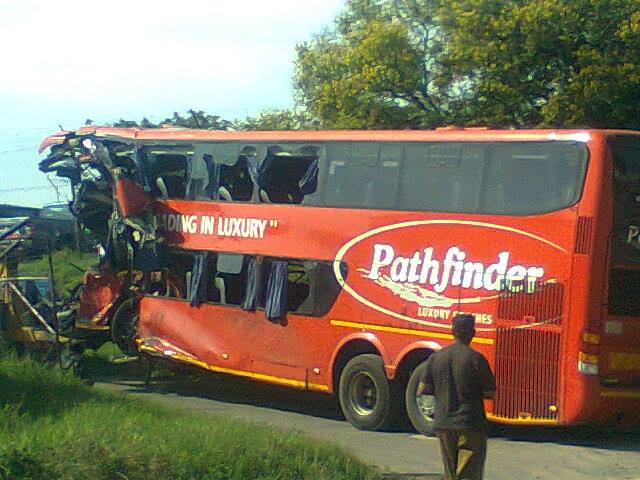 Chris Kasvosve died after sustaining injuries when the bus that was travelling from Harare to Bulawayo was involved in a head on collision with a haulage truck on December 7 in 2013 at Lochard.
The driver of the bus, Mr Bekithemba Masuku, hit a cow and encroached onto the lane of the oncoming truck resulting in the collision which killed nine people.
Professor Lovemore Madhuku of Mundla and Mudhara Legal Practitioners confirmed that his client Mrs Shamiso Kasvosve won the case at the Harare High court in connection with the Lochard accident.
The ruling by Harare High Court judge Justice Happious Zhou followed an application by Mrs Kasvosve demanding $60 000 from Mr Masuku and Pathfinder Luxury Coaches who were cited as first and second defendants.
Justice Zhou ordered the defendants to pay Mrs Kasvosve $60 000.
"In all the circumstances, the evidence shows that the first defendant negligently caused the accident by failing to keep a proper look out, failing to act reasonably to stop the bus and by swerving on the right lane thereby encroaching on the way of oncoming traffic. The negligence caused the death of the plaintiff's husband. Defendants shall pay plaintiff $60 000,"Justice Zhou said.The woman claimed $60 000 as payment for funeral expenses incurred and loss of support for her and the couple's three children after her husband's death. In her declaration, the plaintiff said the death had resulted in loss of companionship, shock, emotional trauma, pain and loss of parental care.
The driver had testified that he had been travelling at a speed of 60km/hour when he saw a cow on the road.
He said he tried to apply brakes but still hit the cow and failed to control the bus leading to a collision with an oncoming lorry.
Jefter Gwainda, an Assistant police Inspector, said the collision took place on the side of the lorry which meant that the bus encroached on the side of the oncoming traffic.
Asst Insp Gwainda said the accident could have been avoided if Masuku had reduced speed. He said he observed that there was no sign of hard breaking to show that defendant had applied brakes. Bus accident victims in the country have been turning to the courts for recompense with increasing success.
In November last year, Bulawayo High Court judge Justice Nicholas Mathonsi ordered Mzansi Express bus company to pay a Bulawayo woman R12 000 and $8 822 as compensation for injuries sustained in an accident that occurred along the Bulawayo-Beitbridge road in 2014.
In December, Bulawayo High Court judge Justice Lawrence Kamocha also ordered P & H Investments to pay $60 000 in damages to the family of a Gwanda teacher who was killed in an accident along the Gwanda-Bulawayo road in 2010.  The Chronicle