By Grace Chingoma
After watching his troops feature in their first pre-season match against Buffaloes at Rufaro yesterday, Dynamos coach Lloyd Mutasa believes that he has assembled a squad that is potentially stronger than the one he had last season.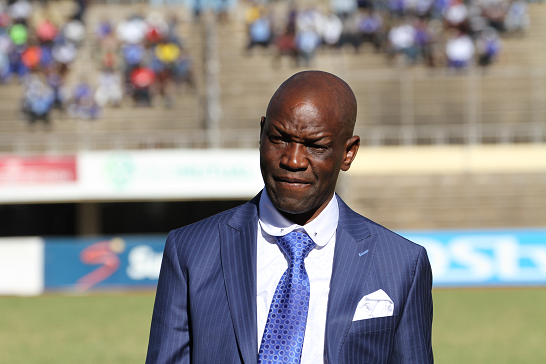 Dynamos finished close second behind champions FC Platinum in last year's Castle Lager Premiership marathon.
Although it is a month to go before the new season starts, Mutasa yesterday got the first hint of how his charges could fare in 2018 in a match which ended goalless
Mutasa has not made it a secret that he is gunning for the league title which he slightly missed last term.
Dynamos first used their rookies against Northern Region Division One perennial campaigners Mushowani Stars who beat them 1-0 before the senior side squared off against Eastern Region Division One outfit Buffaloes.
It was in the much anticipated match against Buffaloes that Mutasa gave the DeMbare fans a glimpse of the side that will be doing duty this year.
The Dynamos coach threw in returning defender Blessing Moyo, former Harare City defender Jimmy Tigere, and the new midfield pair of Marvelous Mukumba and Raphael Manuvire.
Big Cameroon forward Christian Epoupa, whose bid to move to the South African Premiership hit a snag, also featured in yesterday's game as did Obey Mwerahari, goalkeeper Tonderai Mateyaunga, Quality Kangadze and Emmanuel Mandiranga.
"I think it was a good game considering that it was our first and all the same it can only give us an idea of where we should put more focus on, there was a bit of coordination and combination play but we could not get goals. The creativity was there, and I am sure in terms of how we are progressing and how Rufaro is, it is okay.
"It's still early days and we still looking for one or two players to add. But it is almost a full house.
"Obviously as Dynamos you come up number two, in 2017, the main objective is to get the championship, although we know it is not going to be an easy ride, but we are looking for the league title this year," Mutasa said.
The coach refused to be drawn to comment further on wayward midfielder Denver Mukamba.
But he singled out former How Mine midfielder Marvelous Mukumba, who was well involved in midfield battles before he was later pushed back into the right side of the defence as one of the players who had impressed him on the afternoon.
Valentine Ndaba also turned back the hands of the clock with a good performance reminding fans of the exciting midfielder he was before his career was hampered following his involvement in a car accident two seasons ago.
But yesterday, the former Highlanders player wooed a handful of fans who braved the drizzly weather conditions with his skills and slippery runs.
Mutasa spoke glowingly about Ndaba's work rate.
"You look at Valentine, when the season was about to end, you remember, when we played against an Under-19 Highlanders, that's when we saw the real Valentine we know he was coming of age and from there he never looked back and is working extremely hard hence the impression he made today.
"We told him with the way he is working, he can revive his career," he said.
Before the season begins, Mutasa is looking at perfecting his squad with the bigger test coming in the weekend's match against rivals Caps United in the ZNA Charity Shield.
Mutasa said he had used the match against Mushowani to assess some young players who are trying their luck at the club and hinted that some of them might make the grade at DeMbare.
"The next coming game is against our arch rivals Caps in a Cup game and there after we are supposed to play another Cup game,'' Mutasa said. The Chronicle