By Patrick Zhuwao
This week has seen an escalation of the leadership crises within the various configurations that form the broader movement of the MDC. As a result, the MDC Alliance did not attend the Cape Town meeting that had been marketed internationally by EDiot at his Mashonaland Central rally. Had the MDC Alliance attended the Cape Town meeting, the opposition would have decimated the coup conspirators and terrorist junta's ZANU PF by progressing the idea of the grand coalition.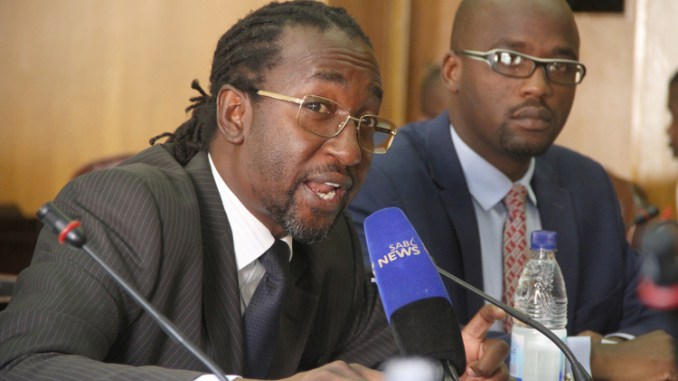 EDiot wetted the world's appetite when he lied that NPF would be attending the Cape Town meeting. His position strengthened an unfortunate lie the state media was propagating that President Mugabe and Dr Grace Mugabe were behind the formation of NPF in cahoots with Dr Joice Mujuru.
Naturally, the whole world was keen to know what President Mugabe was being alleged to be doing. So, all eyes were on the Cape Town meeting as it hosted two out of the three coalitions and alliances of Zimbabwe's opposition formations.
If the MDC Alliance had attended the Cape Town meeting, all Zimbabweans would have been convinced that ZANU PF was headed for a massive electoral defeat. The few remaining supporters of EDiot's ZANU PF would have been quaking in their boots. Opposition supporters would have been more emboldened and the nation more confident. Well-wishers and donors for the opposition would now be sitting up, ready to deal the final blow to the EDiot's junta.
It is now apparent that the beneficiary of this unfortunate turn of events is the EDiot junta. That's why the junta was instrumental in exploiting the divisions around the Cape Town meeting to derail the formation of a grand coalition.
The sabotage of the Cape Town meeting by the terrorist junta has been made worse by the incomprehensible contestation for leadership that is tearing apart the MDC-T at a time when all progressive forces are calling for a grand coalition. These unfortunate developments provide leadership lessons for all political formations necessary for them to know how to survive the destructive machinations and shenanigans of the EDiot junta.
For NPF, these lessons are particularly pivotal as they speak to fundamental leadership issues. The guide to these leadership issues for NPF lies in the three pillars of its Ideological Foundations as stated in Action Point VI of Section 3 of the NPF's Discussion Points Document on pages 9 and 10.
The first pillar is based on the nine Founding Values and Principles of the Constitution of Zimbabwe as enshrined in Section 3(1). The second pillar is a summary of the enduring gains of independence as a legacy of the country's liberation struggle. These gains include land reform, economic empowerment for communities, workers and the youth, as well as the social services of health and education. The third pillar relates to the inter-generational and transformational aspirations of the people of Zimbabwe in their quest for development, peace, prosperity and happiness. This third pillar has seven key aspirations, one of which is the vexing leadership question.
On leadership, NPF is guided by the aspirations of the people of Zimbabwe in their quest for sovereignty, development and the defence of democracy. These aspirations ensure individual and community participation in the election of public officials and the making of public decisions. It's important for NPF not to lose sight of this aspiration that forms a critical building block for one of its three ideological pillars.
The NPF should strictly allow individuals and communities to elect public officials and participate in public decision making. This means that I, as Patrick Zhuwao, should be given the opportunity to choose my leaders as an expression of my individual freedom that should also be extended to my community in the spirit of representative democracy. T
he democratic licence that I have, and that my community also has, imposes a commensurate obligation on me and my community to respect the choices of other individuals and their communities as a golden rule. This golden rule is best seen as the law of reciprocity which is based on the principle of treating others as you would wish to be treated by them. In other words, mutual respect matters.
When my community and I are given the opportunity to choose leaders in Zvimba, it stands to reason that my friend and colleague, Professor Jonathan Moyo, and his community in Tsholotsho must also be given the same opportunity. I, as Patrick Zhuwao, must not fly across the country and parachute myself into Tsholotsho to contaminate and subjugate the individual and community aspiration of the people of Tsholotsho to choose their leaders.
Apart from which, it would be impossible that in this short space of time I would have secured, for NPF, the support of my family, of my neighbour-hood, of my community, of my ward, of my constituency, of my district, and of my province. Surely, I cannot be seen to criss-cross the country from Zvimba in Mashonaland West Province to Tsholotsho in Matebeleland North Province while claiming to be canvassing opinion for NPF's leadership.
Characters that criss-cross the country in such a manner are driven more by their own personal ambitions and interests than by the values and objectives of NPF. Normally, such characters with unbridled ambitions hire surrogates, have accomplices and praise-singers to do their bidding and lobbying. For example, Zhuwao will be sending such acolytes as Zhuwao-lytes.
It is not surprising to hear such acolytes, the Zhuwao-lytes in this example, make false claims that the people of Tsholotsho in Matebeleland North want to be led by President Mugabe, failing which they want to be led by Dr Grace Mugabe while fully aware that these two are not available for such leadership. No wonder the same characters quickly change their tune and start claiming things like that if President Mugabe and Dr Grace Mugabe are not available to lead NPF, then abantu beTsholotsho want to be led by Zhuwao.
Such acolytes, the Zhuwao-lytes in this example, typically come back to Mashonaland West and start telling some key individuals in the province that the people of Tsholotsho are "supporting" one of Mashonaland West's children, ie Zhuwao. From there, they travel to Manicaland and other provinces to further their confidence trick in support of their fake leader.
Central to such a divisive strategy is the use of a whisper campaign that is conducted outside the glare of public scrutiny. In social media circles and on platforms such as Twitter and Facebook, this activity is known as DM, meaning direct messaging.
Apostles, disciples and practitioners of DM and whisper campaigns hardly post their views and positions in the public domain. The main reason for this is that the contents of such DMs and whisper campaigns are mostly false and divisive to such an extent that they cannot withstand public scrutiny.
To ensure that NPF does not get crippled by leadership crises and contestations such as those currently bedevilling the various MDC configurations, a number of issues must be clarified.
First and most important, people must not drag the names of President Mugabe and Dr Grace Mugabe by purporting to speak on their behalf. If and when President Mugabe and Dr Grace Mugabe have something to say, they will say it themselves.
Secondly, by virtue of the fact that NPF is a new formation, its focus should be on mobilization programmes at the community and provincial levels instead of gallivanting everywhere.
Thirdly, those of us who are in exile can therefore not participate in these local level consultations of NPF from our exile hideouts. However, the same restriction does not apply to those who are freely and openly living and working in the Zimbabwe diaspora, which constitutes the eleventh province in NPF's Constitution.
Fourthly and last on these points, it should be emphasised that our inability to engage as fully as we should in our communities requires that we openly articulate our views and ideas in the public domain and not through DMs and whisper campaigns. If a communication has to be whispered or DMed, it is highly likely false or sinister.
In conclusion, it should be noted that the New Patriotic Front has circulated a Discussions Points Document that has several forms at the back of the document. As the first and critical step towards NPF's formation, it is necessary for each and every individual that associates and contributes to the content and objectives of the document to consciously register their support.
The most immediate community for any individual is their family. Accordingly, any person that subscribes to NPF should encourage and persuade their kith and kin to also subscribe to NPF. Beyond that, supporters are expected to work for NPF within their neighbour-hood, ward, constituency, district and province.
It is imperative that NPF supporters focus on strengthening and growing the support base of NPF at the community level. Failure to do this risks promoting unnecessary contestations and conflicts as the ones are being witnessed within the MDC formations.
As pointed out earlier, Zimbabwe's opposition forces were, at their Cape Town meeting this past week, presented with a golden opportunity to forge a grand coalition to speak with one voice and act with a common purpose to unseat the junta in Harare.
They squandered that opportunity. What a wasted opportunity. It's time to regroup, re-strategise and have a meeting of hearts and minds. There is no alternative to working together.
As President Mugabe said, Iweni tine basa. Umsebenzi lo Umkhulu.
Asante Sana.