By Austin Karonga
Boxing superstar Charles Manyuchi's world appeared to crumble yesterday after his local principal sponsors Mr T35 announced yesterday that they were terminating their seven-year marriage in sport although the motive behind remains veiled in obscurity.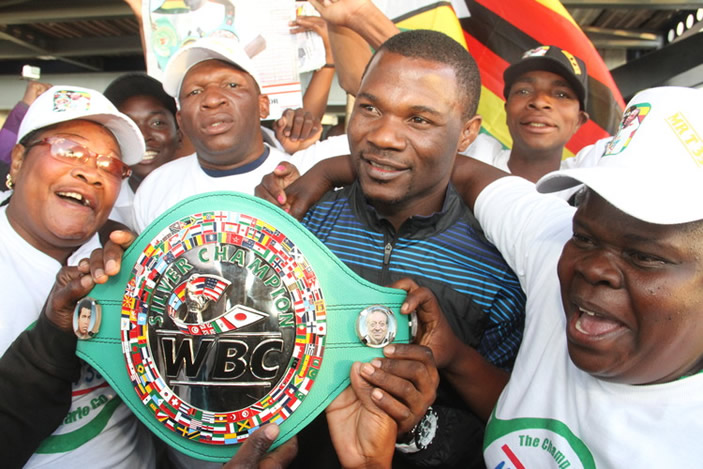 The local firm which specialises in rebuilding Mazda T35 trucks and buses and has been in existence for the past nine years was sponsoring Manyuchi in the last seven years culminating in him becoming the world's welterweight boxing champion.
He was, however, later dethroned by Uzbekistan's Qudratillo Abduqaxorov in a disappointing World Boxing Council silver welterweight title bout that lasted only two minutes 56 seconds in Singapore in March last year.
"…Mr T35 company would like to notify that the company has resolved to quit…boxing sponsorships. We would like to thank the boxing fans for the seven years of support we shared together," Mr T35 general manager Martin Beula said in a statement yesterday.
"We feel we have tried our best to uplift boxing considering all the achievements that we have celebrated and table together. We really appreciate the opportunity afforded to us to showcase our passion in sports."
The developments will come as a huge setback in the boxer's life who in December launched his Sports Academy, a sports development vehicle aimed at supporting mainly budding boxers at grassroots level.
The Academy will be situated in Chivhu and construction work was reportedly underway as the launch was unveiled last year with Mr T35, Chikomba Rural District Council, Primaview town Planners and Phil- Jern Country Lodge being some of the partners identified by the boxer to help out in the project.
While it took internationally-acclaimed boxer Manny Pacquiao only five ill-spoken words to lose the sportswear giants Nike sponsorship, the reason for Mr T35 to part ways with the former world star remains unclear at least for now.
When asked his opinion of same-sex marriage, one of the world's most idolised sportsmen said of homosexuals: 'They are worse than animals.'
No sooner was that crude sentence out of his mouth than sportswear giants Nike, who describe his remarks as "abhorrent", terminated his endorsement contract, reported the Dailymail in February 2016.
In July last year Manyuchi undertook his road to redemption ending months on the side-lines since the career-denting first round defeat to Abduqaxorov.
He featured in an African Boxing Union flyweight championship bout against strong Democratic Republic of Congo opponent Sheriff Kasongo in Ndola, Zambia.
The bout was organised by Oriental Quarries Boxing Promotion, Manyuchi's Zambian handlers and getting a morale- boosting victory by unanimous points. Kasongo had only lost once in his last 12 professional fights and the battle lived to its billing getting all the way to the final round of the eight-round bout before Manyuchi had all the judges giving him points in his unanimous win.
Manyuchi's manager at Oriental Quarries Boxing Promotion Chris Malunga was happy with the boxer's comeback.
"How we see a champion is not about how he wins in the ring but his ability to lift himself up in the aftermath of a defeat," Malunga told the Daily News then.
"That is how you gauge a fighter. What we did with him as far as his fighting style is concerned was to tell him that the pros and cons of certain attributes…it is not easy to change a boxer completely. He entertained the fans, he showed lots of character and we are proud of him he was just unfortunate not to win the bout in the second round because his opponent was really a strong fighter."
Prior to the March defeat, Manyuchi had been the welterweight champion since March 2014 and in November the same year he managed to defend his WBC crown in Lusaka, Zambia against Colombian opponent Devis Casseres.
He was awarded the Zimbabwe Sportsperson of the Year accolade in 2014 and the following year he successfully defended his crown against Friuli-Venezia Giulia of Italy before losing it to Abduqaxorov in March this year.
Manyuchi has won 20 fights of 24 so far 13 of those with a knockout losing four and drawing one. DailyNews