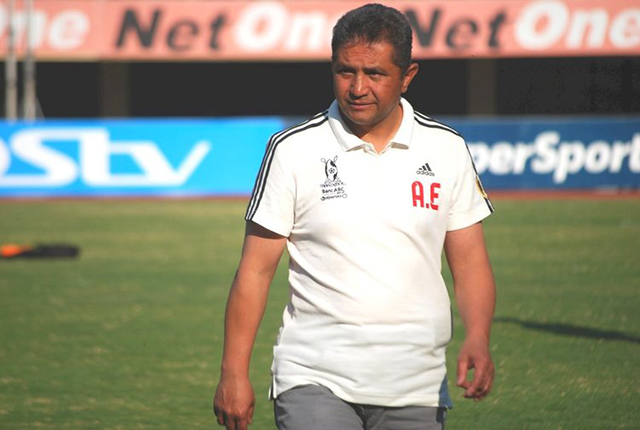 The Dutchman arrived at Bosso towards the end of the 2015 season before eventually starting work at the start of the 2016 season.
In 2015, the Bulawayo giants had struggled for consistency under Bongani Mafu, who was sacked in September leaving his assistant Amini Soma-Phiri and Cosmas "Tsano" Zulu in charge of the team.
To their credit, Soma Phiri and Zulu were able to lead the Bulawayo giants to the NetOne EasyCall Cup glory towards the end of the season.
 But at that stage, Highlanders had made all the necessary arrangements for Akbay to start work while Soma-Phiri and Zulu would form part of his backroom staff.
Under the Dutchman, Bosso started the 2016 season on a good footing despite losing their first game of the campaign at home to FC Platinum.
After only eight matches, Highlanders were in second place on the log and for the first time in 10 years they had managed to beat the old enemy Dynamos 2-0 at Rufaro Stadium.
"The key today was actually when they (Dynamos) play a 1v1 system at the back and this gave us some space; that's why we scored the first goal," Akbay said after the game.
"The second goal was exactly the copy of the first goal. That means when we gave them pressure, we were really dangerous. We had to change tactics but at the end of the day we got three points."
The last Bosso coach to have engineered a league victory over DeMbare had been Methembe Ndlovu way back in 2006.
Following that good start, Highlanders were optimistic they could end their league title drought that also stretched back to 2006.
Bosso were playing with a high tempo with Bruce Kangwa becoming the attacking fulcrum of the side after he was pushed into midfield.
Upfront, Prince Dube matured quickly into a deadly finisher following his promotion into the first team from the juniors and swiftly formed a good partnership with Knox Mutizwa.
It is no coincidence that Highlanders' troubles started soon after Kangwa left for Tanzania to join Azam FC and Mutizwa went to South Africa to sign for Bidvest Wits midway through the 2016 season.
Highlanders failed to find able replacements and in the second half of the season, they could not keep up pace with the leading contenders.
Bosso finished the season in third place behind FC Platinum and eventual champions CAPS United.
In that first season, Highlanders won 17 matches from 30 attempts which gives Akbay a win to games ratio of 56.6 percent.
Upfront they managed to score 41 goals in the process at a rate of 1.36 a game.
After such a good debut season, there was a lot of optimism that Akbay would finally get it right in his second year at the club.
However, trouble behind the scenes was already brewing as the club's precarious financial position would soon take its toll.
Due to the harsh economic climate in Zimbabwe, the club's principal sponsor BancABC significantly reduced their funding to Bosso.
Akbay delayed returning from holiday at the start of this year as he claimed Bosso still owed him part of his signing on fees.
 The club's marquee signing for the 2017 season was Roderick Mutuma on a free transfer after he had been released by Dynamos with a club benefactor financing the deal.
Just like the previous season, Bosso started relatively well with four wins in five matches as they did not let their money worries affect their form.
But their form surprisingly dipped as they only won three matches in their following nine matches.
Mutuma did not score regularly as he failed to light up the league while Dube proved to be the only source of goals and when he eventually moved to SuperSport United, a crisis arose.
"Even Dynamos have money problems just like Highlanders, but they were able to sign two or three players during the mid-season, so maybe they have better organisation than what we have here at Highlanders," Akbay said as he slammed the Bosso executive for failing to secure a replacement forward.
"Maybe, that is what is missing here at Highlanders, better organisation. You know the coach wants good players. Last year they sold players and I only asked for a few dollars from those sales to buy quality players, but it never came and so what would you want from the coach?"
Akbay's relationship with Soma-Phiri and Zulu deteriorated as well and his assistants were suspended in July for indiscipline.
The Dutchman at some stage wanted Zulu to come back to the team and shut the door out for Soma-Phiri completely but the Bosso hierarchy refused to barge.
During this turmoil at the Bulawayo giants, Akbay dropped a bombshell when he announced in August that he will not be renewing his contract.
"I will stop coaching Highlanders at the end of year. I am not certain what I will do at the end of the year, but I will see that I will stop at the end of year with this club," Akbay told journalists yesterday.
"There are a lot of reasons, but the biggest is the financial situation for me. That is why it's not possible to continue working for Highlanders. I have already made a decision. My contract ends this year and I am not renewing."
The announcement sent Bosso into a free fall as they went for seven games without a win including four straight defeats.
Highlanders never really recovered from that as they only managed four wins in their last 10 league matches to finish in sixth place with 47 points, some 25 points behind FC Platinum.
Akbay's win ratio significantly dropped 38.2 percent as the Bulawayo giants managed only 13 victories from 34 matches.
He immediately returned to the Netherlands at the end of the season while Bosso's quest for that elusive league title since 2006 continues.
The club is now looking for a new coach to lead them next season and unless the financial situation improves, that next coach will likely face the same hurdles Akbay encountered during his two-year stay. DailyNews