By Nqobile Tshili
ZANU-PF has suspended four senior party officials from the Midlands and Masvingo provinces on allegations of misconduct which include denigrating party members and inciting tribal hatred.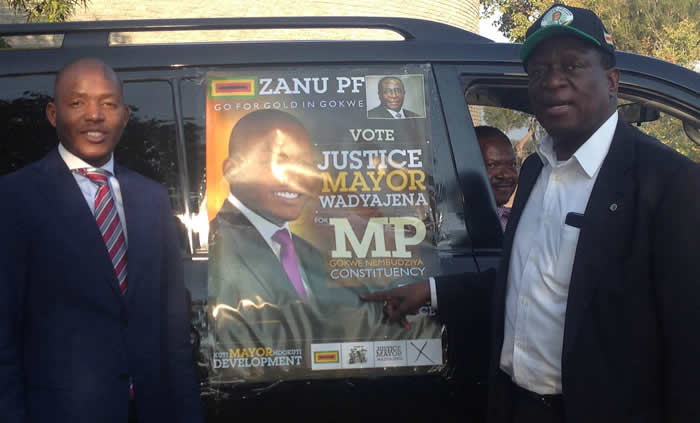 The four are Masvingo provincial chairman Ezra Chadzamira, Midlands youth league secretary for administration Mayor Justice Wadyajena, Masvingo youth commissar Brian Munyoro and vice chairperson for Midlands Province Goodwill Shiri.
Party National Political Commissar Saviour Kasukuwere last night confirmed the suspensions and called on party members to be disciplined.
"The letters of prohibition were sent to Cde Shiri from Midlands, Honourable Cde Wadyajena from Midlands, Cde Chadzamira from Masvingo and Cde Munyoro from Masvingo. We have written to them in terms of the constitution that they are going to be prohibited from doing any work in the party until the matter has been handled at the national disciplinary committee," said Kasukuwere.
He said the party would continue disciplining wayward cadres who violate the party's constitution.
"Disciplinary processes shall be carried out in accordance with the party's constitution. Accusations and allegations have been received from their respective provinces and it's only fair that they are brought before the national disciplinary body to answer to those charges against them and clear their names. We call on our party members to be disciplined and know that there are dos and don'ts within the organisation," Kasukuwere said.
The Chronicle is in possession of one of the letters that was served on Chadzamira.
"You are hereby served with this Prohibition Order and Notice of Charge in terms of section 79 of the Zanu-PF Constitution. Be pleased to take note that the effect of the prohibition order and notice of charges is to suspend you forthwith from your position as Provincial chairman for Masvingo province," reads a letter addressed to Chadzamira.
"The Prohibition Order is based on serious allegations of gross indiscipline levelled against you and which the Party has received. The said allegations include the following, fomenting, propagating and inciting tribal hatred in Masvingo province. Churning out hate speech targeted at other party leaders in and outside Masvingo province.
"Indulging in cheap gossip and lies that cause divisions among party members in the province. Uttering public statements that are grossly disrespectful of senior leaders of the party. Making slogans that denigrate party leaders. Failure as provincial chairman, MP and member of the central committee to guide the smooth running of the party programmes in the province". The Chronicle