By Andile Tshuma and Allen Khumalo
A commuter omnibus crew allegedly kidnapped 18 National University of Science and Technology (Nust) students on Friday night and held them hostage at a house in Bulawayo's Paddonhurst suburb for more than one hour.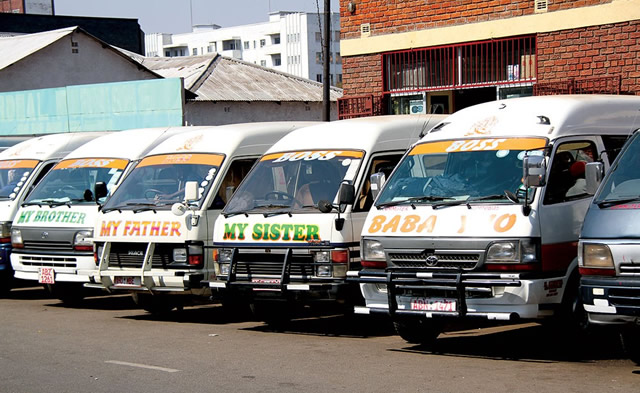 The students had allegedly refused to pay a 50 cents fare to the city centre from campus, in line with the Bulawayo Public Transporters Association (Bupta)'s recent announcement that students would be charged 30 cents.
The conductor of the Bupta affiliated kombi is alleged to have demanded 50 cents around 8PM. An argument allegedly ensued as the students refused to pay the extra 20 cents.
The driver is alleged to have stopped at Mac's Garage along Gwanda Road where he locked the kombi and threatened to beat the students saying he is used to dealing with people who refuse to pay fares.
When the students did not give in to the threats, the driver allegedly sped off, threatening to dump the students at a bush far away from the city centre.
"We thought he was going to kill us over 20 cents. We were so scared and some of us sent messages to our parents telling them we were being kidnapped. Later I sent them the registration number of the kombi, which was ACZ 8741," said a student on condition of anonymity.
The driver sped to his employer's house in Paddonhurst where he parked the locked kombi.
Miss Gamuchirai Mahendere, one of the students said she feared for her life when she saw the driver diverting to Paddonhurst. She said she stays in Hillside suburb and she had to hire a taxi to take her home because there were no lifts after 10pm when the crew released them.
The kombi owner, identified only as Mr Gondwe drove the students back to the CBD after one of them threatened to call the police.
The students said the incident had traumatised them and they would avoid boarding kombis at night.
Bupta Chairperson Mr Albert Ncube said the matter would be investigated today.
He said he suspected the kombi involved does not have the permit to ply the City centre-Nust route.
"The driver risks being fired as kidnapping and holding people hostage is a criminal offence. We do not condone or tolerate such conduct," said Mr Ncube.
In a letter to Nust student representative council last month Bupta said it had slashed fares from 50 cents to 30 cents to help students who are struggling financially.
"Looking at the financial situation in our country whereby cash is very scarce and difficult to get, Bupta Ltd has seen it fit to reduce fares for you as students. Every morning starting Tuesday 19/09/2017 Bupta will deploy 100 kombis or even more depending on your numbers from City Hall to the university for only 30 cents," the Bupta letter reads.
The decision which was a cause for celebration for Nust students did not go down well with Expricos Taxis drivers who said the fare reduction amounted to unfair competition. The drivers at one time tried to block Bupta kombis from picking students from the campus. The Chronicle