Mugabe trying to save his legacy
By Tinashe Eric Muzamhindo
What people don't know for now is that Robert Mugabe is strategically intelligent; his Zanu PF congress will run concurrently with other liberation movements in Namibia and South Africa (ANC). Mugabe is now preparing for exit and my analysis will be a reference in future.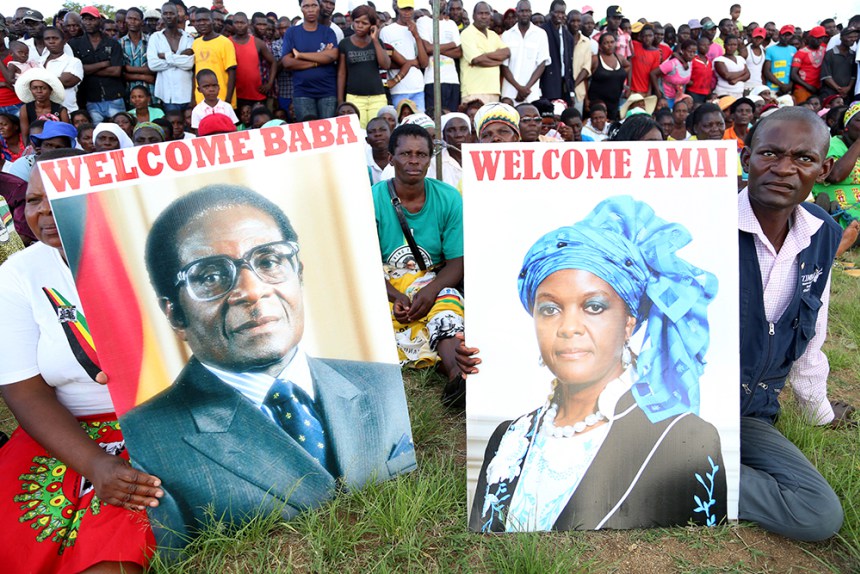 What Mugabe is simply doing for now is to make sure that his legacy is not distorted. People need to understand the art of politics and this is what Mugabe has mastered. For now ED is gone, and those assumptions that ED will resurrect politically it is wrong, for now ED will be buried politically.
Remember Mugabe is trying to save his legacy and he wants to be viewed as someone democratic. There have been so many rumours that ED will fight back, given the time remaining and people who have been purged from Government who were aligned to ED it is very difficult for ED to recover politically. Remember Mugabe has state machinery behind him, and he is still a democratically elected President of the Republic of Zimbabwe, so any attempt to cause chaos on the congress or even before will be viewed by analysts, SADC and AU as attempt coup.
ED is very careful and he really knows the consequences of such moves. My view is that for now G40 has emerged the winner and it is working to his advantage.
It is very difficult for his allies to recover, remember Jonathan is behind the steering wheel, and by putting Jonathan Moyo on the steering wheel you know what it means. This was a well calculated move by G40, but my good advice to Jonathan and team is they should not relax thinking the game is over, it can be him tomorrow, politics is a tricky game, and next it could be him.
What Mugabe wants is to establish a succession plan and later call it quits. I've a strong feeling that Mugabe may not contest 2018 elections, there could be a plan to bring in a new competitor, and it works like that then MDC alliance may have to work even harder, given the context that there will be a new player this could send shivers in the opposition camp.
Remember Mugabe always takes people by surprise, and he always keeps his cards close to his chest, and this has made Mugabe to be what he is today. So for now this will be a crucial congress to Zanu PF and the whole country. Remember Mugabe is calling for an elective congress moments before a crucial poll, and with the opposition they will continue with their governance structure, this could be a sign that Mugabe wants to be viewed by the outside world as democratic.
Mugabe keeps cards close to his chest, for me I have a strong feeling that it may not even be his wife, something new is coming. Obviously Mugabe cannot appoint his wife as his deputy, this could be a clear indication that Mugabe may manoeuvre Sydney Sekeramayi to the top job and allow his wife to deputise Sekeramayi. Moyo can even become the second Vice President, what then it means is that Mugabe may remain the party President and this will leave him more powers in charge of the party affairs, and he can also use this congress to try and manage his exit.
The recent reshuffle has nothing to do with performance, but it was more to do with succession issue. Remember the succession issue was very tense and it had reached the boiling point and then it was going to be difficult for Mugabe to manage the battles.
What people need to understand is that Mugabe does not want to be viewed as a dictator so he will try by all means to make sure this will be democratic process. Chinamasa suffered a major political setback mainly because he lacks political stamina and he is too straight forward, and this created enemies for him particularly the G40 cabal who viewed him as ED sympathiser.
I don't think Chinamasa is Lacoste but he is just an open person who is hard working. Having worked with Mugabe closely for more than a decade it was going to be very difficult for Mugabe to get rid of him. Zimbabweans should get ready for a new chapter, and this congress will be more dramatic in the sense that most old guards will fall by the way side paving way for a new democratic elected successor who will then consolidate his power base for the remaining few months towards election.
By appointing Bonyongwe to Justice Ministry it was a way of diluting the power of security chiefs, and if you remember very well Mugabe made those revelations that some will be deployed in Government departments. We are likely to witness more of these reshuffles especially within the security apparatus. Mugabe will then allow his successor to consolidate his power in his new admin.
Amongst the people who may be viewed as Mugabe successors are Gideon Gono, Sydney Sekeramayi and Walter Mzembi. Interestingly in the SADC region there will be three liberation movements aligned congresses and all of them will be dealing with succession matters.
This could be a deliberate ploy by Zuma and Mugabe to have these congresses to run concurrently. Remember an election campaign requires an energetic person and Mugabe could have realised that he may not be able to run the campaign due to old age and other factors. Suppose Zanu PF elects a new leader, the opposition may have to work an extra hard to match with the new candidate.
Tinashe Eric Muzamhindo is the Head of Southern Institute of Policy Analysis and Research (SIPAR) which is responsible for Policy Analysis and Research. He is also a leading academic and Researcher. He can be contacted at [email protected]