By Farayi Machamire
For a woman in the eye of a storm, Zimbabwe Electoral Commission (Zec) chairperson Rita Makarau's calm and cheerful demeanour belies the raging tempest swirling around her.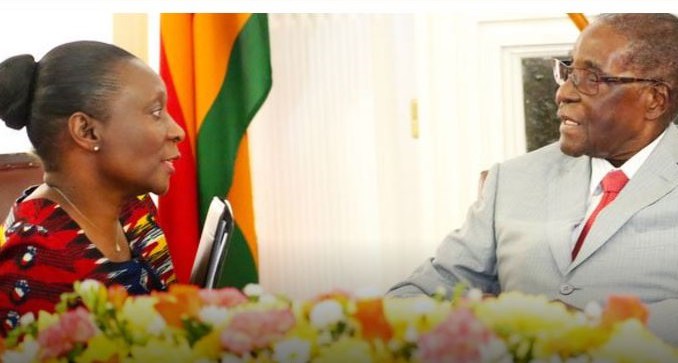 In a country where vote-rigging has been alleged in the past, her journey as the chief elections commissioner has been marred with accusations of tilting the electoral scale in favour of President Robert Mugabe's ruling Zanu PF.
And her appointment to Parliament as a non-constituency MP on a Zanu PF ticket has not aided her cause.
But somehow, Makarau has largely steered clear of all forms of direct confrontation, though it has not stopped her name from being on almost every politician's tongue, particularly in the opposition, as Zimbabwe draws near to a make-or-break election in 2018.
"I am definitely sleeping well at night," she told the Daily News.
"There is no secret at all. I am only focusing on the big event (next year's elections) and remaining professional. I believe I don't need to stop and argue with everyone," Makarau said.
Makarau said people were just "reading too much" into her appointment to Parliament by Mugabe in the late 1990's, by interpreting it as a sign that she still owes the 93-year-old leader her allegiance and loyalty.
"I know people read much into that but I went in there first and foremost as a lawyer and I remained professional and I remained impartial," she said.
Working for Zec has proven highly risky amid allegations that the system does not take kindly the leaking of information.
But Makarau remains resolute.
"Oh no, I am not scared at all," she said.
"I try to be very impartial and I have a very good team working around me and I believe we are all pulling in one direction. It's a shared vision (having credible, free and fair elections) and if someone goes wrong it's corrected. It's nothing personal it's professional. We are really aiming for a squeaky clean election."
Even as the recent image of her kneeling before Mugabe went viral and enraged critics, who alleged that it manifested Zec's subservient nature to the nonagenarian leader, the commissioner remains unfazed.
"When I was speaking to him (Mugabe), I was speaking to him in his capacity as the head of State," Makarau said.
"I think what people forget is that in 2013 I also spoke to the then prime minister Morgan Tsvangirai, no questions were raised about that. I speak to any office bearer in my capacity as commissioner of Zec."
The Judicial Service Commission (JSC) secretary added that culture demanded that she respects her elders and hence there was nothing untoward about her actions.
While the former High Court judge divides opinion on numerous issues, very few deny that she has her finger on the pulse on Zimbabwe's judiciary system.
She, however, has received fierce criticism over conflict interest concerns arising from her occupying three crucial jobs at the same time.
While she is Zec chairperson, Makarau is also a judge of the Supreme Court of Zimbabwe in addition to also being JSC secretary.
Interviewing her for the then vacant Chief Justice (CJ) post sometime this year, then outgoing and now late CJ Godfrey Chidyausiku asked her: "Serving as chairperson of Zec, Judge of the Supreme Court, secretary of the JSC, are you not being a bit of a bambazonke (a grab all)?"
But Makarau maintained a straight face responding: "I can't comment on that, the decision lies with the appointing authority."
And Zimbabwe's biggest opposition party, the Morgan Tsvangirai-led MDC, does not take the scenario lightly, arguing that taking electoral issues to the same courts where Makarau is the head of the JSC secretariat has become relegated to an academic exercise.
The MDC's concerns come as Zimbabwe will for the first time use biometric voter registration exercise (BVR) for the purposes of creating a new voters' roll.
The success of the BVR system is key to the country's election legitimacy — being free and fair.
If it fails — in a country where vote-rigging has been alleged in the past — the loser will no doubt challenge the result.
Zec has set a target to register seven million voters but the process has failed to get off to the flying start the commission may have envisaged after Mugabe's proclamation forced them to commence BVR on September 14 even before they were ready.
According to the Constitution, Zec is Mugabe's chief adviser and is meant to guide him in matters surrounding its preparedness to comprehensively cover the BVR exercise, the verification of the voters' roll and the availability of election-related resources.
The commission appeared to be caught flat-footed when Mugabe ordered the new registration of voters in all wards and constituencies to commence on September 14, though they will only be able to carry out a full scale voter registration exercise starting in mid-October after they have received the remaining 2600 BVR kits.
Zec has so far taken delivery of 400 BVR kits.
However, Makarau did not show divergent views with Mugabe insisting that the Zanu PF leader's proclamation sought to give legal validity to the process.
She, however, clarified that far from the cut off dates provided by the proclamation, there will be a continuous registration of voters in line with the Electoral Act.
There is little doubt in the minds of Makarau's critics that she is highly regarded by Mugabe.
And she appears not to be looking that far ahead just yet as her hands are full with expectations of creating an even playing field, and it is no surprise that she urges the media to "not to mislead the electorate".
"Whatever we do, let's not cause alarm and despondency. Let's not say things that are incorrect… we all want the electorate to vote and be able to participate freely and that they be heard," Makarau said, adding that "whatever happens, I want to be remembered for doing my best". Daily News