By Hama Saburi
The ruling Zanu PF party is reviving its election machinery in readiness for next year's polls.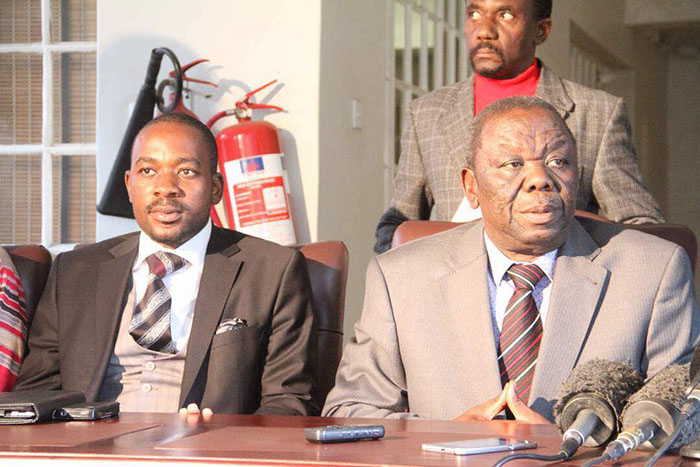 A string of "meetings" lined up by party leader President Robert Mugabe to "interface" with Zanu PF youths should serve as evidence that the ruling party means business, and will not allow anything to stand in its way to victory at the coming polls.
Two interface meetings have been held so far; the first one at Rudhaka Stadium in Marondera about two weeks ago; and just recently at Sakubva Stadium in Mutare. Both rallies drew large crowds, demonstrating the party's pulling muscle.
Several other election campaign strategies are being pursued by the party through government, among them the allocation of residential stands to youths, civil servants and women; the massive voter registration of its members and the availing of funding to cross-border traders and small-scale enterprises.
Clearly, Zanu PF is enjoying a head-start in election preparations and it is not surprising that credible surveys are taking notice.
Findings from the latest Afrobarometer survey showed that Mugabe's support is increasing, while that of the main opposition, the MDC, has suffered a dent.
The opposition now has very little time to catch up, and present a formidable challenge to Zanu PF at the next election, otherwise there would be a repeat of the 2013 poll outcome when Mugabe's party easily romped to victory.
Zanu PF's biggest threat will continue to be the economy, which it has failed to manage ever since it assumed power from colonial master Britain in 1980.
With unemployment running over 80 percent, and poverty inflicting the majority of the population and infighting reaching a crescendo in Zanu PF, is it not a paradox that the opposition is failing to turn the tables on the ruling party?
What the opposition has not done is to exploit Zanu PF's weaknesses and find ways of chipping off some benefits from its current strengths.
Zanu PF is known to take full advantage of its power of incumbency, and has no qualms in abusing State apparatus to give itself an upper hand at the polls.
Perhaps its major trump card has always been its stranglehold on rural areas where villagers are coerced to vote for Zanu PF through intimidation, vote-buying and violence.
It's nothing new to the opposition parties. But somehow none of Zanu PF's rivals have yet developed effective strategies to deal with this except to rant and rave about infiltration by State security agents, and the curtailment of freedoms of association and assembly by the Executive.
To all intents and purposes, Zanu PF's rivals should get ready to contest the polls under the current conditions because efforts under the National Election Reform Agenda are failing to move Mugabe into initiating the various reforms needed to level the electoral playing field, unless they succeed in nudging the African Union and the Southern African Development Community to insist on minimum conditions precedent.
History has, however, shown that Zanu PF has a way of dribbling these institutions, and does not countenance external voices from Europe that strongly believe in the need to even the playing field, currently tilted heavily in favour of the ruling party.
One would have expected the opposition to outline clearly what it has to offer to pull the country's economy from the brink and present a strong case to the electorate to convince them that it represents a viable alternative to Zanu PF but there has been a lot of hot air on this critical debate.
There is also no convincing evidence to show that the opposition is aggressively trying to penetrate Zanu PF's rural strongholds, taking advantage of the internecine infighting with its rank and file, especially in Mashonaland Central and Mashonaland East, where Mugabe's party bags the bulk of its votes.
More importantly, the opposition must find strength in numbers by rallying around one strong candidate to avoid splitting the vote, but all there is, is the pushing and shoving over leadership of the coalition.
Interestingly, instead of depopulating the presidential race, it has actually been congested amid indication that Nkosana Moyo, the former Industry and International Trade minister, might throw his hat into the ring.
This might take us back to 2008 when former Finance minister Simba Makoni became a spoiler in the presidential race which many believe could have been won by Tsvangirai without the need for a run-off had it been narrowed in the first round to a two-horse race between Mugabe and the MDC leader. Daily News
Hama Saburi is the editor-in-chief of the Associated Newspapers Group (ANZ) owners of the Daily News and Daily News on Sunday