Corrupt cop flees roadblock in Bulawayo
By Mashudu Netsianda
The High Court has dismissed an application by a Bulawayo traffic police officer challenging his conviction by his superiors for fleeing a roadblock and throwing $20 in bribe money into a sewer drainage.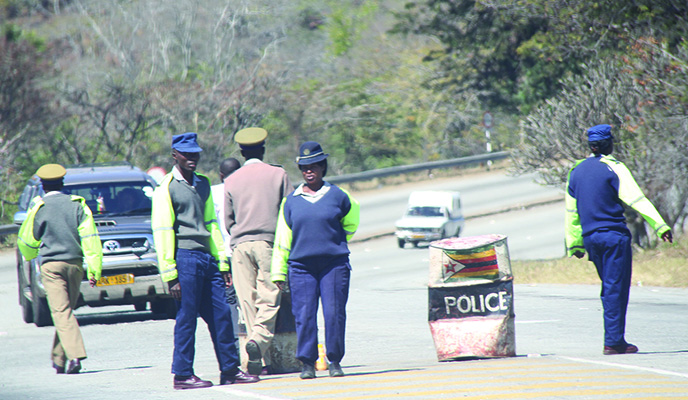 The police officer, only identified as Constable Kaisi in court papers, sought an order nullifying his conviction and sentence following a disciplinary hearing.
In papers before the court, Constable Kaisi cited Police Commissioner-General Augustine Chihuri and the trial officer only identified as Superintendent Sithole as respondents.
Bulawayo High Court judge Justice Nicholas Mathonsi said the charge against Constable Kaisi was proper.
"Where a police officer conducts himself/herself the way the applicant did on that day at a roadblock in broad daylight and on a busy road in a high density suburb, there is no need for authorities to lead evidence from members of the public that they found the conduct unbecoming," said the judge.
Justice Mathonsi condemned Constable Kaisi's conduct, saying it has brought the name of the police into disrepute.
"We cannot have police officers behaving like rogue elements running into sewer drains or even running behind shrubs being chased by internal investigations officers to hide incriminating evidence.
"It brings the entire edifice to the ground and therefore the charge was proper and evidence proved all the essentials of the charge. In the result, the application is hereby dismissed with costs," ruled the judge.
The court heard that on December 10 in 2015, Constable Kaisi was manning a roadblock in Mzilikazi suburb along Old Victoria Falls road in Bulawayo when a team of officers from the police internal investigations arrived at the scene for a routine check.
After pulling off the road, the investigations officers called the traffic cops to their car for a routine audit.
The others complied, but Constable Kaisi ran away and proceeded to a trench. One of the police officers gave chase and on closing down on him he observed Constable Kaisi throwing $20 which was made up of different notes, into the drainage.
It turned out that Constable Kaisi had not declared the money in question raising suspicion that it was a bribe.
Constable Kaisi was arraigned before a disciplinary hearing and was found guilty and convicted in terms of the Police Act. He was sentenced to 14 days detention at Fairbridge Barracks.
He appealed against conviction and sentence to Commissioner-General Chihuri who dismissed the appeal. In his grounds of appeal, Constable Kaisi, through his lawyer Mr Norman Mugiya of Mugiya and Macharaga Law Chambers, argued that he was wrongfully convicted.
He said his superiors failed to justify the sentence imposed, arguing that the evidence did not establish the essential elements of the offence. The Chronicle