Nelson Chamisa – A promising figure and future president
By Tinashe Muzamhindo

 I would like to take this opportunity to applaud Nelson Chamisa for the consistency he has in politics and development. Chamisa is a promising leader who is level headed. He is a young man who is not selfish, who is humble and  has grass roots connectivity. For every young Zimbabwean, there are great lessons you need to copy from this young and wise men. Chamisa is a leader in his own making and you can't take away that from him. He rose through the prominence to become one of the refined young politicians in the country.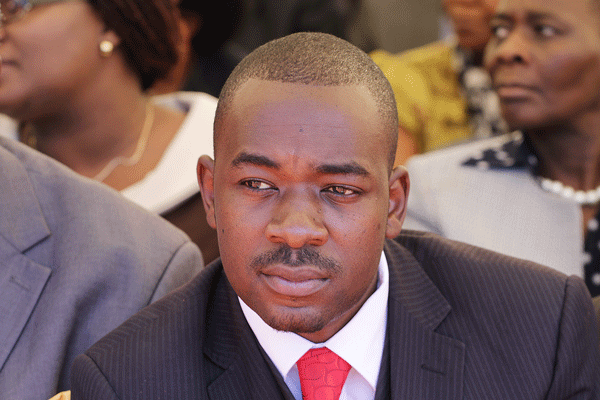 We have so many young politicians in the country but lately they have gone down the drain.  This is not the case with Chamisa who has shown great leadership qualities. There have been so many perceptions about this young man but it is high time Zimbabweans  absorb their hard feelings on him and accept that Chamisa is a future leader if not our future president in the post Mugabe-Tsvangirai era.
If you look way back from 1999 when MDC was formed you will realize that Chamisa remained loyal to Tsvangirai despite several cracks within the MDC top brass. He remained humble and he never attacked Tsvangirai in public. There have been attempts by his detractors to label him a state operative but he remained humble and that is why Tsvangirai saw great potential in him by rewarding him the post of Deputy Presidency.
HIS EDUCATIONAL BACKGROUND
Nelson Chamisa was born on the 2nd of February 1978 in Masvingo at Silveira mission. He is married. He is a member of the apostles of Jesus Christ. He became active in student politics when he became the youngest SRC president at Harare polytechnic from 1998-2000. He was a member of the NCA task force advocacy  in 1999. He formed and founded MDC in 1999. He became youth chairman in the MDC led party from 2000 to 2006.
He became a member of International Union of Socialists Youth from 2002- 2003. He became the MDC spokesperson in 2005 to 2011. He later became the secretary for organizing in the MDC led party from 2011 to 2014. Currently he is the MDC secretary for policy and research. He was elected as the youngest parliamentarian in 2003 till to date. He became Zimbabwe's youngest MP in the parliament of Zimbabwe.
He served as a member of transport, legal and defence portfolios in parliament. He served as the minister of information and communication technology during the Government of National Unity era from 2009 to 2013. Chamisa holds an honours in political science and a BBA in Business Administration. He holds a masters in international and foreign relations. He also holds a bachelor of Laws degree from University of Zimbabwe. He did his degree in pastoral theology from living waters theological seminary. He holds several awards in the area of Law and ICT.
FEW LESSONS WE CAN DRAW AS A NATION FROM NELSON CHAMISA
Chamisa is favoured across political divide. Chamisa is darling among all political players. If you compare him with the likes of Biti, Madhuku you will discover that he is a self-composed person, humble and steady. Chamisa is not emotional but he takes everything at ease. He has all the leadership qualities you can name. It's very rare to hear Chamisa crossing the red line. He plays his cards close to his chest.
Most politicians hate each other even across the political divide. You can see Chamisa sharing jokes with people from the ruling party which is expected from all leaders. Leaders should not promote hate speech in politics. Despite him losing the Secretary General post in the MDC during the 2014 congress he remained consistent and relevant in the party. Most politicians once they see that their loot has been cut they leave their respective parties as a sign of protest but not with Chamisa.
Tinashe Eric Muzamhindo writes in his personal capacity as the Head of MINDS which is responsible for policy and research. He holds a MA in Development studies from University of Lusaka, Zambia. He can be contacted at [email protected]