By Whinsley Masara
A-31-year-old man from Nkayi who had an axe stuck in his skull, endured more than 160km of bumpy roads to hospital where it was removed 14 hours later.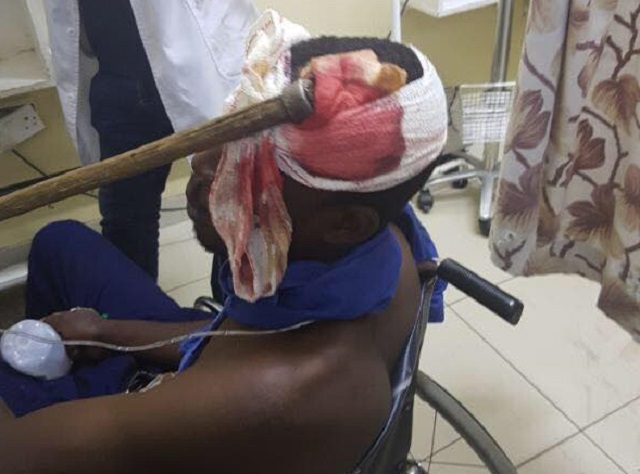 The man who was lucky to survive, had the axe delicately hanging just millimetres from his brain matter and other vital blood veins. The doctors said it was a miracle that he survived.
Mr Sipho Ndebele from Zenka Area, under chief Tshugulu was axed by a fellow herdsman Adam Ncube (20) on Monday around 10AM.
Mr Ndebele had allegedly ordered Ncube to look after his cattle and Ncube refused.
An altercation ensued leading to Ncube attacking Mr Ndebele with the axe which he left stuck in his head.
Ncube then fled from the scene leaving an unconscious Mr Ndebele lying in a a pool of blood.
Villagers who thought Mr Ndebele was already dead however took him to Zenka Clinic in a scotch cart and to their surprise nurses said he was still alive.
"The nurses said they could not attempt to remove the axe because doing so was very risky.  They instead rushed him to Nkayi District Hospital with the axe still stuck into his skull," said Mrs Lwazi Moyo.
Staff at Nkayi District Hospital also said they did not have the capacity to remove the axe and referred him to Mpilo Central Hospital which is 150 kilometres away.
The doctors at Mpilo removed the axe 14 hours later following an operation. After the operation, Mr Ndebele was admitted to the Intensive Care Unit (ICU) where he was discharged yesterday.
In an interview, Mr Ndebele said doctors told him it was a miracle the axe missed vital blood vessels which could have led to bleeding into the brain which is fatal.
"I can't really remember much as I drifted in and out of consciousness most of the time. What I remember is the excruciating pain," said Mr Ndebele.
He said doctors told him that the axe went through the bone and restedon the brain matter.
Mr Sipho Ndebele recovers at the Mpilo Hospital ICU. The Chronicle