By  Blessings Mashaya
Vice President Emmerson Mnangagwa has said banks should dispense money to depositors in time, as government struggles to curb a cash crunch that has forced people to spend hours on end at banks queuing for money.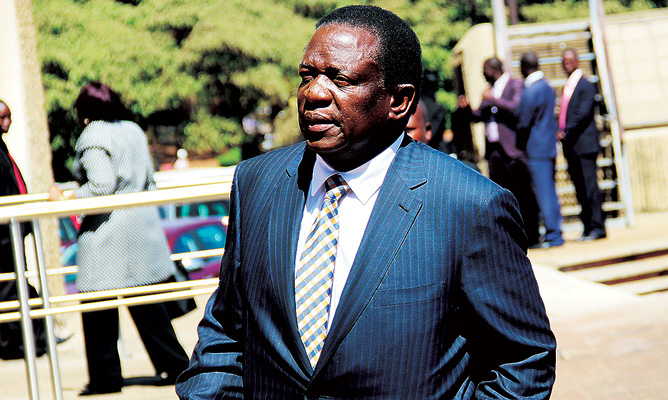 Responding a question in Parliament on Wednesday by Mufakose MDC MP Paurina Mpariwa on what government was doing to stop the waste of productive time by workers as they wait in queues hours on end to access their cash, Mnangagwa asked the opposition legislator to put the question in writing so that Finance minister Patrick Chinamasa would go and check the details in consultation with the Reserve Bank governor John Mangudya "and the question can then be answered".
"The honourable member is a former minister and she is aware that you cannot tell that Treasury has so much funds or nothing.
"It is also government policy that when people have worked, they should be paid. When they go to the banks to get their salaries, they should get their money on time.
"When there is no money, we then need to question the banks and the Reserve Bank of Zimbabwe (RBZ).  That is why I have asked the member to put the question in writing," Mnangagwa said.
In a supplementary question, Warren Park MDC MP Elias Mudzuri asked the VP what plans government has in re-introducing the US dollars.
Mnangagwa said if an individual has an account with US dollars or rands and if that person wants to go out of the country — "the policy which is in existence is that
when you are travelling outside the country, the amount which you can carry is stipulated, especially if it is an amount which is in the bank".
"We also look at what it is that you want to buy outside the country. That does not depend on the amount you have but on the amount which is in the Treasury to facilitate the importation of goods," he said.
" . . . there a limit that is set aside that if you are going outside the country and you want cash, the amount should be about $1 000, but I am not very sure about the exact amount.
"All I know is that there is a set limit which one can withdraw for going outside the country.
"If you go to a bank and tell them that you want bond notes, they are available in the banks.
"I am talking of the money which is in your account. You cannot access someone's account.
"What I am explaining is that you access the amount which is in your account."
He said this also relates to the foreign currency in US dollars "and that is why I advised you to write the question down, and the responsible minister of Finance will give the correct response to that."
Government started circulating a $5 bond note last month after introducing a $2 note and $1 coin last November to ease the cash shortages.
It was hoped the bond note currency will continue trading at par with the US dollar, but it is losing value. Daily News