By Zvamaida Murwira and Freeman Razemba
Motorists will, with immediate effect, have to fork out more in traffic fines following the coming into force of a new scale of fines to be effected by the Zimbabwe Republic Police as pronounced in the Finance Act.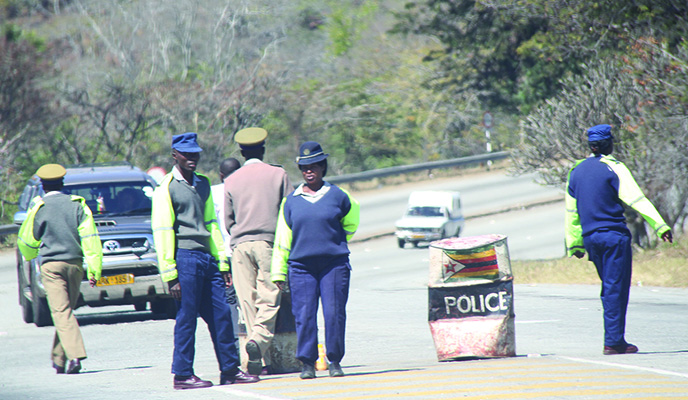 This follows the signing into law by President Mugabe of the Finance Act last week.
Section 35 of the Finance Act reviewed Levels 1, 2 and 3 of the standard scale of fines in the Criminal Law Code with effect from January 1, 2017.
Finance and Economic Development Minister Patrick Chinamasa announced the review of fines to be imposed by the police in his 2017 National Budget in Parliament last year.
Level 1 previously was pegged at $5, but now stands at $10, while Level 2 has been raised from $10 to $15, with Level Three raised from $20 to $30 per offence.
Fines in Level One were for minor offences.
These include passengers failure to fasten seat belts, cyclists failure to use the cycle track and auto cycle using cycle track with engine on, among others.
Level 2 includes offences such as failing to display registration number plates, failing to licence registered motor vehicle, failing to obey right/left turn arrows, double parking, leaving animal-drawn vehicle unattended and failing to produce registration book to VID within seven days after demand.
Driving a vehicle without headlights or side lights, failure to maintain direction indicators in clean and efficient condition, failing to report an accident within 24 hours, failing to stop after a minor accident, driving wrong way in a one way road, driving wrong way in a separate carriage way and overtaking in front of oncoming traffic are some of the offences that are in Level 3 and will attract the $30 fine.
Others in that level are overtaking across a prohibition line, failing to obey regulatory signs such as the stop sign, failing to register motor vehicle, tampering with third number plate, defaced number plate and failing to stop at flash lights at a rail road crossing.
The new fines have already raised debate, with Veritas, a legal think tank, rapping the backdating to January 1, 2017 and also observed that the new fine structure would mean an increase in spot fines.
"From now on, police 'spot fines' can be expected to go up, with the more serious petty traffic offences attracting a fine of $30 instead of $20 and proportionately smaller fines being requested for lesser petty offences," wrote Veritas in its weekly commentary on the fines.
Before the review, the police could impose a maximum fine of $20, the bulk of which were spot fines that would be imposed on motorists during traffic road blocks.
In his budget statement, Minister Chinamasa said road traffic fines were meant to deter criminal behaviour and the current standard scale of fines which was last reviewed in 2009 had failed to promote safety and discipline on the roads.
He said the fines were also generally lower than those in other countries in the region.
Motorists said they were not happy with Government's decision to hike the fines, saying this would fuel corruption within the police force.
Those interviewed said Government should not rush to punish drivers when the roads have not been made conducive for smooth flow of traffic.
They said hiking fines was likely to fuel corruption, particularly among traffic police officers as most motorists were reeling from cash shortages and would not be able to raise such high fines.
Others said the new fines would be unaffordable.
Some feared that the high fines might herald "a cat and mouse game" with police, as the traffic offenders would try to escape.
In January, the police introduced point of sale machines at some of its traffic branches and police stations to facilitate easy payment of fines.
Police chief spokesperson Senior Assistant Commissioner Charity Charamba was quoted as saying, "The Zimbabwe Republic Police, in line with embracing plastic money and in response to calls from members of the public, has launched a pilot project by introducing point of sale machines (swipe machines) at some traffic and duty uniform branch stations throughout the country."
In November last year, the police signed a private-public partnership deal with Univern Enterprises (Pvt) Ltd, culminating in the establishment of an electronic traffic management system.
The major aim of the system is to improve service delivery through the provision of transparent and accountable traffic enforcements, curb vehicle theft, bring sanity to the roads, curb corruption and automate traffic enforcements.
The electronic traffic management system linked the Vehicle Theft Squad to the Ministry of Transport and Infrastructure Development entities like the Vehicle Inspection Department and Central Vehicle Registry under the Zimbabwe Transport Information System platforms and toll gates.
This linkage would enable traffic stations, police roadblocks, toll gates, ports of entry and mobile patrols to interact and make online queries to verify the status of suspect vehicles. The Herald