By Mugove Tafirenyika
Opposition leader Morgan Tsvangirai yesterday told his supporters in Chitungwiza how he had survived numerous assassination attempts at the hands of Zanu PF goons — further assuring anxious Zimbabweans that change was inevitable after next year's eagerly-anticipated national elections.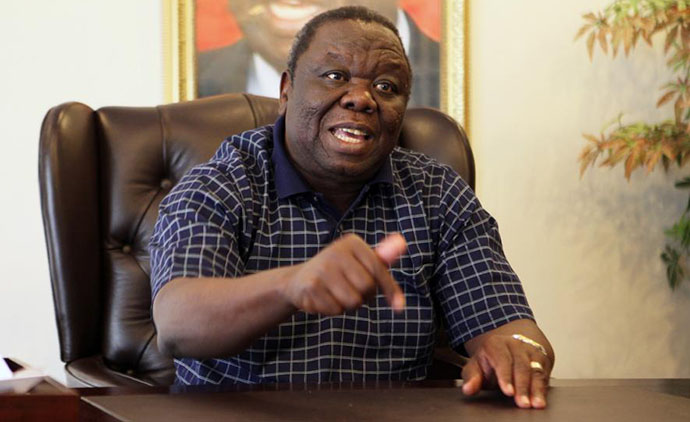 Speaking for the first time since a shadowy State media columnist who writes under the inappropriate pseudonym of Bishop Lazarus made ominous threats against him last week, the dogged former prime minister in the government of national unity said Zanu PF had hunted him relentlessly since his days at the Zimbabwe Congress of Trade Unions (ZCTU).
But Tsvangirai, who was concluding a three-day "mop-up exercise" of his nationwide tour, told  Chitungwiza residents — who included leaders of various churches — that political change was imminent and that even President Robert Mugabe now realised that "they (Zanu PF) can no longer stand in the way of the will of the people".
"They have pursued me since my days at the Zimbabwe Congress of Trade Unions … viciously beating me up then, hoping to silence the voice of the people. But we have been resilient.
"Even today, as we are seated here, there are CIOs (Central Intelligence Organisation operatives) following us, but the challenge that they now have is that each time they go to report to Mugabe he tells them 'you are  too late because I know already that Tsvangirai wants to take power from me' — so their reports don't matter anymore," Tsvangirai said.
"Those who previously resisted change (including top securocrats) now also realise that this will not harm them, but will in fact benefit them. They realise they have nothing to lose because we are not going to pursue a policy of vengeance against them.
"They realise that even if you are an army general, your son is not and he will need employment and that we are all sinking in this lost ship and we all stand to lose everything by resisting change," the MDC president added.
Writing in the Sunday Mail last week, the phantom Bishop Lazarus reacted threateningly to Tsvangirai who had earlier assured both Mugabe and security commanders that they would be safe under his rule.
"A few days ago, Morgan said something to the effect that; 'You will be safe under me.' Morgan was trying to give assurance to …Mugabe and security chiefs that they would be safe under his rule. Unonyatsoona kuti munhu haasi kunzwa zvakanaka (One can see that he is not well).
"Instead of hallucinating, Morgan should know that the real question is: 'Is Morgan safe going into the future?' True, there are some people who really love Morgan, but there are many who are really angry with the man. They whisper in the dark saying; 'This man brought us all these troubles and if it wasn't for Mugabe …
"What is unfortunate for Morgan is that those who love him are so insignificant in the scheme of political things yet those who are angry with him have the capacity to do anything they want with him. I mean anything. So the question going into the future is; 'Is Morgan going to be safe?
"The answer may be found in history. Just check what happened to that sell-out Morris Nyathi after the attainment of independence," the vituperative columnist wrote then.
Speaking in Harare, after holding a crucial meeting with the MDC national executive, Tsvangirai had said then that Mugabe and top securocrats had nothing to fear as he would give them immunity from prosecution when he forms the country's next government.
"I have a message to those who have in the past resisted change and who remain keen to subvert the people's will because of their uncertainty due to the prospect of political change in the country.
"I wish to assure everyone that there is nothing to fear in the change that we seek. We have no intention to engage in retribution, and we are only driven by the genuine patriotic spirit to ensure peace, stability and growth.
"Change will be good for everyone. Change will allow everyone to pursue and live their dreams under the protection of the State," Tsvangirai said.
"In 2008, a large part of our fellow citizens in State institutions were reticent and suspicious about the prospects of change.
"The people won the election but there was no transfer of power because of the sceptics of change, those whose reticence about a new Zimbabwe cost this country the opportunity to set a new political direction.
"There will be neither vengeance nor retribution against anyone. There is certainly nothing to fear. In fact, there will be a pension for those who are afraid," the former trade union leader added.
Tsvangirai, the only politician to defeat Mugabe hands down in an election, in 2008, has survived a number of State-sponsored acts of terror against him — including barbaric attacks that were meted on him and other senior opposition officials in the Harare high density suburb of Highfield in 2007, during a prayer march.
On that fateful day, Tsvangirai was so maliciously battered by heavily-armed police officers that they left him with a fractured skull.
A prominent MDC supporter, Gift Tandare, was shot dead in cold blood by police, while several senior party officials at the time — including Tendai Biti, Sekai Holland and Grace Kwinjeh — were also savaged brutally by the authorities.
The Highfield fiasco eventually led to the intervention by Sadc, whose mediation later led to the formation of the inclusive government after the hotly-disputed 2008 polls which the MDC still won.
After Tsvangirai defeated Mugabe in that year's presidential election, the results were withheld by panicking authorities for a suspiciously long six weeks, amid widespread allegations of ballot fiddling and manipulation.
When the discredited results of that poll were eventually announced, Tsvangirai was forced into a run-off which he pulled out of following massive intimidation and violence which saw hundreds of his supporters being murdered in cold blood.
Mugabe went on to stand in an embarrassing and widely-condemned one-man race in which he declared himself the winner.
However, Sadc and the rest of the international community would not accept the poll, forcing the nonagenarian to share power with Tsvangirai for five years to prevent the country from imploding completely.
A few months after becoming the country's prime minister in the uneasy coalition government in March 2009, Tsvangirai lost his wife Susan in a road accident which his supporters say was yet another attempt on his life, although he ruled out foul play at the time.
Previously, Tsvangirai had survived the gallows by a whisker after the State had preferred false charges of treason against him, after the government claimed it had evidence that he wanted to assassinate Mugabe.
The case collapsed in 2004 after a year-long trial in which it was relying on questionable evidence from a grainy videotape that was secretly recorded by a discredited Canada-based ''political consultant'', Ari Ben Menashe. Daily News