By Leroy Dzenga
News earlier this week that a man and his three sons suffocated to death in a well in Budiriro, Harare, was received with shock and trepidation as people could not come to terms with the tragedy.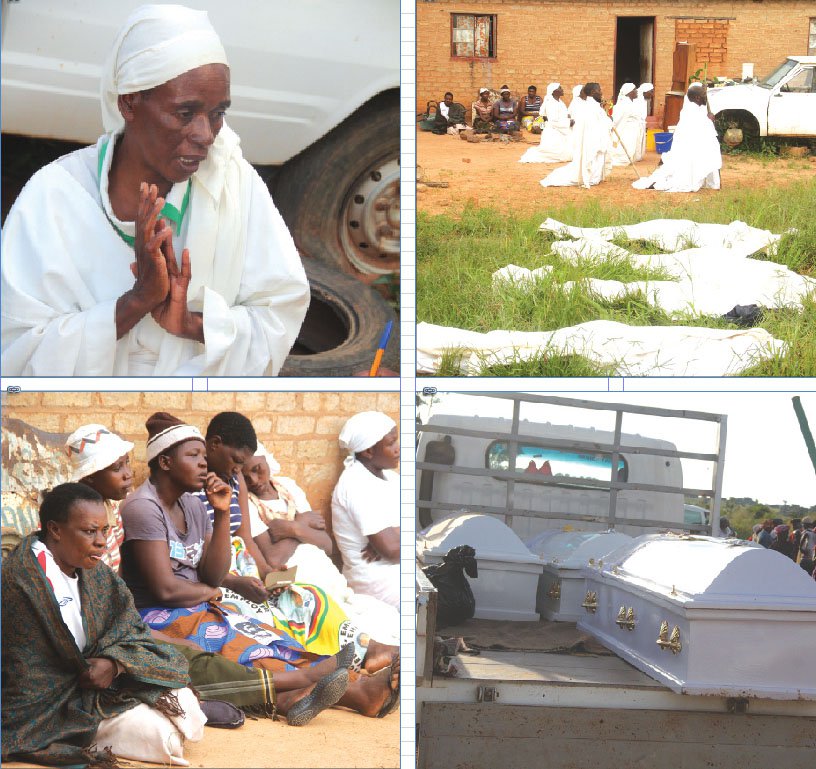 Many could not understand circumstances leading to the tragedy.
How could a father die together with his three adult sons in what seems like a freak mishap?
What were they doing in that well?
Did the sons stay with their father, considering their ages?
Were they married or single?
Cleopas Jokomera and his three sons, Tom (34), Cleopas Jr (32) and Macliff (31) died while trying to save each other.
Macliff, the youngest, was the first to meet his demise, after going down the well to check on a pipe used to pump out water after it blocked.
His brother, Cleopas, followed to check on his younger brother but did not come out.
The eldest of the brothers, Tom, entered the well, never to return alive.
The father called a neighbour, Albert Takaendesa, after sensing that something was wrong.
Takaendesa reportedly abandoned attempts to venture into the well before the elder Jokomera followed his sons to meet the same fate.
The late Jokomera's elder brother Mr Abby Muchiningi said what started as a routine home maintenance effort led to the mishap.
"With the incessant rains, the water in the well had become dirty. In a bid to drain the water, they sourced a diesel pump which they intended to use."
However, the pump had a short pipe, Mr Muchiningi said, and the Jokomeras set the pump halfway inside the well so as to get to the water.
The pipe, he said, reached the bottom of the well where it sucked in mud and got blocked.
"Macliff went down the well to have a look on what could have caused the blockage," Mr Muchiningi said.
He said they suspect that smoke from the pump must accumulated below the well and MaCliff was asphyxiated.
"When they realised that there was no sign of movement in the well, Cleopas Jr followed to check on his brother and also died," Mr Muchiningi said.
In a bid to rescue his brothers, Tom followed, but sadly, the same fate that befell his siblings awaited him.
"After my late brother realised that all his sons were not responding to his calls, he rushed to call his neighbour, Takaendesa, to help him," Mr Muchiningi said.
Takaendesa attempted to follow the sons but quickly climbed out after realising he was having difficulty breathing.
"He climbed out to inform my late brother that the sight was not pretty down the well," he said.
The father, following parental intuition, went down the well despite Takaendesa's warnings.
"My brother died while trying to rescue his boys. Diesel fumes from the generator could have chocked him to death," Mr Muchiningi.
He added that the family had accepted the tragedy despite the pain.
"I will not lie and say that I am not hurting. When Cleopas' church mates called on Monday afternoon they were not clear on what had happened. They just said there had been an accident," he said.
"I have made peace with what happened. My brother and his three boys were so dear to me and the family but if it is God's will, I guess we have to accept it," Mr Muchiningi said, breaking down.
The deceased's widow, Mrs Grace Chikembe (56), said she still could not come to terms with the tragedy.
"I am hurt that I lost all my sons and husband in the same incident and the same day. I no longer have anyone to turn to for help," she said.
Mrs Chikembe said it would have been easy to accept had the causes of the deaths been natural.
"If any of them had fallen sick and died I would have understood. It is not easy to lose someone you are planning to have breakfast with in a few minutes.
"But it is God's will, there is not much that we can do," said Mrs Chikembe.
She is left with her last born, a daughter, Lorraine (27).
However, events following the incident have also left church members and residents in the suburb confused.
A church mate who tried calling for assistance from Harare rescue services narrated how difficult it was to find help.
Madzibaba Onias, a senior church member in Jokomera's church, narrated how it was difficult to get assistance on the day.
"I received a call that there was an emergency here and people had fallen into a well.
"I then drove to the Waterfalls Fire Station where we were told that they did not deal with cases from Budiriro," he said.
The Kuwadzana Fire Department, whom they called next, were not familiar with directions to the newly established settlement.
"We arranged to meet at Budiriro 4 shops and we led them to the site," Madzibaba Onias said.
By the time they arrived on the scene, police were there, but the people were still in the well.
"The police said they were waiting for the Sub-Aqua Unit and that was more than an hour after the incident occurred," he said
Madzibaba Onias said the Fire Brigade took about 30 minutes assessing the situation before attempting the rescue operation.
"The Fire Brigade retrieved two bodies and the police Sub-Aqua Unit eventually arrived to complete the task," he said.
As if the tragedy was not enough, more misery would visit those who remained.
The late Jokomera's family later clashed with church members before burial.
The deceased were devout church people who fellowshipped in the Johanne Masowe apostolic sect.
Three days after the deaths, there were contestations on the burial as the church and family clashed.
The late Cleopas Jokomera was the founder of an apostolic church called Johanne Masowe weChishanu Bethlehem of Judea.
According to their beliefs, no body viewing is conducted before burial and that did not go down well with family members.
Demands for body viewing were resisted, with the church insisting the late Jokomera had buried other people's children in the same manner.
The church insisted that rules could not be bent on their leader.
A scuffle ensued and the police had to be called to restore order.
The quartet's burial was delayed by a day.
Common ground was reached when Jokomera's widow informed the feuding parties that her husband desired to be buried along church guidelines.
"It is our fault because we had not told our relatives what we had agreed to.
"Truth is, this is the life we chose and our relatives should accept it," she said.
It also became clear that the family was struggling to make ends meet.
Mrs Chikembe revealed that her family failed to inform their relatives of the tragedy.
"A few years back I suffered a stroke. I cannot move around freely for long distance, so we did not have the means to travel to inform our families," she said.
All of the deceased were unemployed.
Church members described them as a hardworking family who lived off their labour.
Jokomera's sister Tabeth Muchiningi said Cleopas and his sons spent most of their time at their church shrine or doing menial jobs around the area.
"My brother was focusing on his church, he was not employed.
"The first born Tom was also at home doing nothing. Cleopas Jr worked as a carpenter at the industries but quit when he fell sick.
"The last born, Macliff, only worked temporarily as a general hand when the CABS settlement was launched.
"After its completion, he stayed home," she said.
The family says neither of the late sons was married nor had children known to the family.
There are many unanswered questions surrounding their death considering that the late Mr Jokomera was a spiritual person.
One mourner who spoke on condition of anonymity said she suspected that there were evil spirits at play.
"How did the neighbour survive where everyone else from the family died?
"It shows that the spirit of death had visited the family," she said.
She also asked how Jokomera could not have foreseen the unfortunate event.
"He was a famed prophet who used to help people at his shrine but he died such a mysterious death," she said.
While people have different views on the tragedy, there is agreement that close relatives need counselling to come to terms with the tragedy. The Herald