By Grace Chingoma
MAFRO representative in Zimbabwe says the Warriors kits are exclusively for Africa Cup of Nations and a mere donation availed to bail out ZIFA by the Singapore company last minute.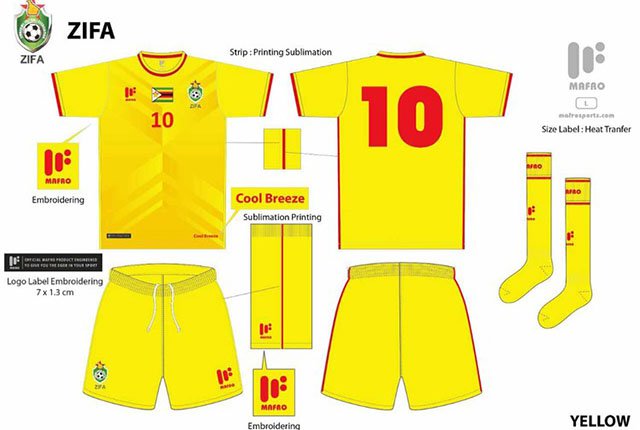 The kits are only for the Nations Cup tournament which begins on January 14 in Gabon.
The sports kit manufacturing company representative here, Francis Chitenda, said Mafro is not sponsoring the national soccer team, but only came in to rescue ZIFA situation at the last hour.
This has left the company with the rights to reproduce the replicas, but with a tough decision to either make or not to make replica shirts for the soccer loving public to wear during the AFCON tournament.
Chitenda yesterday told The Herald that due to limited time after the deal was agreed upon, the training kits ended being produced with a bit of blue on the collar.
But the playing kit will as usual have Zimbabwe's traditional colours, with all white, all gold and all green strips being manufactured.
The playing kits will be in the country by next week while the training kits are already here and were expected to be availed to the team last night.
"Mafro is donating the kit to Zimbabwe and not sponsoring. ZIFA didn't have anything and they called after the deadline, the contract was only signed on December 26.
"The training kit is in the country now and being cleared by ZIFA officials at zimra. Casual wear will be shipped from Singapore and the training kit will be here by first week of January," he said.
The representative said chances are high that there won't be replicas jerseys.
"The replicas may not be made. No one else has the right to make them and Mafro may choose to produce or not to. But there is not enough time to manufacture and sell the replicas.
"Ask any sports kit supplier company how long it takes to get into such deals and produce kits. Mafro has done tremendously well, and there is just a little bit of blue on the training kits because there wasn't enough time.
"But the playing kit have traditional Zimbabwe colours," said Chitenda.
"The deal is a once off thing, short term deal which expires at the end of the tournament," said Chitenda.
From last year, all ZIFA national teams were being dressed by a Spanish supplier Joma before the association terminated the deal last month leaving them without a kit sponsor.
The Mighty Warriors last month participated at the Africa Women Cup of Nations with a cheap kit which was acquired in Johannesburg by ZIFA president Philip Chiyangwa. The Herald