Of fugitive lifestyles, proudly uneducated leaders …and all
By Cyril Zenda
"Look at me. You don't know how humiliated I sometimes get? Have you ever been a debtor? Say, a debtor who has borrowed from everyone in the street and no longer takes a straight line to his or her house… you have to meander and so on. That is exactly the situation I am as Minister (of Finance). Everywhere I go, there is nothing useful people talk to me about, except demanding their money…nothing else. In that situation, it is not yet conducive for me to take any business delegation with me (when I am going outside the country)."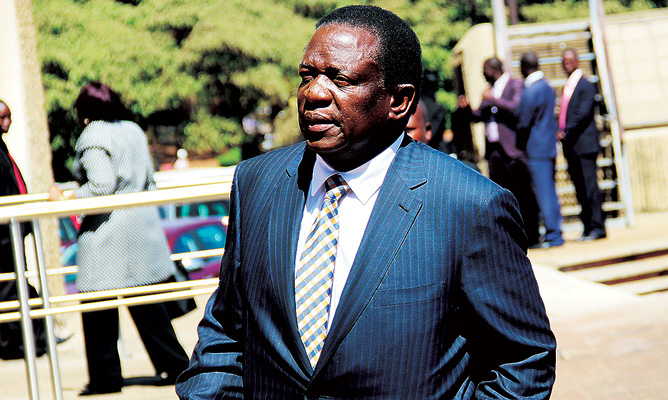 This was Finance Minister Patrick Chinamasa responding to queries from participants at the Zimbabwe Building Contractors Association (ZBCA)'s annual general meeting and congress held in Nyanga last week.
He revealed that the country's debt situation has become so bad that it was forcing him to live like a fugitive as one livid creditor after another hotly pursued him.
These were among some of the hilarious moments that interrupted an otherwise serious environment under which the three-day meeting took place.
Chinamasa told the building contractors who are owed various amounts of money by government that while he was aware of the debts, some of which are more than a decade old, the truth of the matter was that there was simply no money to pay them.
"Our country owes just about everybody money, and we have no capacity to pay. I always narrate: We owe Japan, India, Germany, France, Italy, Sweden, Netherlands, United Kingdom, Zambia, Malawi, Mozambique … It's not a bad thing to owe money, what is bad is not to pay. In fact, most businesses would not survive without borrowing…but it looks like we have developed a culture of not paying anything, whether at individual level or at national level," Chinamasa said.
Since he became the Finance Minister, a lot of banks have collapsed primarily because the indigenous businesses that borrowed had not paid back loans.
"Unless we change that mindset, we are not doing our country any good. When you have not paid you cannot go back to the same lender and say you want some more money….This is the problem we are facing at international level."
Another hilarious moment was when Vice President Emmerson Mnangagwa who was supposed to officially open the event arrived only to find none of the six ministers who were supposed to grace the event present.
These included Manicaland Minister for Provincial Affairs Mandi Chimene. He greeted them in absentia.
That is when Chimene walked in and went on to share the high table with the man she only recently dressed down in front of President Robert Mugabe and even offered to help the President to fire him.
While promising the local contractors that government has set aside 40 percent of the infrastructure projects for local contractors, he warned them that it was their duty to keep a very close eye on these Orientals because they cannot be entirely trusted.
"The Chinese are our very good friends…all-weather friends, but if you give them a contract and you blink, they will bring in all the labour, all the sand to make mortar…everything, so you must always be awake to remind them that labour is available locally, water is available locally, sand is available locally otherwise they will bring everything from their country like what has happened before," he said.
There had been complaints at the meeting that the only thing that the Chinese, who won mega deals, buy locally is drinking water as everything from cement to nails and toilet paper is imported from China. When it came to Chimene thanking Mnangagwa for gracing the event, a lot of her time went towards profusely apologising for her late coming, pleading that she not be fired.
In the process of apologising to Mnangagwa, who she insisted on addressing as "my father," Chimene drew laughter from participants when she narrated how the Vice President once slapped her after he had visited her home several times and each time finding her with a different man.
"I don't forget this man… he once slapped me…he came to my place and saw me with a man, the next day he saw another man, next time another one and he slapped me. He did not ask me who they were. He thought they were my boyfriends, and that is when I explained to him that the other one was my friend's brother, this one is this and that and I had not introduced them to him because I just thought, as my father, was passing by my place with his briefcase on his way to work."
As she presented her 30-minute speech, the topic moved to specialisation, starting by asking the moderator, Nigel Chanakira, how many degrees he had.
After Chanakira responded that he had three degrees, she laughed:"You see, I don't have any. I left school in form three, but you introduced me here (as a VIP)…that is what I am saying that don't be intimidated by long titles or papers, just specialise in what you think you know best, just do one thing instead of being in construction, moving to mining, next to energy…going around fishing. I decided to specialise in politics and here I am."
While at the awards dinner, guest of honour at the event, Dexter Nduna, the Chegutu West legislator, who is also the chairperson of the Parliamentary Portfolio Committee on Transport and Infrastructure, had a suggestion.
There are more than 40 active mines in Chegutu district alone.
Since government seems to have serious challenges of financial nature, allocating one mine to each government ministry would ease these problems, suggested Nduna to the amazement of most guests who over the years had grown to accept him as one of the progressive legislators.
He envisaged a situation where civil servants from these ministries would be seconded to the mines to dig for gold to ensure that funds are always available. His audience could only imagine teachers, nurses, solders and all other civil servants taking time to earn their upkeep underground in the mines owned by their respective ministries.
Another moment of laughter came when one participant told government officials present that unless there is a generous whistleblower fund and protection for the whistleblowers, members of the public would not help government in the fight against corruption.
"Look at those who released the Panama papers, the whistleblower was paid close to US$100 million. If that thing can be done here…so that we also get protection, we have the evidence in the drawers because some of our bosses are very corrupt, but we cannot give you that information for nothing!" Finance Gazette