By Grace Chingoma
The Mighty Warriors fundraising committee yesterday unveiled the two key initiatives which will help raise funds for the team to go to the Africa Women Cup of Nations in Cameroon.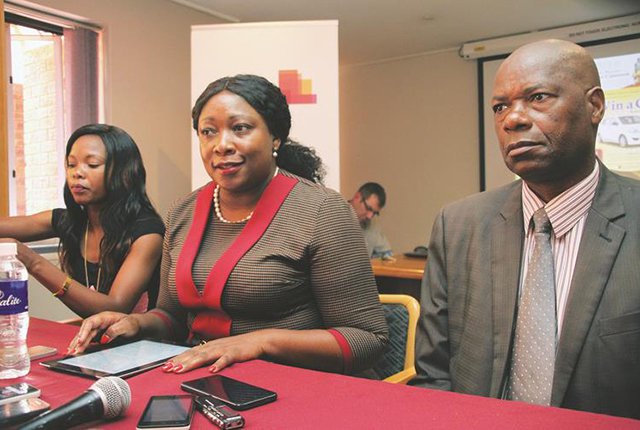 Today, the committee will hold a fundraising dinner at the Rainbow Towers starting at 6.30pm.
The committee is expected to reveal a short message (sms) short code which people, including fans, will use to send messages to three mobile networks predicting the Mighty Warriors results.
Messages will cost 50 cents and everyone who texts automatically enters the competition in which a car will be won.
Fundraising committee chairperson, Lilian Mbayiwa, who is the Old Mutual Group marketing executive, said the raffle will be running under the banner #GirlPowerZW and the competition is available to Econet, NetOne and Telecel subscribers.
Zimbabwe senior women's soccer team will play their first match against neighbours South Africa in Yaounde on the opening day of the tournament.
"We need to raise approximately $300 000 that will allow this team to camp, prepare and participate at this tournament," said Mbayiwa.
"The committee was set up and we were putting our plans together, today we are launching it, the fundraising initiatives that we have in place have not yet happened, they are starting tomorrow (today).
"I would like to assure you that after tomorrow we would be able to share with you some of the progress we are making around fundraising."
She said a number of people and companies were purchasing the tables for the dinner tonight.
"We have got so much support for this dinner. I am told we have sold quite a number of tables and a number of companies and sponsors have come forward," she said.
"Another problem we currently have is that we have such a short time frame for us to prepare so that they can make it to the Games which begin on November 19.
"As the chair of the committee, I am touched by the dedication that I have seen throughout this team. It is not very difficult for us to get things done because people just get up and they are self-driven."
To ensure transparency with the money donated or raised, the committee is closely working with Pricewaterhouse Coopers who are coming in as independent auditors.
Companies such as Old Mutual, CBZ, Zimplats, Telecel, PWC, Open Minds, Rainbow Towers, Zimpapers and ZBC make up the fundraising committee through their executives.
Pricewaterhouse Coopers managing director, Tinashe Rwodzi, said they will ensure transparency on all the funds raised for the Africa Women Cup of Nations excursion.
"We are independent of the committee, but we have got a very strong professional duty that once we commit to something it has to be done, our name is on it," said Rwodzi.
"We have opened an account specifically to cater for this project with CBZ Bank, all the money that comes will go there.
"At the end, we will produce a complete statement of account that says this is all the money which came in, the sponsors will also confirm that and have a complete list of all the money raised and a complete list of where that money has gone."
Zimpapers will promote the #GirlPowerZW across all their platforms such as The Herald, The Sunday Mail, H-Metro and Chronicle newspapers as well as radio stations Star FM and Diamond FM. The Herald