Zimbabwe corruption: When the abnormal becomes normal
By Cyril Zenda
"Politics is the gentle art of getting votes from the poor and campaign funds from the rich by promising to protect each from the other," wrote Oscar Ameringer (1870-1943), a German-American editor and social activist who made a career out of warning the public of the dangers of trusting politicians.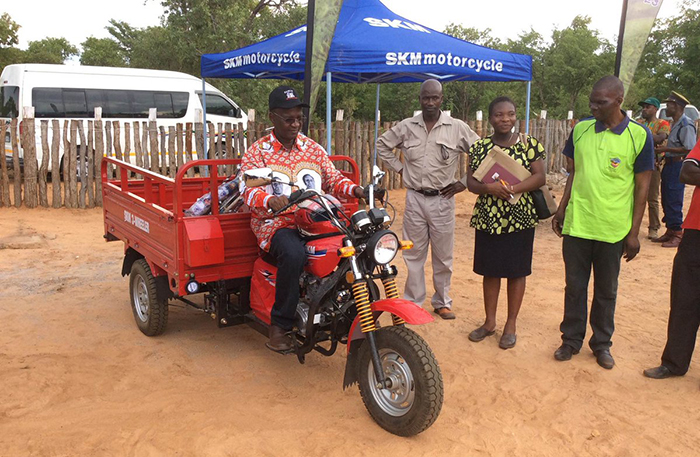 In the run-up to the crunch March 2002 Presidential election, which some bookmakers were so convinced opposition leader, Morgan Tsvangirai, was going to win, a number of journalist colleagues saw themselves as writing their last stories.
This was because they were very sure that with "Mudhara" Tsvangirai in office, everything that one could ever dream of in life would come to reality.
One could hear them reciting the next cabinet line-up, and what role each one of them was going to assume in the new dispensation.
A majority of them could be seen openly rubbing their bellies in gleeful satisfaction that the divinely appointed time had finally arrived for them to be anything from presidential press secretaries, to diplomats, to heads of government departments, to heads of parastatals, to anything that they could wish for because, like a man with a direct line to God, all it would take would be just to ask from "Mudhara" Tsvangirai and it would be granted, so they said.
These were some jobs that many of them would otherwise never qualify for, but with political power in their godfathers' back pocket, everything would become possible.
Such could be the wondrous power that comes with political office in Zimbabwe.
Sadly for these, when the poll results were announced showing that President Robert Mugabe had again won the election by over 400 000 votes, a funeral atmosphere engulfed half the country.
This presidential election had been held together with the Harare mayoral election that had been won hands down by opposition Movement for Democratic Change's Elias Mudzuri.
While the opposition members throughout the country were in deep mourning, those in Harare had to intercept their funeral with celebrations to mark their ascendency to Town House where they could now run the show.
This writer attended one such celebration in Glen View where one man, who offered to give an opening prayer, instead decided to wail uncontrollably, in the same way people who have lost entire families and all possessions in floods or earthquakes  do.
To a stranger, it was very clear that something disastrous had befallen these people.
However, elsewhere, where ZANU-PF members and supporters held their own gathering, there were wild celebrations as they profusely thanked God and the gods for retrieving them from the jaws of crushing defeat, a defeat that would have condemned most of them to the most difficult life ever imaginable… life without power and unfettered access to public resources.
This scenario has played itself out over and over in various permutations since independence in 1980 whenever political power is contested for.
Such is the serious way some Zimbabweans take elections.
On the surface of it, both sides of the political divide make this a life and death duel, ostensibly because their love to do well for the motherland is unshakable.
Ask them why they are so ever ready to take all the risks associated with the hazardous African politics, which has, by and large, remained primitive in all aspects, they will throw in rainbow terms such as equality, democracy, neo-colonialism, human rights and some such, values that they swear they are willing to pay the ultimate price in defence of.
If ever there are men and women who should be described as selfless, certainly no other should fit the bill.
However, for most of them, this self-proclaimed spirit of altruism ends with the announcement of the election results.
Come first day in that public office, it is harvest time for the winner in a country and continent where the victor immediately becomes the master, accountable to no one, but to themselves alone.
It is when the true motive behind their "love" for the country is revealed.
That is how lucrative African politics can be.
How else does one explain how a top lawyer who charges up to US$1 000 per hour would close his practice to run for political office in a country where Cabinet ministers earn less than US$5 000 per month, in addition to a few threadbare featherbeddings?
Politics has its own rags-to-riches stories.
A few weeks ago, this writer and his colleagues bumped into Joseph Chinotimba, the proud Member of Parliament for Buhera South, treating himself to a US$45 dinner at a local five-star hotel in a country where many citizens survive on less than US$1 per day.
Politics opened doors to this former municipal police officer, who is now enjoying life in the fast lane because with lots of luck on his side, he had the courage to seize on opportunities when they came by.
It is the raw power that comes with a political office that to some, winning an election, especially on the side of the ruling party, can easily equate to getting a licence to print money.
The power is so much that those people that voted in the elections immediately become voiceless and powerless.
The votes can be subjected to the harshest punishment possible should they dare question the direction the now God-like leadership is taking them to. It is no longer a privilege to serve, but a right for which one can justify killing those that try to inconvenience them.
It goes to show how big the stakes can be.
When satirist Ambrose Bierce described politics as: "A strife of interests masquerading as a contest of principles… the conduct of public affairs for private advantage," this was supposed to end as satire that it was, but this appears to be the sad reality of the case of Zimbabwe, just as other African countries where politics is not only being used as a means to an end, but it is fast becoming an end in itself.
No one could have summed up the situation in Zimbabwe better than renowned Kenyan law professor and Pan Africanist, Patrick Lumumba, who in his presentation in Ghana last year to mark that country's 58 year's independence anniversary, pointed out that there is hardly anyone going into politics in Africa for the sincere purpose of taking their people forward.
"Some of you might be aspiring for positions of leadership in the political arena. But the question is: 'Why do you want to lead?' In Africa, the shortest route to ill-gotten wealth is political leadership. If you want to get wealth without working for it at all, join African politics. That is the truth everywhere in Africa except a few places…"
This can only explain the dozens of major corruption scandals that have rocked Zimbabwe since independence in 1980.
Of all these scandals, very few of them have seen the culprits being condignly punished as political connections almost guarantee them immunity from prosecution.
The latest corruption scandal involves Higher and Tertiary Education Minister, Jonathan Moyo who, together with his deputy, Godfrey Gandawa, stand accused of misappropriating close to half a million dollars from the Zimbabwe Manpower Development Fund (ZIMDEF).
While admitting to the charge, instead of being contrite and seriously considering resigning for betraying public trust bestowed on him when he took oath of office, Moyo is actually surprised that there are people who are angry with him, for doing what everyone else in government is doing.
He become angry himself for the simple reason that there are people who have not accepted his role as the modern day Robin Hood and some of his Cabinet colleagues have quickly leaped to his defence.
"What concerns us is that it appears there is a bigger agenda than dealing with the issue (of corruption). What we are not going to accept is anything that ultimately damages the party. The party is a sacred institution with all of us in it," Local Government Minster, Saviour Kasukuwere, who is also ZANU-PF's national political commissar, was quoted in the official media as saying in defence of his embattled colleague.
This is a culture that some analysts believe ZANU-PF, which continued with its commandist approach from the liberation war days, has perfected to safeguard itself so much that the party can be said to exist for the purpose of preserving itself and nothing else.
"It is a framework through which ZANU-PF has been able to so far demonstrate its political hegemony, contest elections with formidable impunity, and even reproduce its system of control and patronage — thanks to the expedient and functional conflation of party and State at the level of the key leadership posts and access to material resources," wrote academic Ibbo Mandaza on the preface of the late Edgar Tekere's memoirs, A Lifetime of Struggle.
Sylvester Nguni, a former Cabinet minister, who is now a member of the opposition Zimbabwe People First, told a recent public meeting called to discuss Zimbabwe's problems that unlike in the past when parastatals were strategic entities on which the economy was anchored, they have since been reduced to private kiosks that exist for the convenience of the line ministers.
He said it starts with the appointment of friends and relatives as well as the politically-connected to the board, which in turn employs the management team which in turn is involved in the day to day running of the outfits. The same happens with government departments that fall directly under these ministries.
This does not seem to be confined to ruling party mandarins only.
In the short time that Tsvangirai came close to real power — when he was prime minister in the inclusive government — he is alleged to have been involved in a double-dipping scandal involving millions of US dollars, when he was presented with an opportunity to purchase a house for himself.
This is one issue that the self-styled champion of democracy has remained tight-lipped about to this day, raising serious questions over whether he is into politics for altruistic or selfish reasons like many others.
At the rate at which things have been going and continue to go — where the most corrupt become the role models — it could be true that corruption has become endemic in Zimbabwean society, so bad that the country cannot cleanse itself without first committing suicide. It must first die before it can have any hope of resurrecting itself with a new, purified soul. Financial Gazette