By Ndakaziva Majaka
As jittery ordinary Zimbabweans wait with bated breath for the introduction of bond notes next month, the Reserve Bank of Zimbabwe (RBZ) has warned of worsening cash shortages ahead, in a further dose of bad news for the country's dying economy.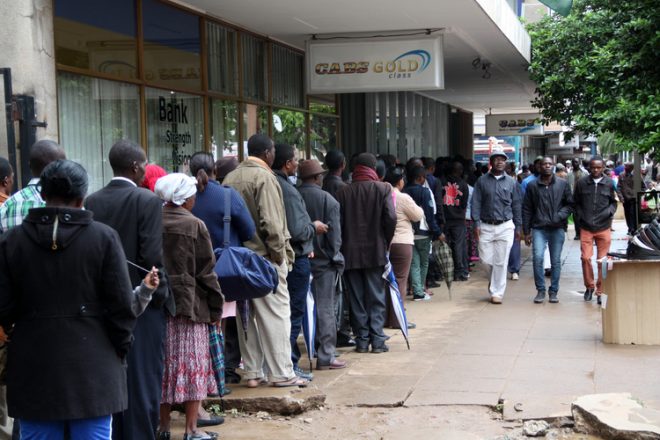 This comes as the current severe cash shortages have seen desperate depositors swamping banks as they bid to withdraw their little savings ahead of the imminent introduction of the much-distrusted bond notes.
Addressing delegates at last week's National Economic Consultative Forum (NECF), RBZ deputy governor Kuphukile Mlambo, warned that the end of the tobacco season and the depreciation of the South African rand and British pound would further exacerbate the current cash shortages.
"We are no longer an economy that is dependent on manufacturing exports. We are totally dependent on four commodity exports — tobacco, gold, platinum and chrome," he said.
"But these minerals do not always perform well or deliver all the time. For example, the tobacco season has just ended now and between now and February we have no tobacco money. This does not really improve the situation.
"Remittances are also in trouble now because someone who was sending money back home to their parents, say R1 000 … the money is now coming in at say $60 … so, although the rand amount is the same, the dollar value has fallen.
"It's the same as those in the United Kingdom where the pound has also fallen. So in view of all these dynamics, everyone should do all they can to spare cash because the money just isn't there," Mlambo added.
He also explained that current cash shortages were a combination of the country's widening trade deficit and cash leakages.
"Why the cash shortage now? I can tell you why, for many years since 2009 we have been receiving inflows of about $6 billion on average per year, with spending outflows of about $7 billion per year.
"So every year you accumulate a $1 billion gap and you are kicking it down the curb and at some point it has to bite you," he said.
At the same time, the World Bank has also confirmed that Zimbabwe's economy is dying, downgrading the country from its list of improved economies to the unflattering tier of struggling countries.
On the other hand, the International Monetary Fund (IMF) has said Zimbabwe's economic growth will slide back further to a negative 0,3 percent this year, before shedding off more in 2017 where it is projected to fall further to a negative 2,5 percent. Daily News