By Tatenda Dewa | Harare Bureau |
Trevor Saruwaka, the opposition Movement for Democratic Change (MDC-T) legislator for Mutasa Central, was on Thursday barred from joining the traditional procession during the official opening of parliament because he was wearing a jacket designed with national colours.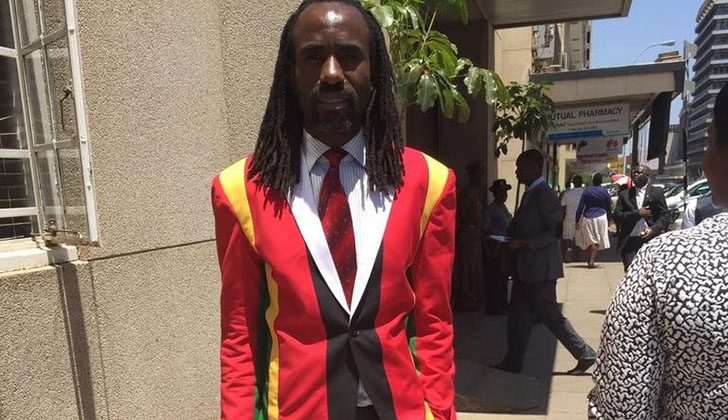 The dreadlocked lawmaker looked smart in the jacket with vertical stripes of red, gold and green, complete with a maroon neck tie and a white shirt on dark pants .
But the security personnel at parliament had a different view of his attire and barred him from joining the procession until proceedings were over.
Out of frustration, Saruwaka went away.
"There was no point in my remaining at parliament when the security viciously stopped me from joining the procession. That is bad because Zanu PF is now criminalising patriotism. The flag is a national symbol and there is nothing untoward with wearing the colours that identify us as Zimbabweans," Saruwaka told Nehanda Radio.
When the security personnel barred him from joining the traditional procession, he requested to see the Clerk of Parliament, Kennedy Chokuda.
Chokuda, however, only spoke to him on the phone and threw his support behind the security details, insisting that the house had ruled that legislators must not report for business draped in the national flag.
It was the third time that Saruwaka was involved in a standoff with the Speaker of Parliament over wearing the national flag.
He was among the MPs who introduced wearing the Zimbabwean flag in July during national protests against President Robert Mugabe's government.
Donning the flag was popularised by Evan Mawarire, a pastor who headed the activist campaign #ThisFlag which moblised citizens to demonstrate against the Mugabe government.
Mawarire is now living in self-exile in the USA after receiving threats from Mugabe and security agents and following his arrest for alleged treason.
The speaker, however, banned the flag when it became popular in the house too.
"The problem with the Zanu PF establishment is that it thinks that national colours and the flag were invented by Mawarire, who they don't like.
"I bonded with the national flag when I was young, so I was not taught to love it this year by Mawarire. I was embarrassed and prejudiced for identifying with my nationality. That is weird and you will never hear about it elsewhere in the world.
"Interestingly, we are allowed to wear Nigerian and African attire in parliament, yet when we try to create a local culture of dress in parliament, we become very bad people," said Saruwaka.
He insisted that security personnel and the clerk of parliament had no power to bar him from joining the procession, and said he was mulling making a constitutional challenge against the decision to bar national colours in the house. Nehanda Radio