Zesa owed $1bn…. sues 200 local authorities, state and private enterprises
By Daniel Nemukuyu
The Zimbabwe Electricity Transmission and Distribution Company, which is battling to recover over $1 billion in unpaid power bills, has approached the High Court suing at least 200 local authorities, State enterprises and private companies.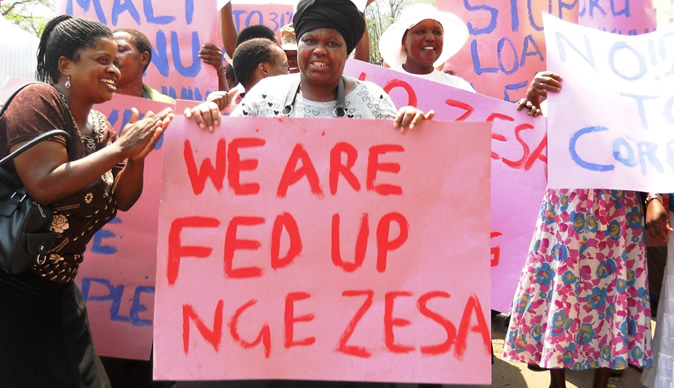 Prominent individuals are also appearing in the court cases filed by ZETDC. On the list of debtors are at least 40 State and local authorities who are being sued for a combined $25 million.
Summons were issued from January this year to date and the cases are proceeding through the High Court in Harare. While some defaulters were yet to be sued and others are on payment plans, the 200 have proved to be bad debtors.
ZESA public relations manager Mr Fullard Gwasira confirmed the implementation of a debt recovery strategy, saying many others were still to be taken to court. Mr Gwasira said stern credit control measures like lawsuits were ZESA's last resort in cases where the creditors are not cooperating in terms of payment plans.
"Litigation for us is the last option. We believe in dialogue and those who come forward and negotiate payment plans are not sued. "There are many cases that are settled outside court because we do not enjoy suing our clients. If the debtors cooperate, we will simply agree on favourable terms," he said.
Mr Gwasira said the credit control measures were being applied in the spirit of ensuring the success of Government's economic blueprint, Zim-Asset. The power utility, after unsuccessfully trying other remedies, approached the High Court seeking an order compelling the defaulters to pay up.
The sued defaulters owe the power utility amounts ranging from $13 000 to $6,9 million each. ZETDC engaged the services of three different law firms, Chinganga and Company, Baera and Company as well as Chihambakwe, Mtizwa and Partners to sue the debtors.
Sable Chemicals Industries is locked up in a legal wrangle with ZETDC in which it is challenging a $6 940 069 electricity bill. Chinhoyi Municipality is defending a claim of $5 863 396, which is being claimed together with interest. Zvishavane Town Council is also on the list with a bill of $4 646 348.
Chegutu Municipality was slapped with a $2 126 836 suit and the case is still pending at the High Court. ZETDC is claiming $1 006 133 together with interest from Shurugwi Town Council while the Municipality of Marondera is also in trouble over a bill amounting to $2 024 388.
NetOne Cellular is defending a $1 174 269 lawsuit while Air Zimbabwe has been sued for $873 094. Mutare City Council and Chitungwiza Municipality are being sued over $1 129 227 and $707 455 respectively by the power company.
The Forestry Commission is being sued for a combined $163 722,86 while Zvimba Rural District Council is being sued for $344 150. Non-governmental organisations were not left out as Jairos Jiri Association owes $220 201.
Prominent individuals like politician Mr David Butau and Dr Gideon Gono of Lunar Chickens are being sued for $18 289 and $87 000 respectively.
Most of the debtors are contesting the billing systems saying the figures claimed by the power utility were unreasonable and strange to them.
ZESA borrowed $500 million for the expansion of the Kariba power station while creditors owed it in excess of $1 billion. The Herald