Kereke, NPA to share costs • Parties ordered to pay 75pc of bill
By Fungai Lupande
Jailed rapist Munyaradzi Kereke and the National Prosecuting Authority (NPA) were yesterday ordered to share equally 75 percent of legal costs accrued in the former Bikita West legislator's prosecution.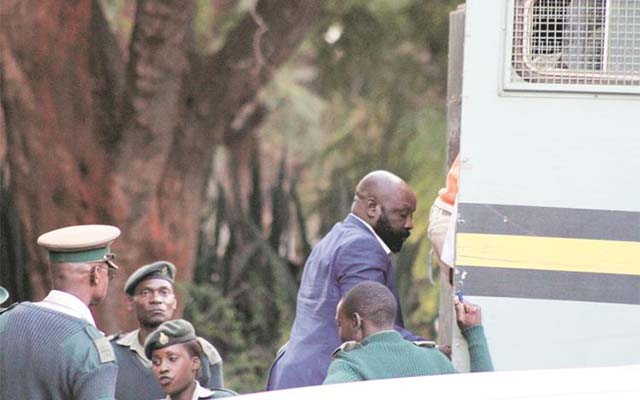 Private prosecutor Mr Charles Warara is still to calculate the costs. Harare magistrate Mr Noel Mupeiwa subtracted 25 percent from the costs on the basis that Kereke was acquitted on the charge of indecent assault.
"The first count of indecent assault occupied a quarter of proceedings and Kereke was acquitted. "The second charge of rape in which he was convicted took a huge chunk of time — three quarters," he said. The private prosecutor was entitled to three quarters of the bill of which Kereke would pay 50 percent and the NPA 50 percent.
In his ruling, Mr Mupeiwa said there was no way the court would become functus officio on deciding on legal costs. "The defence argues that this court no longer has jurisdiction to decide on the legal costs issue," said Mr Mupeiwa.
"There is a statutory provision, which says the court can order costs to be paid. However, the private prosecutor is guilty of prolonging proceedings by posing long questions of little relevance in cross-examination.
"The trial was unnecessarily prolonged and took six months instead of three days. On the other hand, the Prosecutor-General refused to prosecute Kereke until an order was granted and there is no explanation to that except that they exercised their discretion.
"Kereke is not innocent too in this matter because he approached the Constitutional Court refusing to be prosecuted. "Although he was exercising his rights, he delayed trial. Making Kereke pay the legal fees is tantamount to punishing him twice."
Mr Mupeiwa said the Criminal Procedure and Evidence Act only talks of costs and expenses but not on a scale. "This is because the private prosecutor asked for costs on a higher scale," Kereke was jailed 10 years for raping a 13-year-old relative in 2010 at gunpoint.
Prominent lawyer Mr Jonathan Samukange said it is difficult to determine how much Mr Warara will get in legal costs because there is no rate for criminal cases. "It is solely up to the private prosecutor to decide how much he is owed for the years that he represented the matter," said Mr Samukange. "Legal costs follow the loser and if Kereke had won the case, he too could have applied for legal costs."
Another top lawyer who spoke on anonymity said it is commendable that the judicial system is allowing cases of those who feel aggrieved to be taken further regardless of money. "If a people feel that they are still aggrieved they can approach the legal resources and get a Government funded lawyer who can take their case further," he said.
"Also, Lawyers for Human Rights are assisting people regardless of money. If one has the money they can hire a private prosecutor just like in the case of Kereke. "Cases in which the Prosecutor General decline prosecution although there is case have always been like that in the country and worldwide." The Herald