By John Cassim
Zimbabwe Liberation War Collaborators (ZILWACO) national chairman and former ZANU PF Youth League leader, Pupurai Togarepi, was on Sunday thrown into a panic mode, following a social media statement attributed to him, calling on President Robert Mugabe to resign.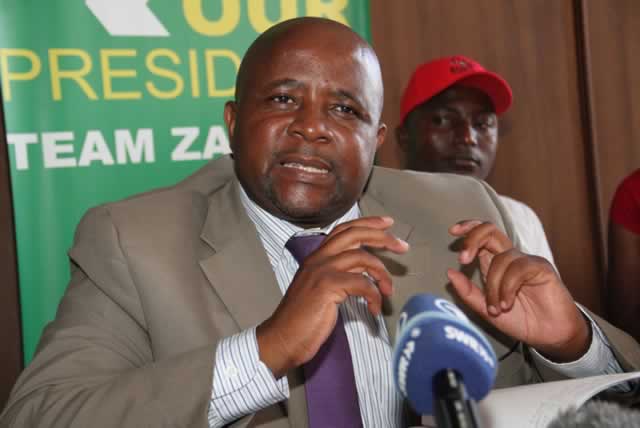 In the damning statement allegedly authored by Togarepi together with Archford Guvuriro, Energy Mutodi and Fidelis Fengu, all known ZANU PF activists, 60 reasons were given why Mugabe should step down.
However knowing of a possible crackdown, the same way War Veterans' leaders encountered, a week ago, Togarepi quickly held a press conference at his Harare ZILWACO offices Sunday afternoon, where he distanced himself from the statement.
Togarepi said he is a staunch supporter of President Mugabe for what he stands for.
"I love this man, my President for what he stands for and believe that there are better channels to communicate any grievances against him if at all they exist," Togarepi told journalists in Harare, Sunday.
He denied having authored the 'Mugabe must resign' statement and ever meeting Archford Guviro and Fidelis Fengu.
"I do not know the origins of this statement and to make matters worse I don't know these other people alleged to have co-authored the statement, yes I have met Mutodi before but am yet to discuss political issues with him," Togarepi said.
Meanwhile the former youths leader said his life could be in danger and blamed it all on factional fights within his ruling party.
"I now fear for my life, I don't know why someone would drag my name into anything like this without my knowledge," a freaking Togarepi said.
However there was every reason why Togarepi could have panicked considering the statement was circulated barely 24 hours ahead of the country's Heroes Day commemorations.
"Mugabe has neglected the war veterans who brought independence to this country. He has rarely if any, met with war veterans as an association," part of the statement read.
Meanwhile Fidelis Fengu has reached out to Nehanda Radio also denying any involvement in authoring the statement that provided 60 reasons why Mugabe should step down.
"I would like to state that Archford Guvuriro is seeking political relevance by associating himself with me and Energy Mutodi. I have never met this Archford character and I totally distance myself from this statement that exudes political immaturity at best and stupidity at worst.
"If the authors of that statement thinking they are helping Mnangagwa then they are wrong because anyone criticising President Mugabe is also criticising Mnangagwa because he has been a top aide to Gushungo and high a ranking official since 1980.
"I believe that those who sent him have better use of their time and resources and if they are clever they should be on the ground mobilising support. Yes , ZANU PF needs reform and yes I personally think Gushungo should not stand in 2018 but that is congress' decision to make and I will stand with what the people would have decided.
"I am currently focusing on my personal spiritual life and am in the terraces of politics and it is unfair for people to draw me in and drop my name in issues that have nothing to do with me. First it was Baba Jukwa now this Archford character ….. siyanai neni ……
"The only person I am aligned to at the moment is Jesus Christ zve ma faction handiko ikoko …… G40 …lacoste etc I am not interested the only politicians I will defend are Cde. Nicholas Goche a man I respect for his security and intelligence skills, Dr. O. Mpofu and Va Chombo only so please izvi zvenyu zve ma karanga battles handiko ikoko." Nehanda Radio