ZCC Mbungo celebrates 40th anniversary
By Musavengana Hove
Zion Christian Church (ZCC), one of the earliest African independent denominations, clocks 40 years this week under the stewardship of Dr Nehemiah Mutendi. The dynamic denomination, incepted in 1913, will commemorate the milestone from August 4 to 7 at Defe Dopota in Gokwe South.
Hundreds of thousands of pilgrims are expected from across the country for the event which converges with the church's annual paschal celebrations.
Mutendi took the leadership mantle in 1976 following the death of ZCC founder Samuel Mutendi under "self-prophesised" circumstances.
In 2011, the University of Zimbabwe awarded him with a Doctor of Literature honorary degree in recognition of his work as an educationist.
Notable feats in this regard include the inception and administration of Mutendi Primary and High school (both opened in 1984), Dopota Primary School and Hebron High School (1986) and the Dzidzai Adult Literacy Programme. As the 40th commemorations draw near, ZCC followers shared their experiences with Herald Review.
Congregants testified on the "symbolic value" of 40 years under Dr Mutendi's stewardship, likening themselves to what Israelites endured 40 years of wilderness before reaching the Promised Land.
"Rev Samuel Mutendi was to us what Moses was to the Israelites. Dr Nehemiah is our Joshua. Defe@40 is our year of inheritance. This year is our Canaan," said a ZCC follower who withheld his name because of church protocol.
Samuel Mutendi and the colonialists
African independent churches emerged in revulsion to the gospel of oppression and discrimination which was perpetuated by mainline churches during the colonial period.
ZCC founder Samuel Mutendi distinguished himself as a politically conscious clerical voice in the tradition of African Apostolic Church founder Dr Paul Mwazha and Zaoga FIF founder Dr Ezekiel Guti.
Samuel started speaking in tongues in 1913 while working as a police officer in Chegutu (then known as Hartley). As he increasingly felt the call of God on his life, Samuel crossed the border into South Africa to start a ministry.
He collaborated with his close friend, Engenasi Lekganyane, and founded the ZCC. When he returned to Zimbabwe, Mutendi stood firm for the dignity of Africans who were then regarded subhuman by the colonial administration. A case in point is when he was involved in a public boundary wrangle with the colonial administration.
He fought with pride and courage although the dispute culminated in his eviction from his beloved Holy City at Mutarara. Mutendi, described by his followers as the African Moses, was displaced to a remote region in Gokwe which he later turned from a dust-bowl into a holy city with thriving farms and widely renowned schools.
Defe Dopota area in Gokwe is morphing into a notable religious tourism site. The Defe Dopota shrine is situated in an area previously considered barren and unforgiving due to malaria.
From Samuel to Nehemiah
The current leader, Bishop Nehemiah, has reverent memories for his father and predecessor. He describes him as a militant evangelist who ably fought on two fronts, against both white colonialists and African detractors.
"Samuel Mutendi was a leader who would not take any nonsense; he was persuasive and would not mince his words with his leadership figures, telling them exactly what was expected of them," Mutendi said in a previous interview.
"A strong, courageous leader, he insisted on his own authority and did not buckle in the face of united opposition, whether from the n`angas or the white Rhodesian administration.
"Mutendi was a capable and shrewd leader, one who had integrity in his dealings with others, who understood the needs of his people and set out to address these, whether in a gentle, loving and pragmatic manner, which paralleled his softly spoken nature, or by confronting the n`angas and taking a stand against witchcraft and alternate gods.
"He was resolute in the latter; true to his kingly posture and his absolute belief in his own authority and spiritual convictions," the bishop remarks in "History of three Independent Southern Africa Churches."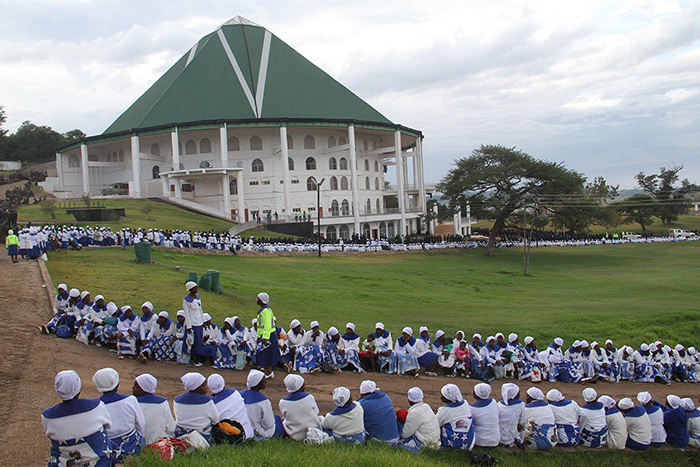 Samuel died on July 20 in 1976 and Nehemiah, a noted educationalist and administrator, took over. ZCC has been one of the fastest-growing churches, along with emerging pentecostal and apostolic sects.
Nehemiah believes that building schools and modernising the church, as reflected by the massive double-storey structure at Mbungo dubbed "The Land of Peace," is consistent with his father's dream for the church.
The church launched the Samuel Centenary Academy in Belvedere, Harare, a few years ago in homage to the pioneering apostle.
According to church documents, the project has been designed to enhance both schooling services for the public and church operations in keeping with Zion Christian Church's long history of providing schools and spiritual healing places, known as wellness centres, to communities.
Nehemiah's educationist mission
While Samuel was bent on empowering the people through education, he died when the project was still in its humble beginnings. Now ZCC boasts some of the best mission schools by an indigenous church.
Under the younger Mutendi's leadership, Mutendi Primary and High school (both opened in 1984), Dopota Primary School and Hebron High School (1986) and Dzidzai adult literacy programme have been offering fully fledged educational services.
The church is currently working towards construction of a university in Mashonaland West Province. The anticipated university will specialise in teaching agriculture, a choice informed by Zimbabwe's economic needs.
ZCC merits recognition as one of the mostly indigenous churches which support government programmes such as the land reform. Such a stance is informed by the need to address historical injustices such as land ownership was previously which was skewed in favour of the whites.
The church has acquired large tracts of land and thousands of ZCC followers were allocated pieces of farms in Gokwe where the church seeks to establish a fully-fledged holy city.
Musavengana Hove, a freelance journalist, is a member of the Zion Christian Church. He writes in his personal capacity.