Updated: Kereke convicted, jailed for 10 years
By Tendai Rupapa
Private prosecutor Mr Charles Warara yesterday set a precedent in the history of Independent Zimbabwe when he successfully prosecuted the case of Bikita West legislator Munyaradzi Kereke, who was sentenced to an effective 10 years in jail for raping his 11-year-old niece, six years ago.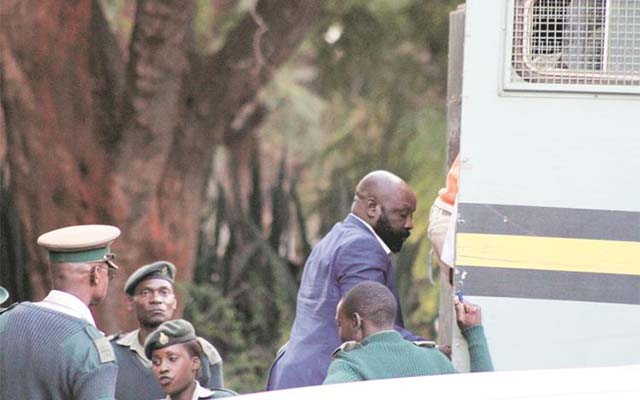 The victory will likely open floodgates to private prosecutions in cases where perpetrators of crimes are declined prosecution by the National Prosecution Authority.
Kereke's case had to proceed through private prosecution after Prosecutor-General Johannes Tomana refused to prosecute him, saying there was no evidence linking the legislator to the offence.
Tomana is under investigation for abuse of office, while the President last week set up a tribunal headed by retired High Court Judge Moses Chinhengo to assess his suitability for office.
Regional magistrate Mr Noel Mupeiwa sentenced Kereke to 14 years behind bars, but set aside four years for five years on condition he does not commit a similar offence within that period.
The court, however, acquitted him on charges of indecently assaulting the victim's elder sister.
There was dead silence in court when Mr Mupeiwa pronounced the 10-year jail sentence.
Sporting a swanky blue suit, the bearded Kereke looked confused, and the order by the magistrate that as a convict, he could not leave court, made him visibly wince.
Mr Mupeiwa said the private prosecutor, Mr Warara, had proved beyond reasonable doubt that Kereke raped the minor and said the defence had tried to concoct issues to secure the release of a guilty man.
Kereke, the court noted, prevailed upon his relatives to defend him and went out of his way to try and conceal the fact that a gun was used, suggesting that he was guilty as charged.
Speaking after Kereke's conviction, the children's maternal grandfather Mr Francis Maramwidze was glad that justice had finally prevailed.
"I used to pray everyday that justice be done," he said with tears trickling down his cheeks.
"There is God in heaven, and I am happy that justice has finally prevailed. I thought he was responsible enough because at the time he was number two in the Reserve Bank. I pursued the matter personally and now it's time to rest knowing that justice has taken its course."
Advocate Isiah Mureriwa, a holder of a Women Human Rights Defender award, who has successfully argued on the right to private prosecution, welcomed the ruling.
"The timing of the conviction and sentence is perfect," he said.
"I am personally excited by this. Women and children have long suffered in silence and this victory confirms that a remedy has been founded where there is inaction or corruption by those in power."
Adv Mureriwa said the conviction being for a case, which the now suspended Prosecutor-General had declined to prosecute and sought to grant immunity to the convict, colours the office of the PG with impropriety.
"It is my hope that our jurisdiction will see more private prosecution coming in our courts," he said.
Earlier on in his three hour long judgment, Mr Mupeiwa noted that the complainant gave a clear account of the rape episode on the hands of Kereke.
"What she said in her evidence cannot be said to have been fabricated," he said.
"Penetration was proved by the doctor, yet she was not sexually active considering her age. In his defence, Kereke said she was promiscuous, but I failed to accept it considering her age, and if it was so, as an uncle he should have taken action to reprimand her.
"I therefore come to the conclusion that she explained quite well and it was understandable. Discrepancies in her testimony, which the defence relied on are minor because it is unfair to expect children to express themselves in the same way adults do."
The defence had questioned the authenticity of the medical report arguing that a Dr E Chanakira who signed the report was off duty when the examination was conducted, but the magistrate concurred that indeed the doctor was on duty, and he explained himself effectively before the court.
Mr Mupeiwa said he believed the victim when she said a gun was pointed at her during the rape, and he blasted Kereke for lying that he no longer had a gun during that time when facts prove that he had not surrendered the weapon to the RBZ.
In denying the charges, Kereke said they were fabricated by the complainants' maternal grandparents after he refused to pay their school fees arrears, but Mr Mupeiwa said at the time, the case was reported to the police, the arrears had already been settled.
"It should not be overlooked that they reported the case to the police during the night. If they had fabricated, they should have taken their time and reported during the day but not to alternate between Parirenyatwa Hospital and the police station during the night."
Mr Mupeiwa said Kereke shifted focus on his defence and started implicating people whom he said were his enemies.
"Looking at the accused's lies on gun issue, and his coaching of witnesses, his defence cannot be believed. It failed to hold any water," he said.
"The prosecution's case was very strong. When the matter was reported to the police, the fees arrears had already been cleared, so, accused cannot say he was being fixed for not paying the fees arrears.
"I beg to differ that he did not want to be tried. The blame should be put to those in authority who were not taking action and dragging their feet all because they did not want to try him."
In aggravation, Mr Warara said together with Tomana, Kereke made sure that they frustrated the trial proceedings.
Play the video below:
"If it was not for the relentless efforts by the victim's grandparents, this case could have died a natural death. The court must not have mercy on him. What they were doing with the PG is corruption, and up to now, we do not know why he was being protected.
"This court should make this case an example and send a clear message to those in authority and committing crimes that the long arm of the law will catch up with them," he said.
In mitigation, Kereke through his lawyer, Mr Erum Mutandiro, pleaded for the court's leniency saying he was a breadwinner with 17 children and three wives.
Mr Warara indicated to the court that he will on Thursday this week make an application for costs incurred in prosecuting Kereke.
The application would be done in terms of Section 22 of the criminal procedure and evidence act.
The Kereke case is one of the cases which Tomana declined to prosecute citing lack of evidence.
This led to Tomana being slapped with a 30-day imprisonment by the Constitutional court for refusing to comply with court orders, compelling him to issue certificates for private prosecution where he had declined to prosecute.
However, the sentence was wholly suspended on condition he complied with the court order. His suitability of holding the office of the PG is under scrutiny. The Herald