50 arrested in Beitbridge border riots… police say no deaths
By Robin Muchetu and Thupeyo Muleya
Police in Beitbridge have arrested 50 people in connection with violent protests that occurred in the border town on Friday which saw a Zimbabwe Revenue Authority (Zimra) warehouse and several cars worth thousands of dollars being burnt to shells.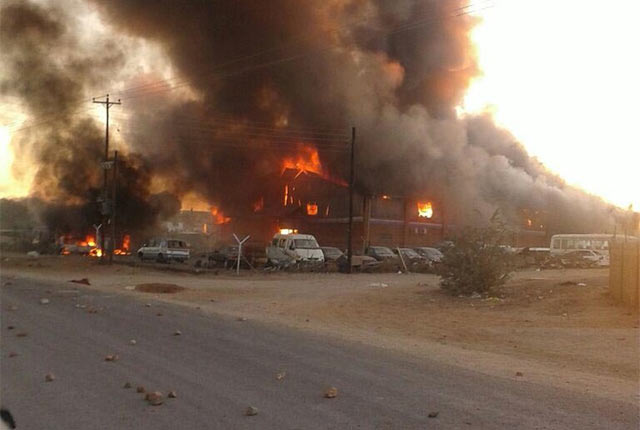 National police spokesperson Senior Assistant Commissioner Charity Charamba said police were still conducting investigations and more people were likely to be arrested.
"We have arrested 50 people so far who were part of those that participated in the unrest in Beitbridge. We are still looking for more culprits who are involved," she said.
Snr Asst Comm Charamba said the value of goods that were destroyed during the violent protests is still to be ascertained.
"As for the value of the goods destroyed, we do not have a figure as yet as it will take some time because the warehouse was very big and there were a lot of goods stored there so we need a bit of time to get the value of goods destroyed," she said.
Snr Asst Comm Charamba said at least four cars that were in the warehouse yard were completely destroyed while several others had varying degrees of damage. Contrary to earlier media reports, Snr Asst Comm Charamba said there were no deaths reported.
"Some media reports earlier said there was a person who was killed, that is not true, no deaths were reported neither were there any injuries recorded in the incident," she said. She, however, issued a stern warning to protestors, saying the police would not tolerate violence.
"We as the ZRP are issuing a stern warning to people who have any disgruntlement in any way that violence is not a solution to any problem. They destroyed property that does not belong to them, and the property also had nothing to do with them. It belongs to other people who have lost out and it is not acceptable that they behaved this way. But we will catch the hooligans that were behind this chaos," warned Snr Asst Comm Charamba.
A group of people protested at the border town on Friday blocking roads with stones, burning tyres and looting from local shops. They were protesting over the implementation of Statutory Instrument 64 of 2016 which removed the importation of listed goods, mostly basic commodities, furniture and building material under the open general import licence.
The mob also stoned a house belonging to a member of the police neighbourhood watch committee whom they accused of unleashing a reign of terror at the border post.
However, in an interview yesterday, State Security Minister Kembo Mohadi said police failed to contain the situation on time.
"The police should have contained the situation on time. They had vital information which they could have used to prevent this from happening. This is wrong, we can't accept that. How can you have thugs destroying key infrastructure?" he said.
Minister Mohadi said the situation had been contained as roads had been re-opened. He said the criminals had temporarily withdrawn to their shells for fear of security personnel patrolling the town.
"What do you want to achieve by burning infrastructure and private property. These criminals are not even from Beitbridge. That's not how we solve grievances in the town since time immemorial. We suspect there is a third hand involved in all this chaos," said Minister Mohadi, who is also the Member of the National Assembly for Beitbridge East.
He also accused South African businesspeople around that country's northern border of Musina for trying to dictate on how Zimbabwe should craft its customs laws.
"We are very much disturbed. Why should the South African businesspeople try to influence our policy formulation? They have their own laws and we don't meddle. It is sad that they chose to mobilise our people against the Government. The burning of tyres during demonstrations is foreign to us and we suspect a third hand is involved in the chaos that rocked Beitbridge town on Friday," Minister Mohadi said.
Earlier on Friday there was another demonstration on the South African side of the border with some people in the crowd wearing black t-shirts written "team tajamuka". They were also chanting slogans saying "team tajamuka yaramba".
Thousands of demonstrators including businessmen from Musina and Zimbabweans residing in that country marched for 12 kilometres and blocked the entrance to that country's border for six hours before dispersing.
Shops in Musina were closed for the duration of the protests as businesses in Musina who sell the restricted goods start feeling the heat.
Nonetheless, the situation had normalised in Beitbridge on Saturday though there was traffic congestion as trucks with commercial cargo started travelling to South Africa after the anti-riot police contained the situation.
Zimra has, however, said despite the protests, it was going ahead with implementing the Statutory Instrument.
"The Authority is implementing SI 64 of 2016 as gazetted. Members of the public are encouraged to comply with the requirements of SI 64 of 2016. If there are any grievances with the provisions of SI 64 of 2016, Zimra advises that these should be raised through relevant structures to engage Government for appropriate consideration," Zimra said in a statement.
Minister of Industry and Commerce, Mike Bimha also told ZBC that there was no reverse on the new regulations.
Beitbridge Town Council chairperson Mrs Showa Moyo also lambasted the demonstrators for taking matters into their own hands.
"They have issues with customs laws and now they are destroying our town. We will have to use rate payers' money to fix that damage yet we don't even get a grant from the money at the border post. We are worried these criminals are not even residents of this town and yet they create mayhem," she said. Sunday News