By Tatenda Dewa | Harare Bureau |
International perception of Zimbabwe got a further knock on Tuesday when the British government issued a travel warning over prevailing cash shortages.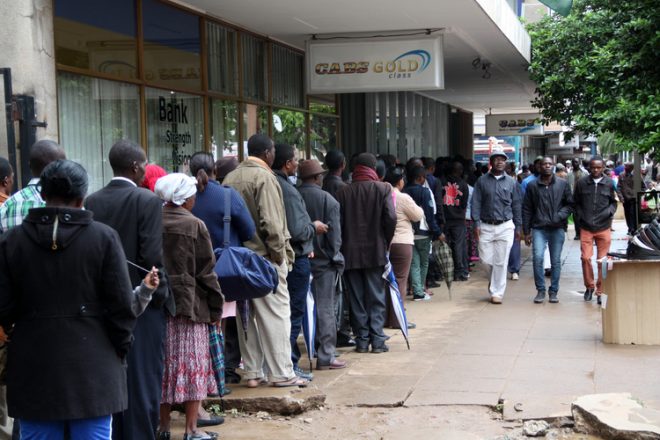 Since April, the country has been experiencing an excruciating cash crunch with banks drastically reducing withdrawals amid concerns that individuals and institutions are externalising money while depositors are shunning financial institutions.
Already, the government is viewed with contempt by international financial institutions and investors for failure to service debts and unpopular policies such as indigenisation.
London warned its citizens that they would likely face difficulties accessing cash if they travelled to Zimbabwe.
The warning was issued in the UK government's latest travel advisory that urged British citizens to come with enough US dollars.
"Almost all transactions are conducted in US dollars. Zimbabwe is currently experiencing a shortage of cash. It is not currently possible to make cash withdrawals using an international bank card," observed the British government in the advisory.
It added that the economy was becoming "increasingly fragile" even though crime was moderate.
There is fear, however, that the cash shortages might spike robberies as thieves target people they suspect to be holding large amounts of money.
"Credit and debit cards are increasing in circulation but you should check in advance if a restaurant or hotel will accept them," read the advisory.
This comes at a time the Zimbabwe Council for Tourism has admitted that the sector, which attracts a substantial amount of British tourists, has been severely affected by the cash shortages.
Its chief executive officer, Paul Matamisa told the local media:
"Right now, people can't access their cash. If people cannot access money then it affects tourism in that they cannot even use the money to go for holidays. They (foreign tourists) were not accessing their money and they can't use their cards."
The cash shortages have severely affected the operations of other businesses, civil society and government and basic commodities like cooking oil are fast disappearing from shop shelves.
In contrast, while there is admission that the cash crunch has bitted tourism, the UK-based Ramblers Worldwide Holidays has marked Zimbabwe as a prime destination and "one of Africa's most beautiful, unspoilt" countries.
Unveiling its latest 18-day package for British holiday makers, the travel agency featured the scenic Eastern Highlands, Great Zimbabwe, the Matopos and Hwange National Park as among its prized holiday resorts.
Tourism is one of Zimbabwe's major foreign currency earners and the cash crisis is likely to worsen an embattled economy.
The main opposition, MDC-T, on Tuesday warned that the cash crisis could lead to civil unrest.
In a statement, the party's spokesperson, Obert Gutu, blamed the current economic crisis on poor perception of President Robert Mugabe's government.
"Fundamentally, the lack of political legitimacy of the Zanu PF regime has to be addressed. Nothing short of this will do," said Gutu.
"There is a very real risk of civil commotion taking place in the country soon because millions of Zimbabweans have no access to food and even the Zanu PF regime itself is struggling to timorously pay civil servants their salaries. The country is on a knife edge," he added.
The party urged Mugabe and his entire cabinet to "immediately step down and to allow for the holding of free, fair and credible elections".
Cash shortages are not new in Zimbabwe.
The first crunch manifested in 2003 when, like now, banks ran out of the local currency and depositors would sleep in queues to make paltry withdrawals.
The situation worsened over the years, culminating in record inflation and acute shortages by 2008. Nehanda Radio