'Mnangagwa primed to take over'
By Blessings Mashaya
War veterans have said Vice President Emmerson Mnangagwa is primed to take over from President Robert Mugabe no matter what the Generation 40 (G40) faction might do.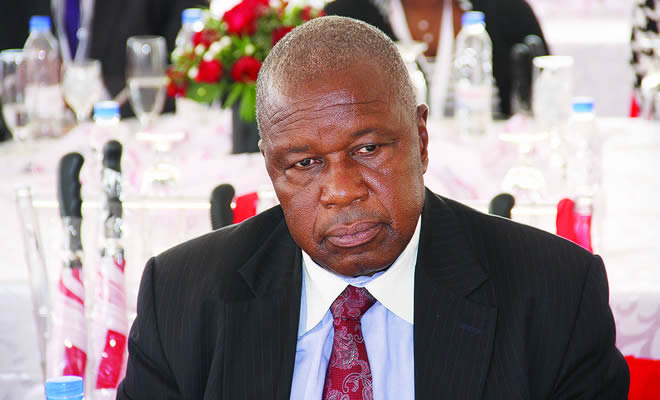 Addressing ex-liberation fighters in Masvingo on Saturday, war veterans leader Christopher Mutsvangwa, said that the Midlands godfather is in a firm position to be Mugabe's successor.
"When you went to war (ex-combatants) you were very young but you remain resolute, but up to now you don't have anything to show, all I see is poverty written on your faces.
"But we have seen the bad part of not rewarding ourselves, the G40 is doing whatever they want with us because they corruptly acquired wealth.
"They get that money from the whites, vari kunzi imimi ndimi munofana kujumper queue, makamboona here baton inopihwa ari panumber three risati rapihwa ari panumber two.
"Mava kuda kujamba kunotora chigaro ichocho, monotora makanzwa chakabva kupi? Isu takanotora tisu tichakutaurirai mupinde pachigaro ichocho kana musina kutaurirwa nesu kanganwai
(they are being told that they must jump the queue and take over the throne, but have you ever seen a baton stick being passed on to someone in third place while the number two is still there? We are the ones who chose the leadership of the party and we know who is next in line).  
"The president acknowledged that we are the ones who gave him that position, we the war veterans and war collaborators, we campaigned for him to win elections in 1980.
"We the war veterans, are the compass of this country, isu toziva chinhu  ichi kwachinoenda ( we know who is going to take over)."
The confident Mutsvangwa claimed the G40 is now "dead and buried".
"I am happy that the revolution is now back in the hands of its owners. Those who want to rule this country must respect war veterans not daydreaming like what the G40 is doing."
The former War Veterans minister said they were going to engage the youth and the women's league to mend their relationship.
"We are happy a certain youth leader accepted that they are our children, we need to forgive him, we are trying to work together with him," Mutsvangwa said in a statement widely seen as directed at Zanu PF deputy youth chairperson Kudzanai Chipanga.
"And also the women's league is an important organ, you must respect the wife of our leader not kutamba sinjonjo pamberi pavanhu hatizvidi.
"We are happy that (Zanu PF Mashonaland West central committee member Jimayi) Muduvuri has told us that amai (Grace Mugabe) has now seen the light. We are OK, we want to engage with her and the women's league."
The Norton legislator also mocked the G40 ministers saying they have "small brains".
"I was once a Cabinet member. The G40 have no ideas on how to develop the nation. Some of them are professors but with small minds.
"They want power but they don't have vision. They want money but they don't want to work. Don't lose sleep over those people.
"People are now starting to see that they were lying and they are now fighting each other. Manje vachazvimbirwa nepower ravaida kudaro." (They will get drunk on power).
Speaking at the same occasion, Zimbabwe National Liberation War Veterans Association (ZNLWVA) secretary-general Victor Matemadanda, also said the G40 is wasting time as they are out of the race in as far as the Zanu  PF succession race is concerned.
"Hee vaMnangagwa  vanoda kubvisa vaMugabe, mofunga vangaita havi nhasi, voita  pressure yokupinda mubus ivo varimo, vari shure ndivo vanoita pressure yekupinda (Mnangagwa doesn't want to take over, he is already inside the bus, in a firm position to take over, so the ones who are under pressure are those who are outside)," Matemadanda said.
"Zviya zvamunofurirana muchiti G40 kunyangwe teacher takamuudza kuti 1 minus 2, it can't (G40 is nothing don't follow them)."
In a complete defiance of the politburo ruling, the ex-combatants secretary-general, said all expelled youths must be reinstated to their positions.
"They expelled some youths who were in the forefront in our fight against (former vice president) Joice Mujuru, they saw that these youths will not allow them to fulfil their ambitions but to us war veterans they are still chairpersons.
"Same as Ezra Chadzamira (Masvingo), Biggie Matiza (Mashonaland East) and Kizito Chivamba (Midlands) are still chairpersons for their respective provinces. We don't want a person from Harare to come and impose their chairpersons so that they can drive their agendas, we are going to stop it as war veterans."
Matemadanda also savaged Masvingo provincial political commissar Jappy Jaboon who allegedly belongs to the G40 camp, saying he is a "small boy" in Zanu PF politics.
"(Jaboon) worked well  with his father but he is now walking in a different direction."
"What Jaboon is doing is very wrong because he is challenging the vice president who was appointed by the president, kutoshaya njere kwaari kuita (he has lost his marbles)."
Masvingo resident minister Shuvai Mahofa also savaged Jaboon and said their province is firmly behind Mugabe.
Recently, Mnangagwa's allies in Midlands vowed that nothing will stop the Midlands godfather from succeeding Mugabe.
Some  sources  who spoke to the Daily News last month claimed that Zanu PF deputy secretary for administration July Moyo — said to be Mnangagwa's foremost aide — had thrown down the gauntlet at a provincial meeting in April, openly declaring that the VP would succeed Mugabe, despite "the G40's machinations".
Midlands, said to be the citadel of Mnangagwa's Zanu PF support, has witnessed some of the ugliest party battles over the past year, as the factional and succession wars devouring the former liberation movement continue to escalate.
Indeed, the province has experienced deadly and incessant infighting as the G40 has worked tirelessly to neutralise the VP "in his den".
This has seen the regional party leadership being dissolved unceremoniously, and Joram Gumbo was appointed interim chairperson.
The G40 camp accuses Mnangagwa's regional allies of steering the province towards "an alternative centre of power and seeking to stampede Mugabe from power", while Team Lacoste members accuse the G40 of having "unbridled ambition and abusing the First Family" in that regard. Daily News