First ever picture of Itai Dzamara in custody after abduction
Patson Dzamara, the brother of abducted journalist Itai Dzamara held a press conference in Harare on Monday at which he released pictures of what looked like his brother with his hands tied behind his back and a bandage around his head.
Below is the full press statement from Patson
By Patson Dzamara
It's almost 15 months since the diabolic abduction of Itai Dzamara. From the onset i never minced my words regarding who the perpetrators are. Never have I cowered from my position that the disappearance of Itai Dzamara is the work of Mr. Mugabe's ZANU PF through state security agents.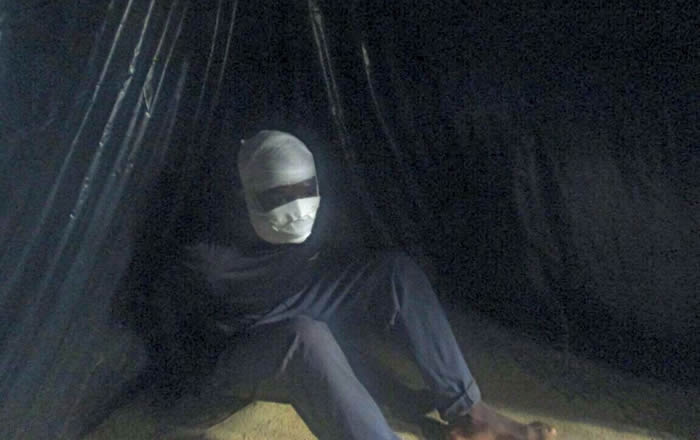 The following are the key points I need to highlight before I go any further;
1. Itai's enforced disappearance is inundated with the unquestionable fingerprint of the state. The style in which this morbid act was executed attests to the involvement of the state's ugly hand. Itai was abducted the same way the likes of Jestina Mukoko, Paul Chizuze and Patrick Nabanyama were abducted by the state.
2. Absence of a suspect. The police failed to come up with a single lead for over a year. We all know how efficient our police force is. Just recently, they managed to unearth the mystery surrounding the death of an Air Zimbabwe boss who was murdered in Botswana.
3. The complete refusal to comment by key state officials including Mr. Robert Mugabe is curious. The few times key state officials commented, they trivialised the matter, uttering irresponsible statements such as that there was nothing unusual about Itai's disappearance and that the president is too busy to comment on such a trivial matter. By the way, I even wrote the President at some point and I didn't get any response.
4. It had to take a court order for the police to be compelled to investigate the matter. They were initially reluctant to investigate the matter.
Fellow Zimbabweans, it is with a heavy heart and sadness that I write to inform you that we do not have political leaders in this country but evil men and women masquerading as leaders.
We have unfortunately allowed ourselves to endure the discomfort of being ruled by this cabal of gangsters. Mugabe and his minions do not at all care for us.
It is indeed a fact that the ZANU PF led government has presided over gross human rights violations and we have permitted them to get away with it. The time has come for us as citizens to draw a line in the sand. We can't allow this buffoonery to continue.
After this exposition, every Zimbabwean and the whole world shall know how evil these people are.
It is indeed unexpected that the police failed to come up with a single lead regarding my missing brother. Of course, it is not that they don't know what happened but they are working under strict instructions but God has his own ways. We have engaged in a lot of processes behind the scenes in our quest to locate the truth regarding Itai Dzamara's enforced disappearance.
Some individuals from within the evil establishment volunteered information regarding who abducted Itai Dzamara, why and where he was kept. The heinous act was executed by state security agents, in particular the military intelligence.
Incontestable evidence was availed to us and I dare Mr. Mugabe and his surrogates to prove me wrong. They can't, because this is the truth. I can not at this juncture state my brother's fate in the hands of these gangsters but I can categorically inform you that Itai Dzamara was abducted by the military intelligence under the direct instruction and supervision of ZANU PF.
For choosing to speak out against their misrule and leadership failure they abducted Itai in broad day light. They thought they would get away with this evil deed as usual but not this time around. They pressed a wrong button.
I shall continue to unveil more details regarding what really transpired to Itai. No amount of threats shall cause me to cower from the truth. If i remain silent, i only validate their evil deeds. I don't know about you, as for me, I am tired of their misrule premised on impunity. We can't allow Mr. Mugabe's Mafia to continue abusing us like this. This is abnormal and we are not going to normalise the abnormal.
As I continue on this trajectory, seeking justice and answers, I want you to know that my fight is nolonger entirely about Itai but about a better Zimbabwe and setting a precedence regarding enforced disappearances.
Never again shall this evil system abduct anyone in Zimbabwe. Now they know and they shall know that it very expensive for them to abduct citizens and to treat them in a willy-nilly manner.
The following image is a professionally verified and authentic image of Itai Dzamara in one of the places they kept him. This is how evil these individuals we refer to as leaders are. I shall avail more details.
Dr. Patson Dzamara