Zanu PF thugs besiege Mujuru
By Fungi Kwaramba
Hordes of rowdy Zanu PF supporters stormed the Highlands, Harare home of former vice president and Zimbabwe People First (ZimPF) leader, Joice Mujuru, on Friday night — only dispersing after anti-riot police intervened.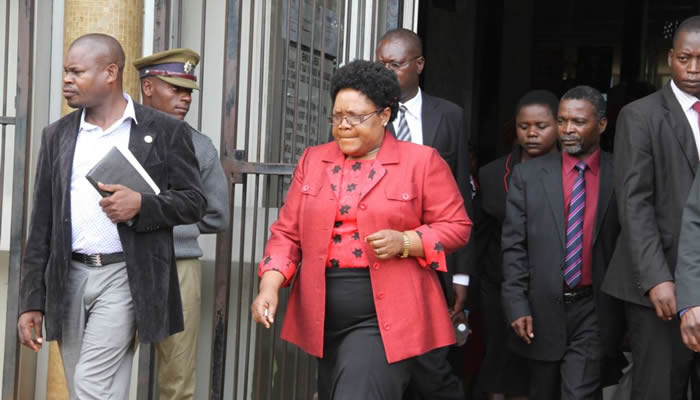 The Zanu PF activists, some of whom were positively identified by Mujuru's aides, had apparently "carried over their thuggish fervour" from last Wednesday's so-called million-man march that the former liberation movement held in the capital in honour of President Robert Mugabe.
A news crew from the Daily News on Sunday witnessed the brouhaha on Friday night which culminated in police being called to deal with the unruly Zanu PF supporters — who flatly refused to say what their mission was when questioned by authorities.
Police spokesperson Charity Charamba and Zanu PF spokesperson Simon Khaya Moyo were not available for comment yesterday.
But an unfazed Mujuru, who has come under increasing scrutiny from her erstwhile Zanu PF comrades, told the Daily News on Sunday that the wanton act of intimidation would not slow her down.
She also said that she was "familiar with the choreographed evil tactics" of her former colleagues in the warring and divided Zanu PF, and as such would "remain resolute" in her task of challenging Mugabe and the ruling party come the much-awaited 2018 national elections.
"They (Zanu PF apparatchiks) have been tasked to infiltrate ZimPF party structures but have failed and decided to resort to unconstitutional and thuggish methods, which is a clear violation of our rights," she said.
Among the alleged active Zanu PF supporters who were identified by Mujuru's security details during Friday night's invasion were Simbarashe Mandeya, Ellington Nhanga, a Majere, Justin Kambiro, Wellington Masawi and Tendai Mushando.
"All these people are currently in existing Zanu PF structures across the country but pretending to be in People First," part of a ZimPF statement read.
The widow of liberation struggle icon General Solomon Mujuru — whose August 2011 death in an inferno at the family's Beatrice farm remains an unresolved mystery — has been forced to upgrade her personal security in recent months amid fears that some of her political enemies are "plotting against her day and night".
The Daily News on Sunday has also previously reported that Mujuru and her allies had come under increasing State surveillance since the launch of their party early this year.
As a result, Mujuru has had to put in place more security measures and cameras at her home, in addition to doubling the number of guards looking after her and her family.
With suspicions still surrounding her husband's death, her family and allies say they are very concerned about her safety and security, particularly after a number of intruders were caught at the Beatrice farm in March last year.
Well-placed sources have also claimed that the State "has files that will be used against Mujuru and other top leaders of her party" if she goes ahead with her plans to challenge Mugabe in 2018.
"The behaviour of this renegade Zanu PF group is a continuation of Zanu PF's onslaught on the veteran liberation icon and widow of the late Mujuru.
"Ellington Nhanga has been extorting money from Zimbabwe People First supporters claiming to be able to organise their security through the CIO system.
"He claims to be an operative attached to the Counter Intelligence Unit. The group claims to be well-funded from the top of the security set-up of the country, and are seemingly desperate to derail the growth of ZimPF.
"All these negative efforts and attacks against ZimPF are against a backdrop of a nation failing to feed its people and pay its civil service," the party said yesterday. Daily News